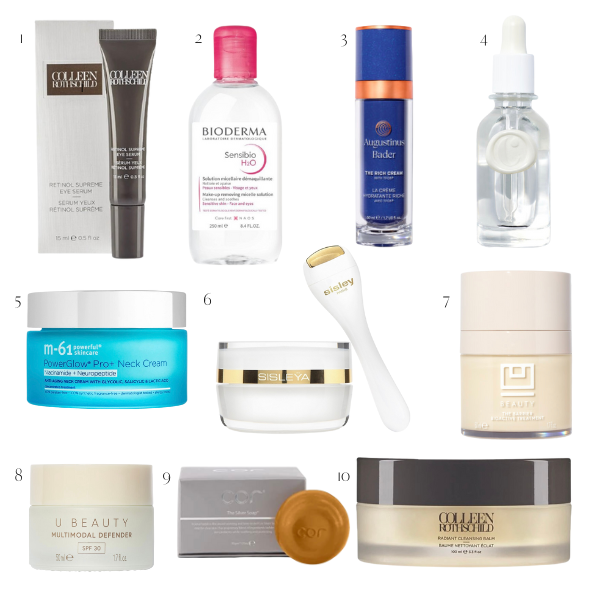 Happy Sunday and Father's Day to all the dads out there! I thought I was on top of Father's Day when I did my post here a few weeks ago, but I honestly thought it was next Sunday. I get confused about dates when the grandkids come, which was a little worse because I have been sick (I guess).
They have been gone for a few days, and I still didn't know the date yesterday! We were supposed to leave for Miami this morning, but as luck would have it ( it seems like it for us recently), we are still in Dallas. My husband is now sick. So, I guess the two of us will be taking that trip alone sometime in the fall because the next two trips are with the family. Best laid plans, right?
MY TOP TEN SKINCARE PRODUCTS
I started thinking I hadn't written a post on skincare lately, and I wanted to let you in on my top ten skincare products. I used to use many products but have paired them down a lot. Maybe I should add a few more, but I am happy with the way my skin looks (for now). These ten skincare products have been my favorites for a while now.
Its a product I've used for at least five years. The skin under my eyes used to look dry, so my concealer would look dry and cakey too. I swear by this product for changing the skin under your eyes to look a lot smoother and hydrated. It will also help with puffiness and under-eye bags, but I think it makes the skin look much smoother. I only use this at night before bed.
I use this product to cleanse and soothe my sensitive skin in the morning instead of washing my face. It rids the skin of impurities, pollution, and makeup, but I like it first thing when I wake up. It has a great price point too!
If I had to pick one product that I could not live without, this is it. It does everything, and I can honestly tell that it has changed my skin. I am afraid to quit using it! I have been using this product (which, by the way, comes in a light version) since it came on the market, and I will never not use it. I use it both morning and night. There are other products by Augustinus Bader, and I have tried some of them, but I can't recommend them like I can The Rich Cream.
I was a fanatic of Skinceuticals Vitamin C E Ferulic serum for many years. It was my gold standard of Vitamin C until I was introduced to this product. I bought it in November and have just opened my second bottle. I love the way that this serum goes on. It's a bit oily at first, but after five or ten minutes (which you should let it soak in that long), it drys, is no longer slippery, and brightens your skin like crazy! This is my new favorite Vitamin C!
This is a new product and one that I have been using for about a month, and I love it. This moisturizing and firming neck cream is infused with niacinamide, neuropeptides, and a powerful combination of BHAs and AHAs that smooth the delicate skin on the neck and décolleté area. I can tell that my neck looks a lot more hydrated. Under $100!
This product is specifically formulated for the fragile eye and lip contour areas. This cream is for visible results on wrinkles, firmness, puffiness, and dark circles; plus, you can use it around your lips. This is the eye cream that I use during the day. It's more expensive, but a little goes a long way.
This is another new product that I am crazy about. U Beauty is a line by Tina Craig, The Bag Snob (and Dallasite) if you have followed her blog. She seriously has the most gorgeous skin I've ever seen, and her arms feel like velvet! She started U Beauty and has a great following. The Barrier is an overnight treatment mask that repairs skin at the cellular level and replenishes the moisture barrier for stronger, firmer, and more radiant skin. I use this 2-3 times weekly at night as the last step. In other words, I put this over my Augustinus Bader Rich Cream. I love it!
This SPF is another U Beauty product that I can't be without now. This breakthrough formula combats past and future photo damage while brightening, cooling, and protecting the skin. They use a double patent-pending SUN SIREN Capsule technology that evens skin tones and texture by targeting hyperpigmentation dark spots, heat-induced freckles, and fine lines while protecting against UVA and UVB IR, and HEV (blue light) exposure. I use this before I apply my foundation. It's a thick cream with an illuminating look and makes you glow!
My mom has the prettiest skin, and I listen to her when she recommends a product. She turned me on to this soap for washing my face. It has silver in it that doctors have long used to fight bacteria and speed up cell repair. It also blocks bacteria's ability to transfer oxygen through its cell walls, thereby suffocating it. Washing with COR doesn't just remove dirt; it protects the health of your face and skin. I switch between the COR soap and the following product.
This cleansing Balm clears congested pores and removes impurities while dissolving all traces of makeup, leaving your skin balanced, soft, and radiant. It's the best-smelling product I've ever used, and sometimes I'm tempted to eat it!
A few more skincare products that didn't make it to the collage but I use daily are LANCOME BI-FACIL DOUBLE-ACTION GENTLE EYE MAKEUP REMOVER, TAN-LUXE THE GRADUAL ILLUMINATING TANNING LOTION, NECESSAIRE THE BODY LOTION, and KOPARI BEAUTY COCONUT LIP GLOSSY (which I buy in multiples because it is the best for dry lips. Use at night).
Well, there you have my top ten skincare products! It's fun to try a new product or two. Let me know if you try any of these and what you think. With the economy the way it is right now, I want to be mindful (for you all and myself) of what I post. I'm trying not to spend as much right now because I'm not sure how bad this will get, but this is my job. I have a question for you all. The Nordstrom Anniversary Sale is starting soon. Do you all want to see my picks, or are you all in the camp of not shopping it? I would greatly appreciate the feedback.
I hope you have a great day! Stay safe and well (don't come to my house if you are trying to stay well!)xx