This post was sponsored by Hair Biology. All thoughts and opinions are my own.
Good Morning! How is everyone? I have been up since 5:15 this morning and wish I could go back to bed! I have been waking up super early lately and am not a fan! Anyone else have the early bird syndrome right now? I have a question for you all. Who wants thicker and fuller hair? My hand is raised high! Before I talk about Hair Biology, let me preface that I have a lot of hair, but it's very fine. I look back at pictures from my youth and wish for that horsetail thick ponytail I had. I deal with my hair looking flat and lifeless a lot. Many of the conditioners that I use weigh my hair down and give me that flat top. Luckily, Hair Biology has come along and helped other women and me with a volumizing line.
Did you know that like our skin, hair ages? I hadn't thought about that, but after losing my hair to chemo, a nurse reminded me that hair is cellular. As we get older, our hair may thin, turn grey, and become drier (like everything else!). That's where Hair Biology comes in. They formulated their Full & Vibrant line for women over 45 to help with these changes. I have noticed that my hair is a lot drier than it ever has been and not nearly as full. As we age, we don't just grow less hair; each strand's diameter also thins ( thanks a lot Mother Nature!). Have you all noticed these changes with your hair?
Hair Biology has three products in the Full & Vibrant line. The Volumizing Shampoo, The Volumizing Conditioner, and The Thickening Treatment. All of these have a beautiful coconut smell to them (my husband loves it) and are infused with Biotin. The products also feature caffeine to help the thickener attach to each strand. What they don't have are parabens and dyes! The shampoo and conditioner help add volume to my hair and don't weigh it down. The Thickening Treatment is a game-changer for me. Applied to wet or damp hair, a few sprays from this treatment at the crown, around your ears, or anywhere you feel flat (but at the root) helps give back that voluminous look. All of these products are color-safe, which makes them just about perfect! Just because we are getting older doesn't mean we can't be bolder and wear our hair the way we choose and feel confident in doing so.
What is so exciting is that Hair Biology's Full & Vibrant Collection is exclusively available at Target. There is no hassle in ordering or going to a salon to get these. All of us, I am guessing, make a Target run monthly. These products are right there on the shampoo aisle and are so reasonably priced. Better yet, you can get them online here from Target, which is awesome! Now we can easily have gorgeous thicker and fuller hair.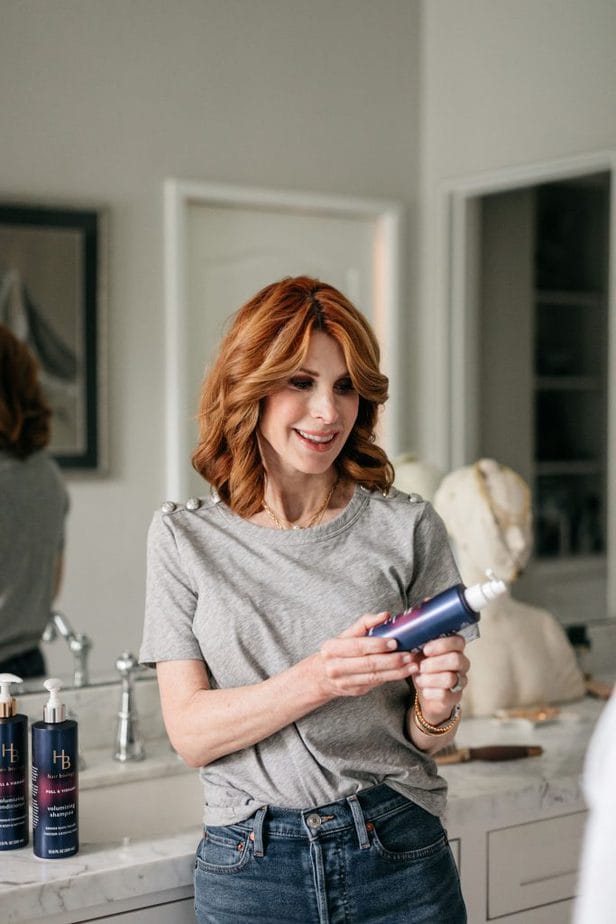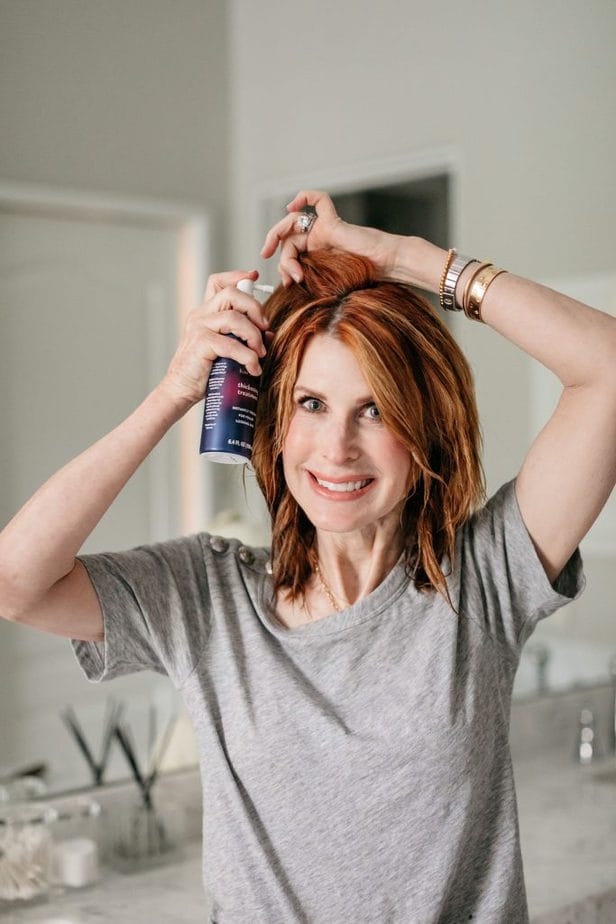 What are you all up to today? I am meeting a fellow Triple Negative Breast Cancer survivor who is in from out of town. We have corresponded over the last year and will meet in person today. I am so excited to meet her! I may start a little Christmas shopping this afternoon. I can't believe by the beginning of next week, we will be in November!
Have a great weekend, and stay well! xx
Photos: Beckley & Co
Thank you to Hair Biology for sponsoring this post and for my full hair!