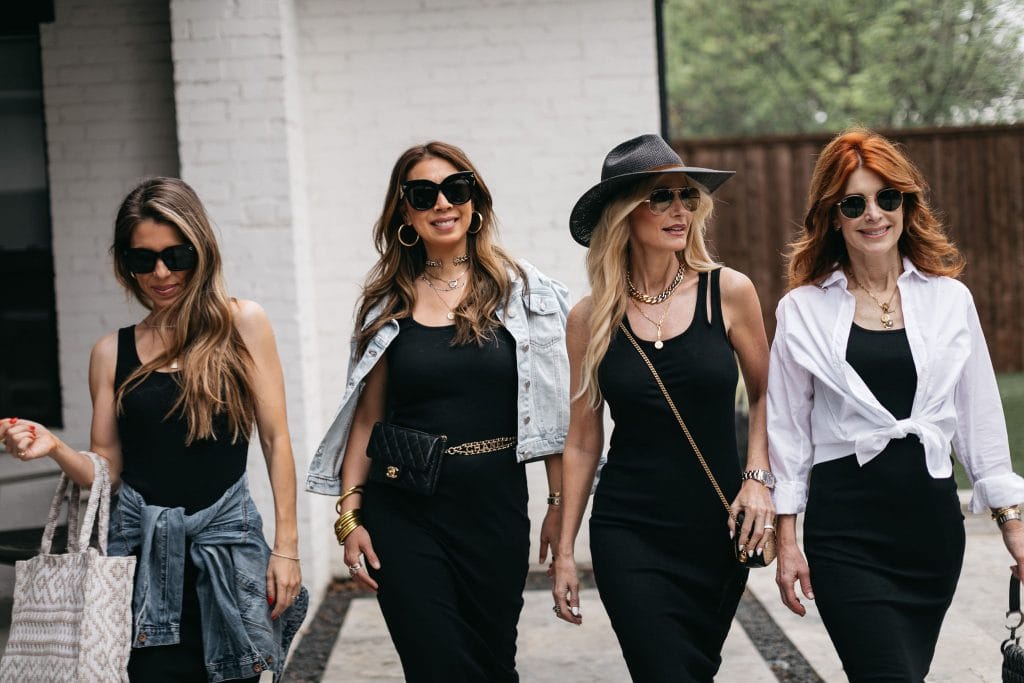 BLACK TANK DRESS WORN FOUR WAYS
NATALIE- THE FASHION HOUR //  SAMANTHA- STYLE OF SAM //  HEATHER- SO HEATHER
Happy Friday! My little people (plus their parents and dog) arrived on Wednesday afternoon, and it's been a party since! We have been eating Chinese food, going shopping and to lunch, and who knows what today will bring? I am so happy they are here. My granddaughter is cracking me up! She is seven going on twenty-one. She comes with me into my "make-up" room and does her makeup (which her dad cannot stand) and does a damn good job! The girl may end up as a make-up artist or an artist artist!
Today, Chic at Every Age found this fantastic black tank dress, and we are showing it worn four ways. When I got this dress to shoot, I was on the fence about keeping it, but after putting it on and seeing how very versatile it is, it's definitely a keeper! It's such a keeper that many other women thought the same thing, and there are only XXS, XS, and S sizes left. Please don't despair; I have found so many more great (and very similar) tank dresses for you to peruse at the bottom of the post. A black tank dress can be a multifaceted item to add to your closet and one that can travel super easily.
As you can see, we all styled it a little differently. A black tank dress can be dressed up or down and worn to the beach over a bathing suit or to a cocktail party with a pair of fabulous heels. Worn alone or with a jacket or cardigan thrown over, it serves many purposes.
I decided to wear my dress with a white button-down tied over it. I'm sure we all have a white button-down in our closet and tied over the dress covers my arms and a little bit of the tummy. I brought out my chain sandals that are a few years old (these are the current version) and a saddle bag that is a vintage piece now. There are so many ways to wear a dress like this!

I have a quick workout this morning, and then we will see where the wind takes us today. A visit to the Aquarium or Science museum might be the ticket. I hope you all have a great day and weekend!
Stay well and Be safe! xx
Photos: Beckley & Co
Dress // Button-Down // Sandals (similar) // Bag (same but different)
MORE BLACK TANK DRESSES