CHIC AT EVERY AGE-OUR FAVORITE AND SOFTEST PAJAMAS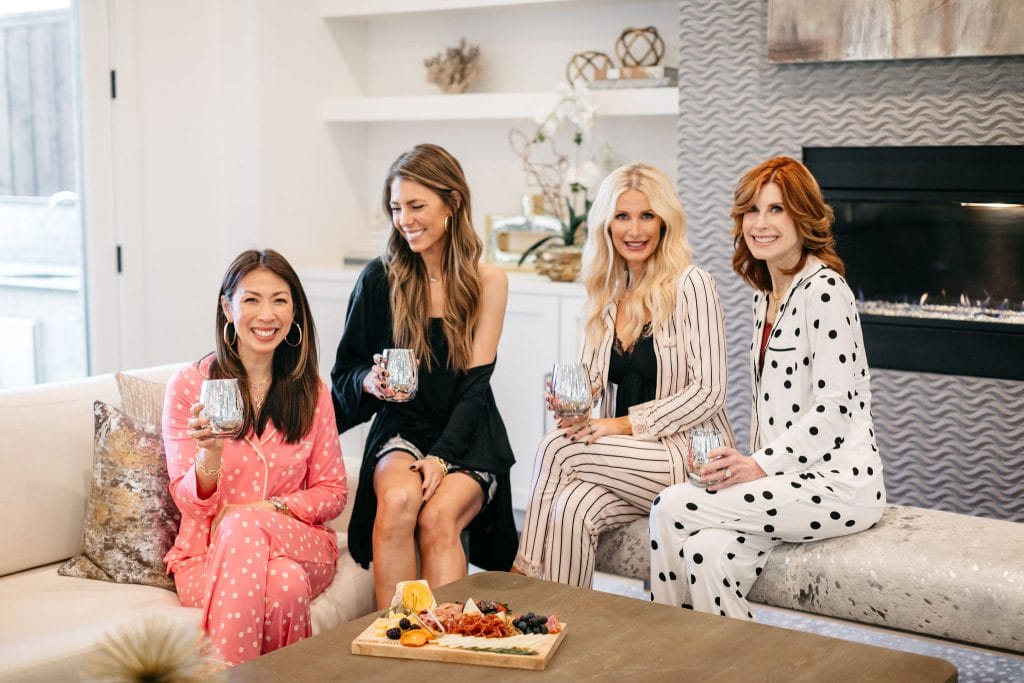 Natalie-The Fashion Hour // Samantha-Style of Sam // Heather-So Heather // Me
Happy Friday! The Chic at Every Age group got together for little girl time "Galentine's" afternoon last week after we shot in the freezing cold. We hardly ever get a chance just to hang out and catch up. We usually shoot what we need to then scatter because we are all so busy. But we wanted to do a post together on our favorite and softest pajamas from Soma. We have all worked with Soma in the past and thankfully, were all introduced to their products a while back. We are all obsessed with the Soma Cool Nights Pajamas. So, we put on our pajamas to hang out and chat!
We are all at such different stages in our lives. Natalie has a two-year-old, and I am sure she will be adding to her family in the near future. Samantha has two young children and is a pharmacist, so you can imagine how busy her life is! Heather has a blended family with five kids, and the last one is headed to college next year, so she and her husband will officially be empty-nesters. And then there's me, the grandmother! I can't tell you how much I love these girls! They all have become some of my best friends in the world! As different as our life stages are, we have lots in common, especially these pajamas being our favorite!
Why We Love It
If you have never worn these, I wish you could reach your hand through your screen and feel them. All of Soma's pajamas and lounge pieces are incredibly soft and cozy. The good news about the Cool Night Pajamas we are wearing is that they help keep you cool while you sleep. We all love the long sleeve pajama top and pants for the winter, but this fabric is available in shorts, camis, chemises, robes, and more.
If you live in Dallas, Gather + Graze makes the most delicious and beautiful charcuterie boards in all sizes, plus delivers them to your doorstep!
As much as I love the Soma pajamas, I have to admit that my undergarment drawer is mostly from Soma. I am obsessed with the Wireless Bralette and have it in almost every color. I don't like wearing a bra, and this one feels like you aren't wearing one, I promise! It is THE most comfortable bra I've ever worn. I don't know why I hate the word panties, but I do, but I have finally found one that doesn't show panty lines and fits me. Most underwear (didn't use the word panty!) comes in sizes small, medium, large. These come in extra small and fit! There is a sale going on, and you should try them!
I hope you all have a wonderful weekend! We don't have much going on, and that is good for me! Thank you so much for reading!
Thank you, Soma, for sponsoring this post! We love all of your "intimates"!
Photos: Beckley & Co
Pajama Top // Pajama Bottom // Bralette