PUFF SLEEVE SWEATER // CHIC AT EVERY AGE
Natalie-The Fashion Hour // Samantha-Style of Sam // Heather-So Heather // Me
Happy Monday, everyone! I hope you all had a great weekend! Our weekend was full! We had so much fun with our grandkids and the whole family (except our daughter was not here). We had dinner at the house last night with the entire crew and a few friends. I love it when everyone is together!
Puff Sleeve Sweater
I missed posting this blog on Friday with the other girls because I had a sponsored post that needed to go up. So I wanted to make sure it went up today, though, so that you all could see the best Puff Sleeve sweater ($75) that we all fell in love with. This sweater has the puffy Juliet sleeve detail that makes it different from any other sweater I have in my drawer. It looks Springy but will keep you warm on chilly days or nights and is super soft! It comes in three other colors, but it is going fast!
Natalie wore her grey sweater with white jeans and snake print boots for a relaxed look. Samantha's look is my favorite with the faux leather paper bag waist pants and leopard mules. Heather paired her sweater with a denim jacket and white boots for a fun uptown look!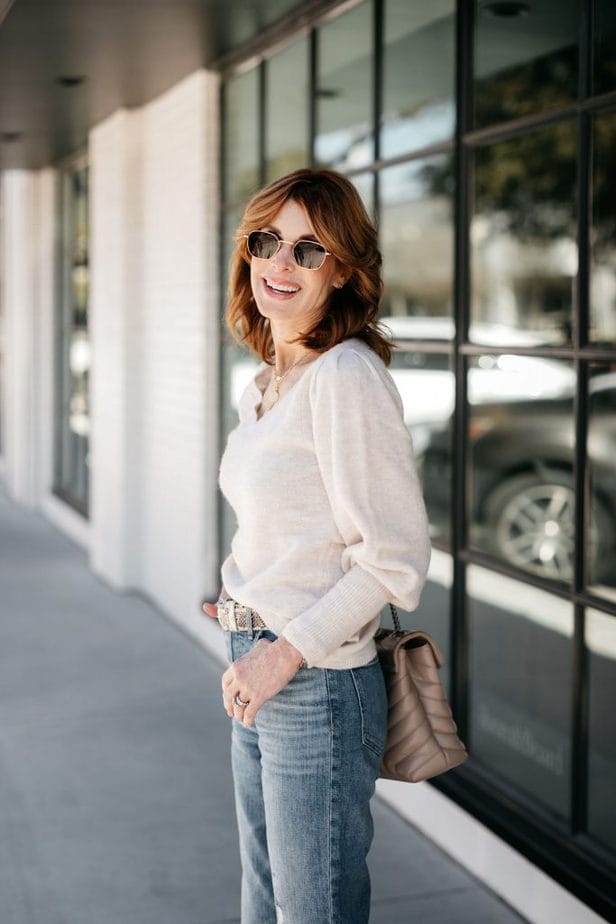 I have about three more hours with my grandchildren before they leave today. It makes me so sad that I have to say goodbye, mainly because we don't have the next time planned. Who knows what this crazy virus is going to do to travel in the next few months.
Speaking of the virus, I read an article by a doctor who studies viruses. He said that we should stock up on Zinc Lozenges because these have been proven to be effective in blocking coronavirus (and other viruses) from multiplying in your throat and nasopharynx. Use them several times each day when you begin to feel ANY "cold-like" symptoms beginning. I looked in several drug stores around town, and they were sold out but found these. I also have been taking these gummies every day for the last week.
Get whatever you can get your hands on! When all else fails, I think a glass of wine helps kill germs!
Have a great day! xx
Photos: Danielle Sabol
Sweater // Jeans // Belt (similar) // Shoes // Bag (similar)