A COMFORTABLE TRAVEL OUTFIT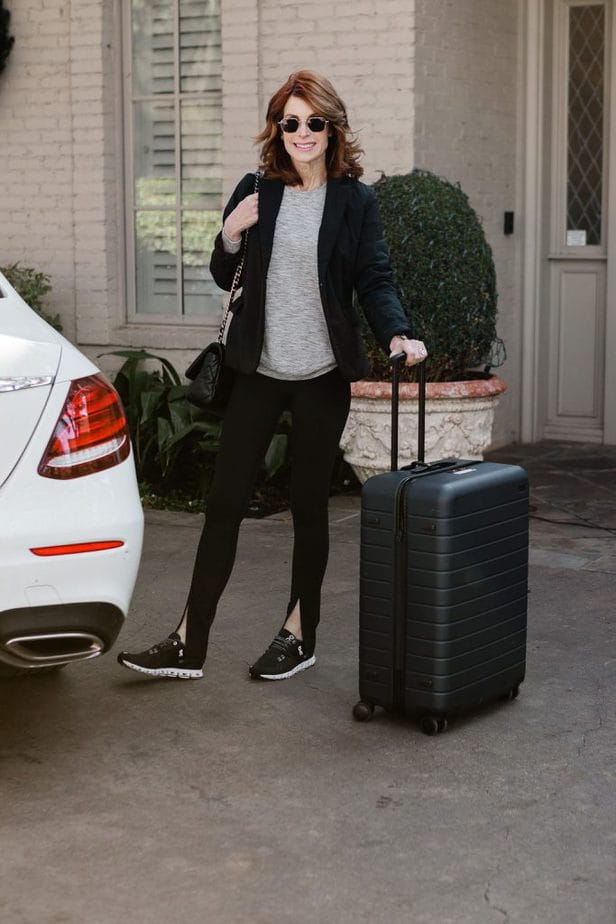 Happy Monday, everyone! I hope you all enjoyed your weekend! Mine was very uneventful, but I sort of liked it that way. I have been home a lot the last couple of months which I have loved (really a homebody) but come next month; the trips are going to start up. I love to go, but I do stress over packing and taking the right things. One thing I do know is that I like to be comfortable in a plane or car. I wanted to show you the best and most comfortable outfit for traveling in and let you in on an $800 Amazon Giveaway.
What Happened To Looking Nice When Traveling?
Remember when flying used to be an event? When I was young, I remember my parents getting dressed up for air travel. I even dressed up when I would fly with them. Those were the good old days! I loved the flight attendants' uniforms and thought about becoming a "stewardess" for Braniff because that's the airline we flew the most (until they were no more), and I thought the flight attendants were so chic. Today when I travel, I have to admit that I can get quite shocked at what some people wear. I guess I am "old school," but I think you should look presentable to fly. I saw a young woman get on my flight in Elmo (yes, Sesame Street) pajama pants and house slippers. You all have probably seen some crazy outfits as well!
A Great Brand For More Than Exercise Clothes
My entire travel outfit is from Athleta. I am a big fan of the brand for exercise clothes and athleisure wear. The blazer I am wearing is fantastic. It has a slightly puffy look and has down-like warmth on the inside. A travel blazer needs pockets, and this one has them. It's also water and wind-resistant and provides weightless warmth with Primaloft® Gold insulation. You can even wash and dry this thing! I am going to order the cream color as well because they are on sale for $85! You all, this blazer is so versatile, can be rolled up and packed easily, and looks very chic. I got a size XS, but if you like to layer heavier pieces, I would size up.
Chic Athleisure Pieces
I also love traveling in these leggings. These pants are a true yoga pant, but I think they look nice enough for travel because of the slight flair at the bottom. You'll be comfy on the flight, but it's nice to have a yoga pant with you for a class or a walk on a trip should you have the opportunity. These pants can be worn with a long sweater or blazer and look great as well. If leggings aren't your thing for travel, check out these cargo pants. The sweatshirt I am wearing is SO soft with a tulip edge hem, and I could buy it in every single color! I know my bum is showing, but if that's not your thing either, this shirt will do the trick! The good news is that none of these pieces are over $100!
One Comfortable Sneaker Brand
Now, the sneakers I am wearing might not be the most fashion-forward but, they are so dang comfortable. My husband and I bought them to wear when we went to Italy, and we wore them everywhere. He still wears his all of the time. Have you tried the On Cloud sneakers? They are fantastic for walking, running, errands, or just about anything that you will be on your feet for.
We have bought so many suitcases over the years, but we like Away. They hold up and are not so expensive. I always seem to overpack, especially my cosmetics! I promise my cosmetics and toiletries are what weigh me down, but I like having my stuff with me! I have found a great cosmetic bag that lets me see everything when I travel. A lot of influencers use this bag, but I didn't like it as much as my lay-n-go bag. You open it up, and everything is right there to see, and you can put so much more in it. I do not leave without this travel mirror, either!
I do travel with a Louis Vuitton "Neverfull," but I am not sure I love it anymore. I am in the market for a functional tote that can house my laptop, water, snacks, pashmina, and magazines and doesn't weigh much. Does anyone have a favorite?

I have a pretty easy day. I need to write a few posts today and tomorrow because I have one of my best friends coming to stay on Wednesday. It's a nasty looking day and the perfect one to stay inside. Please enter the rafflecopter below to try your luck at the $800 giveaway.
Have a wonderful Monday!
Photos: Danielle Sabol
Blazer // Sweatshirt // Legging // Sneakers // Bag (similar) // Suitcase (old neck!)
We want to treat YOU this Valentine's Day!
I've teamed up with an amazing group of bloggers
to give YOU a chance to win:
a $800 Amazon Gift Card or PayPal Cash,
just in time to treat yourself!
Simply enter below by completing the rafflecopter. You'll receive one entry per completion. This giveaway is open to the U.S. and Canada only and runs until 2/9.
Winner will be announced here. Good Luck!
Void where prohibited. By entering the giveaway you acknowledge that you are agreeing to complete each task,which involves following, liking and subscribing to newsletter's.