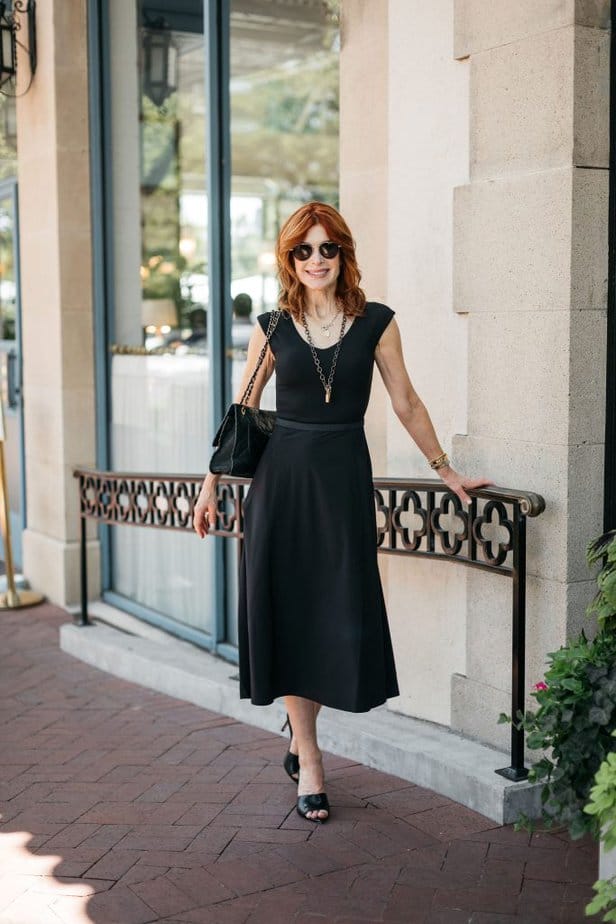 Hello! I hope you guys are all good! So, I ended up having a fever over the weekend. I haven't had a fever in thirty years! Also, I had about three days of not feeling good, but thankfully that is over.
AN AFFORDABLE BLACK DRESS WORN TWO WAYS
Today, I wanted to show you an affordable black dress worn two ways. Okay, this dress is fantastic, and you aren't going to believe where it's from. It is from Athleta! It's made from nylon/spandex and pulls sweat away from the body (great for the summer) to the fabric's surface so it can evaporate. The dress fits snug at the top in a buttery-soft rib and has a small open back detail. It is so comfortable, the perfect piece to travel, run errands in, and wear out to dinner. I am obsessed with it! Can you believe it is under $150 and athleisure?
Styling My Black Dress
I wore the dress with heels to show how classic it looks and how easily it could be worn to dinner. What a great dress for travel because it could be worn so many different ways and with so many other pairs of shoe styles. I bought a pair of pants and blazer from Athleta about four years ago, and sadly they don't make the same styles any longer, but I just wore them to travel to Montana. The pants were similar to this pair. Depending on which styles, athleisure can look super chic for travel.
For the second look, I paired a white denim jacket (similar), Hermès mini Evelyn bag, and a pair of the comfiest slide sandals for a day of running errands in this stupid heat. I always take a jacket with me to stores or restaurants. This is just a different way to treat the dress. In the fall, I will throw a sweater or cardigan over it and add a pair of boots or shearling slide sneakers or slides. I know this sounds morbid, as I said in this post, but this is a dress I would also wear to a funeral. It's just an all-around great piece to have!

Organizing My Kitchen
My oldest and family are staying with us for a while as they look for a house (I've told you all that, but repeating it). My daughter-in-law loves to organize, and she started organizing my kitchen over the weekend. We got rid of so many glasses! She is going to help me tackle the pantry and laundry room next. I am so excited because both spaces look like a bomb went off! Also, I need someone to make me do it, and she is TOUGH! I like it!
PS…I have a code for 10% off at The Trusted Lab for any of their products. I am obsessed (and have been taking them nightly) with the CBD (no THC) Extra Strength Night Time Gummies with Melatonin. They are fabulous! I am also enjoying The Daily Scoop Fitness Greens. This powder added to water is a great way to get in your greens but with a berry taste! It's seriously the only green powder drink I can get down! Use Code: CATHY10 if you place an order. You will be so glad you did!
I hope you all have a great day! Stay well and be safe! xx
Photos: Beckley & Co
Dress // Bag (similar) // Heel Sandals // Long Necklace (similar) // White Denim Jacket (similar) // Bag (similar) // Woven Sandals