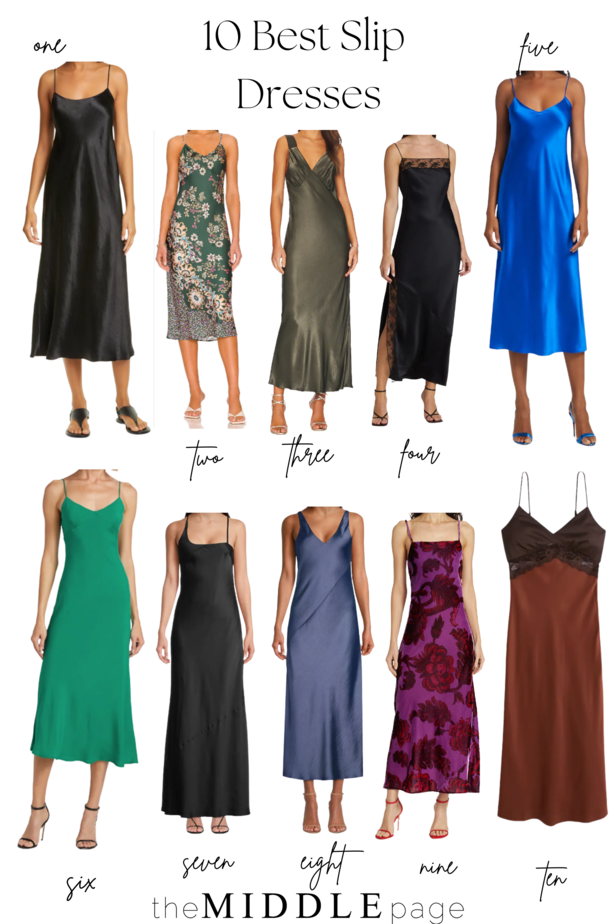 ONE // TWO // THREE // FOUR // FIVE // SIX // SEVEN // EIGHT // NINE // TEN
TGIF ladies! I hope you've had a lovely start to November. I'm still unsure where October went, but I will roll with it! Speaking of November, holiday parties and gatherings are just a few weeks away, and one great dress to have in your closet is a slip dress. Before leaving this page because you think it's not for you, let me tell you why a slip dress is actually the perfect one.
I know many of us don't wear sleeveless dresses (or sleeveless anything), and I'm with you on that. A slip dress makes an excellent base for wearing a jacket, blazer, cardigan, or sweater over it and a tee or turtleneck under it. Think about a black slip dress and how many times you could wear it with different layers on top. I love slip dresses with heels, but I've worn them with boots and sneakers.
10 BEST SLIP DRESSES
 I've already combed through and picked my ten best slip dresses to share with you all. A slip dress is a classic wardrobe staple that has stood the test of time, but there are so many gorgeous shades and mixes of materials. Believe me when I say I had a hard time narrowing it down! Which shade would you choose?
I wore this slip dress a few weeks back to a party at the LTK conference. You will not believe it when I tell you that this dress is from Abercrombie and Fitch (not a place I frequent); however, they were sponsoring the event, and we were told that the dress code for the night was something from A & F. I went to the store here in Dallas and found this gorgeous slip dress. Of course, I would have never worn it without a layer. I paired a "vintage" Tory Burch leather jacket with it; honestly, I love it! The dress comes in three other colors and is on sale for $75!
I hope this slip dress round-up helps you feel more confident about wearing one! Black is always an excellent choice for a slip dress, but the green above would be perfect for holiday parties!
 As always, I hope you have a fabulous weekend!
Stay well and Be safe! xx
SHOP THE DRESSES