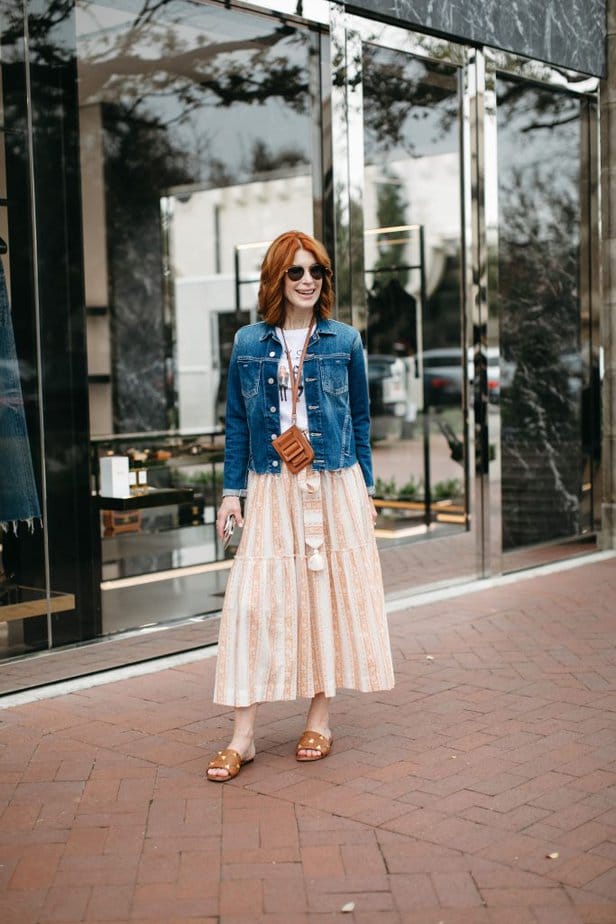 BRINGING IN THE MAXI SKIRT BOHO STYLE
Happy Spring! I'm so glad it's finally here, although the weather has been freezing the last few days! I think warmer weather is on the horizon, and I am so excited to bust out the Spring clothes! I am already through wearing dark colors (except for black, haha!). There are so many beautiful colors in the stores right now! Everything from brights to pastels. I am gradually adding in lighter pieces like this adorable boho-looking maxi skirt.
I am thrilled that skirts have become a versatile wardrobe staple again (especially maxi skirts). Maxi skirts look cool with platforms, flats, sandals, and cowboy boots. I love a simple tee or tank with a maxi skirt with a fun jacket or sweater thrown over your shoulders. Maxi skirts can also be worn by any body type and cover many sins (if you need them to!) That's why I like them. Regarding fabrics, the denim maxi is having its day, but satin, knitted, and cotton are great choices. There are just so many possibilities!
CHARMING MAXI BOHO SKIRT
The all-cotton skirt I am wearing is charming and is from a brand called Mille which makes the most feminine pieces. I bought a dress and an eyelet blouse from them last year. The boho-style skirt has a lightly flowered striped print with a cute tassel-tipped sash/belt. I think a cropped sweater (over a tank, of course!) would look so cute with it too. I paired it with a fun tee from Unfortunate Portrait. My 20-month-old granddaughter is obsessed with Harry Styles, so I had to get this tee! I wore my denim jacket over the tee because it was chilly, and I liked how it looked.
HANDS-FREE CARDHOLDER IS SO PRACTICAL
I was looking through a Harper's Bazaar last month and came across a page showing tops with leather cards or sunglasses holders on shoulder straps. I thought it looked so cool, especially for the summer. What a great way to go hands-free and look chic. I ordered the one I am wearing from a brand called Boyy. I think these are great to wear when you travel, attend concerts, or don't want anything in your hands. I love brown, but they come in other colors too!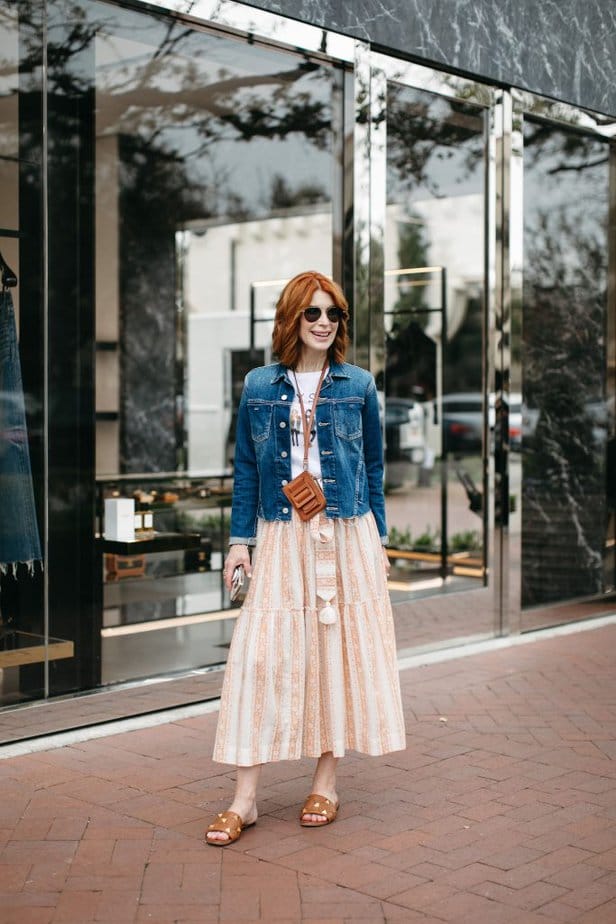 I have another busy week for some reason! I complain when they are and then when they aren't, and I get bored. Do you all feel like that? When I look at my calendar, I want to go hide this week and come out next week! Seriously, I am grateful that I am busy. Are you all ready for Easter? I am almost finished getting the grandkid's Easter baskets together. I am gone the week before Easter and need to make sure that is done before I leave. So much to do!
I hope you all have a great day! Stay well and Be safe! xx
Photos: Beckley & Co
DENIM JACKET (less expensive) // TEE // SKIRT (and HERE) // CARD HOLDER (love this color too!) // SANDALS (less expensive)

Wanted to include this fab tote bag in this post. This is from LuMaMi bags out of Mexico. Their bags are made of recycled water bottles! They are so sturdy and easy to clean. They offer different sizes and so many color combinations. This is my second bag, and I love it. It's PERFECT for the beach, a trip to the farmer's market, storing dog or children's toys, and many other things! They are giving my readers a discount if you use code: CATHY15. You will love these bags, and they would make a great Mother's Day or Graduation gift!