Happy Friday, everyone!
I don't know about you, but I am so glad that this is the end of the week. I feel like a broken record, but this week was a beating for me. I'm so far behind from being in Austin last week and can't seem to catch myself up. I am hoping to get my house in order this weekend because my in-laws will be coming in to stay with us for Thanksgiving. Also, I plan to catch up with my blog posts. Today is one of my favorite posts because it has to do with the Chic at Every Age girls and a girl's night in the most comfortable loungewear.
I can't tell you how much I adore these girls…Natalie, Sam, and Heather. They have become some of my best friends in the world and Iove them to pieces! We always have so much fun together and really like being with each other. I wish we could all be together more often. Heather and I live close to each other, but Natalie and Sam live out of the city, so it makes it hard for all of us to get together regularly. Anyway, we had a fun girl's night hanging out in these comfortable loungewear pieces, chatting, drinking wine, and playing the most fun game.
It's a party in a box and only for adults. It's a naughty twist to Cards Against Humanity if you have ever played that. It can be as dirty as your mind wants it to be, and is a riot to play with girlfriends, but you could include the guys too. One thing I guess I've never told you all is that I do have a little bit (hmmm…maybe more than a little) of a dirty mind and love potty talk. I thought this game was hilarious!
Comfortable Loungewear
These loungewear pieces were the perfect pieces to wear at our girl's night. They are from Make + Model and are super soft and are under $50. We are all wearing this hoodie and these jogger pants. I also thought it would be great to throw in some other gifts that would be great for your girlfriends for under $50 at the bottom of the post.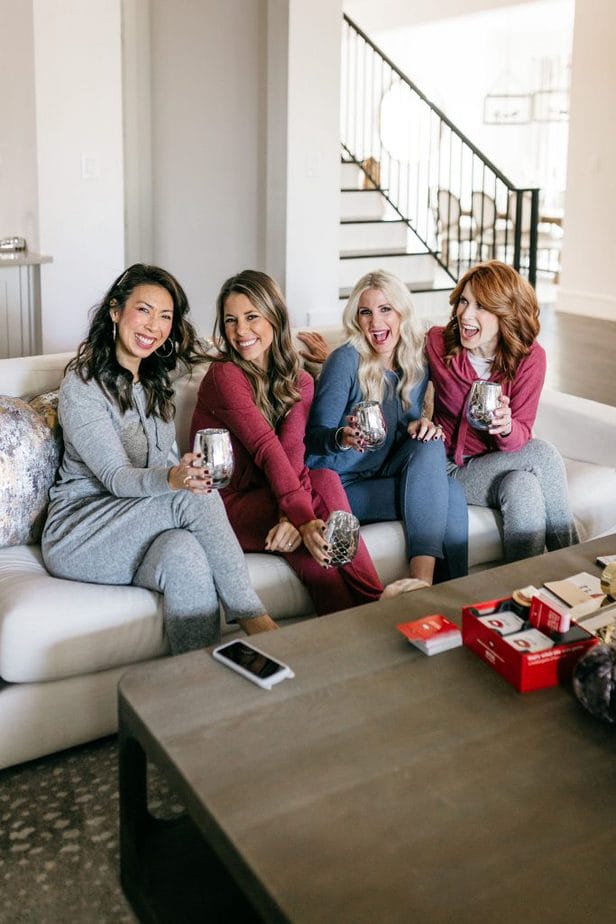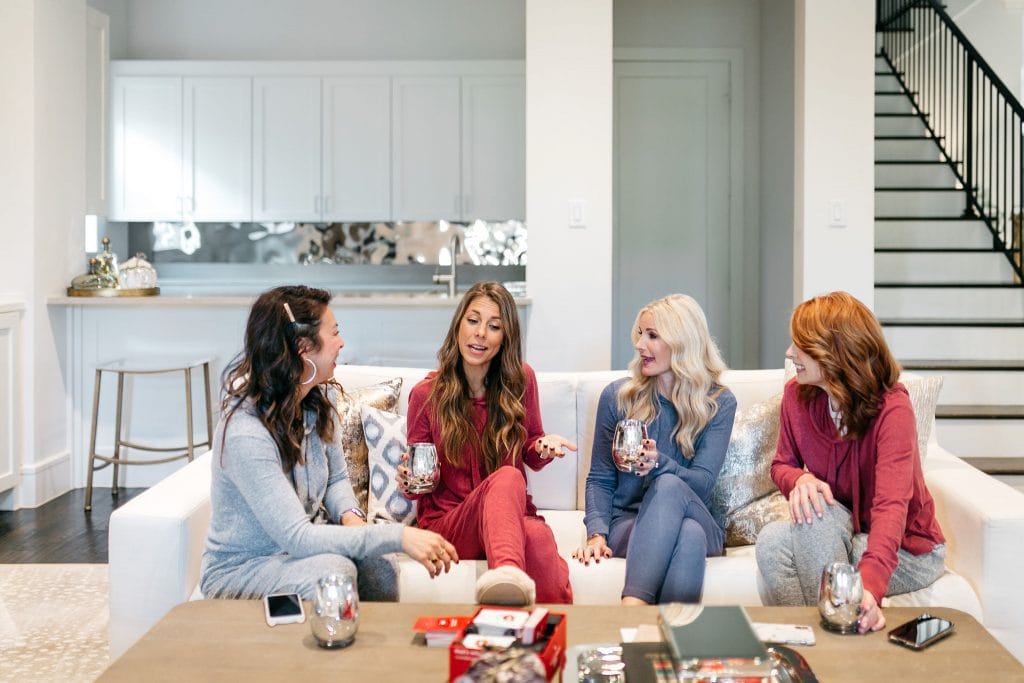 I wanted to remind you all to sign up for this great giveaway and hope you have the best weekend! xx
Photos: Beckley & Co
Lounge Hoodie // Lounge Jogger Pant // Tee
UNDER $50 GIFTS FOR THE GIRLS

We're making a list and checking it twice!
I've teamed up with an amazing group of bloggers
to give YOU a chance to win:
a $750 Amazon Gift Card, just in time to Black Friday and Cyber Monday sales!
Simply enter below by completing the rafflecopter.
You'll receive one entry per completion.
This giveaway is open to the U.S. and Canada only and runs until 11/22.
Winner will be announced here. Good Luck!
Void where prohibited.
By entering the giveaway, you acknowledge that you are agreeing to complete each task,
which involves following, liking and subscribing to newsletters.