CHIC AT EVERY AGE // WHY THE MOTO JACKET IS THE QUINTESSENTIAL JACKET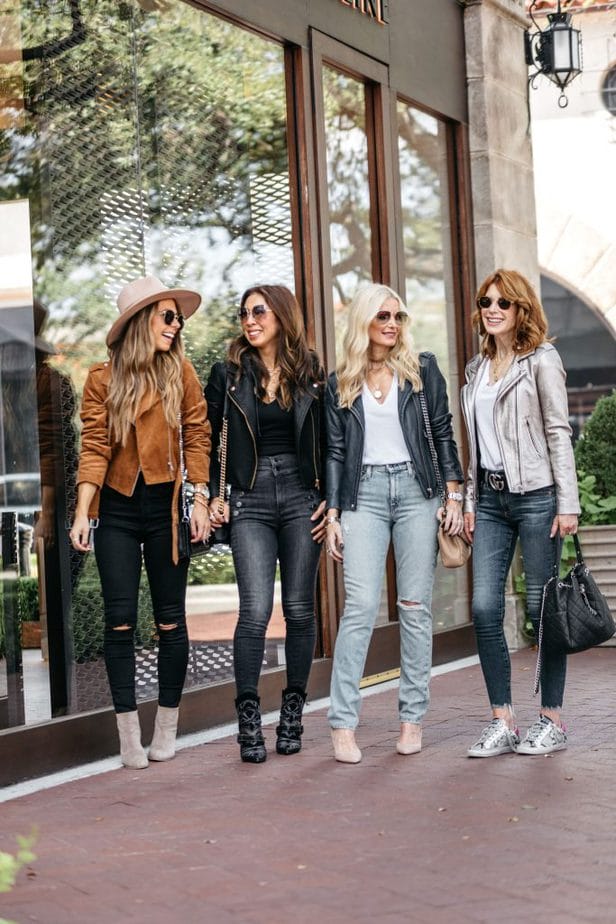 Natalie-The Fashion Hour // Samantha-Style of Sam // Heather-So Heather
Happy Friday! How was your Halloween? We met my son, daughter in law, and her mom to celebrate her mom's birthday last night in Bishop Arts and had such a great time catching up! We don't all get together as much as we should, but it sure was fun. We have the best two daughters in law, and we love their mom's so much! We are so lucky and blessed! Today's post is short and sweet! Chic at Every Age, girls are showing our love of moto jackets. We all have several moto jackets in different colors and fabrics and think they are the all-time quintessential jacket!
Moto jackets can be worn with anything (well, maybe not over a blazer) and anywhere. I have worn mine (as we have here) with jeans and a tee, but also over a cocktail dress and even a black-tie gown. I am particularly fond of leather moto jackets because they can be worn year-round (I have collected about seven of them), but they can be found in many fabrics. All of mine are from IRO (I'm a size 34-36 depending on the cut), but I think Understated Leather and Allsaints make amazing leather jackets that are more affordable. I love a tweed moto jacket too!

What are your plans for the weekend? We don't have any for tonight (thank goodness). Tomorrow night, however, I am sitting in front of my TV and watching the SMU-Memphis game. I never get excited about football, but since SMU is doing so well, I am incredibly happy! They are prime time on ABC! I hope you all have a great weekend and that your teams win (except for Memphis, sorry!).
Photos: Beckley & Co
Jacket (similar) // Tee // Jeans (size 23 in AG) // Sneakers // Belt (size 75 or 80) // Bag (similar and here)
A few more of my favorite moto jackets