CLASSIC AND TIMELESS LOOK
Good Morning, friends! I hope everyone is having a great week! We left Dallas yesterday and flew to Naples, Florida. I am so happy to wake up here this morning for two reasons. One, we are here with our grandchildren and celebrating Wiley turning seven (can't believe it!) today! As I said before, we haven't seen the kids since Thanksgiving, and I am going to enjoy every minute of the next few days with them. Two, it has been so dreary and rainy in Dallas lately, and I need some sunshine in my life!
Classic and Timeless Look
I have to admit to you all that I have been a little un-inspired with shopping for looks lately. After the holidays, nothing has been catching my attention until the past week. Everything in the stores and online has been about sales and winter clothes. I know that we are still in winter, but I have wanted to lighten up a bit, and it's been hard to find in my local stores lately.
So, I went shopping in my closet and pulled out this look.
I think I showed this same outfit a few years ago, but I still love it. This is a classic look that is timeless and looks just as good today as it did a few years back. The blouse, collar, and pants are all from Anne Fontaine and are still available. Anne Fontaine is synonymous with her beautiful and elegant blouses, but she has so many other lovely pieces.
If you have a dressier white blouse already hanging in your closet, adding a chiffon scarf like this will give it the same feel. These pants are also a good dupe for the ones I am wearing. Sometimes it's better to shop in our closets. We already know what fits and looks good. Adding different shoes and accessories to a previously worn look can make an outfit look entirely different.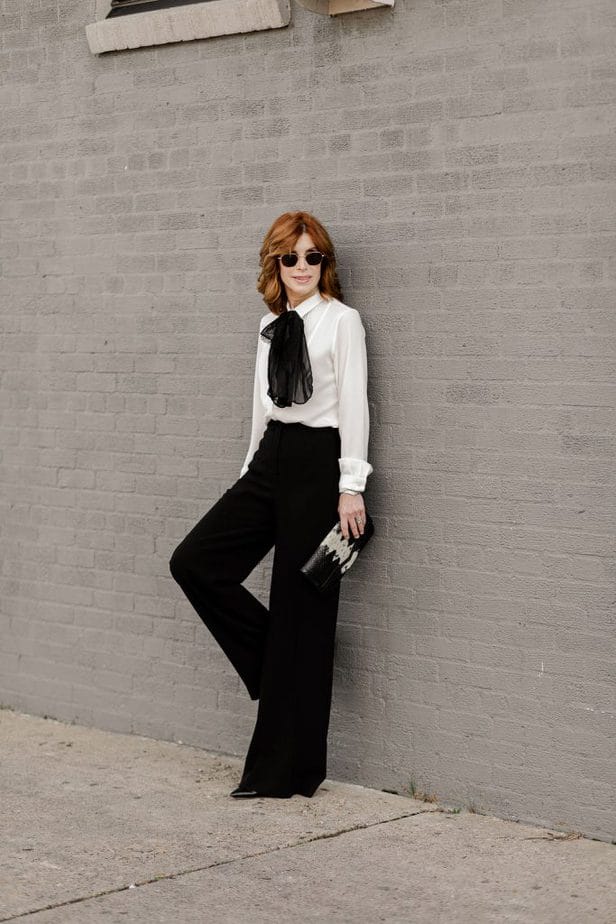 We woke up to two little people banging on our door this morning before seven o'clock, ready to get the party started. Donuts and pancakes are on the table, the sun is out, and I am with my little loves. Life is good! I hope you all have a wonderful day!
Photos: Danielle Sabol
Blouse (similar) // Collar // Pants (similar) // Shoes (less expensive) // Bag (vintage but similar here)