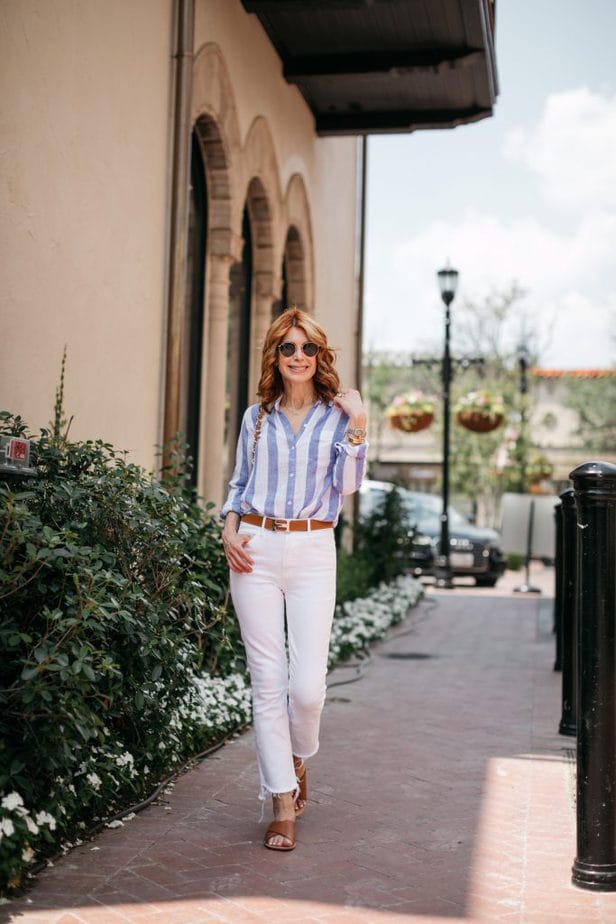 Good Morning and Happy Friday! Wow, this week flew by so fast! I had a colonoscopy on Wednesday, so you can guess what I was doing on Tuesday. This was my fourth or fifth (I can't remember) one, and each time I do it, the prep is the worst part. I have severe IBS (constipation and TMI), so the prep is extra yucky! I will say that my stomach is flatter than it's been in a few years! Anyway, so glad that is over, and I don't have to do it for another five years.  PSA, if you are over 45 and have never had one, it's super important to get them done! Do it in the summer before a beach trip!!!
CLASSIC STRIPED BUTTON-DOWN
Today is all about the classic striped button-down. I love a button-down all year long, but I love to wear them (especially in the summer and in linen) because they keep my skin protected, keep me warm inside, and are always uber classic. I shot this a few weeks back, and of course, this exact one from Rails is no longer available except maybe in a size xl. So, I started digging around the interweb, and a lot of button-downs are sold out. It must mean that we all love wearing them.
I love a button-down paired with jeans, but I also think they look good with any style of pants or shorts. You just can't go wrong with one. I also am in favor of tying them at the waist when worn with high-rise pants. In the summer, my fabric choice is linen or light cotton. My favorite brands for classic button-downs are Rails, Frank & Eileen, and J Crew. For button-downs with a twist, I LOVE A Shirt Thing, Trovata, and Xirena.
A FEW OF MY FAVORITE BUTTON-DOWNS

So, gang, we are in the final stretch here for the new grandbaby's arrival. It is any day, and I can't wait to find out if it's a boy or girl. I am praying for a safe delivery for mama and baby every day. My daughter is miserable and looks like she is literally about to pop. I can't wait to fill you all in when it happens.
My husband's birthday is tomorrow, so we will celebrate tonight with the family if nothing happens (with a baby). We are headed to a wonderful friend of ours 50th birthday dinner tomorrow night. She and my husband share a birthday, and we celebrate with her every year. Lots going on in my neck of the woods. I hope all is well in yours!
Since the Nordstrom Anniversary Sale is in full swing, I wanted to show you some of my favorite tops and sweaters. Check them out below.
Have a wonderful weekend! Stay safe and well! xx
Photos: Beckley & Co
Shirt (similar) // Jeans (similar, mine are last year's) // Belt (similar) // Sandals // Bag (similar)
NORDSTROM ANNIVERSARY FAVORITE TOPS AND SWEATERS