The Sweater Vest
Happy Monday, everyone! How was your weekend? Did you all do anything for Halloween? My youngest daughter-in-law's mom was born on Halloween, so we got together for a little birthday celebration. She is one of my favorite people, and I am so lucky that both of my daughters-in-law's have amazing moms that have made our family so much better! Other than that, we had a low key weekend (again!). Do you know what I am loving for fall this year? The sweater vest has made a comeback, and I am into it!
There is something a little nostalgic about a sweater vest for me. It reminds me of my grandfather and the first couple of years of college. I remember my sweet grandaddy wearing camel or argyle sweater vests and me wearing them with bow neckties in college (Fairisle for sure!). In fact, I love the way they add another element to a simple outfit. I ordered the one I am wearing back in late September, and darn it if it isn't sold out. But I did find some other great ones that will give you the same look below. I ordered this one yesterday, and I can't wait to get it!
But they do look sophisticated paired with a flowy pant. I think they add a modern feel to a cropped jean or a slightly ripped pair (why I don't wear ripped jeans at the knee here). Sweater vests are super fun and a great way to update without spending a lot of money.
The patchwork bag I am carrying is vintage, and I am obsessed with it. I bought it a few months ago and was shocked at what great condition it is in. The entire bag is cowhide, and the colors are such fun! I love looking at What Goes Around Comes Around and The Real Real for special bags. Here is a great looking patchwork bag that is new.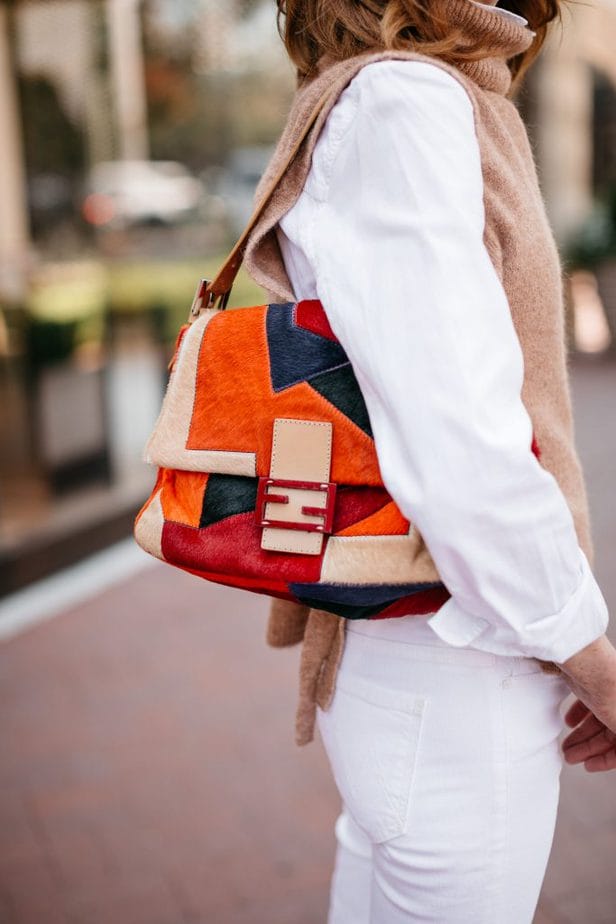 I have a friend coming in town today that I am having dinner with tonight to celebrate that after tomorrow, we don't have to see any more political commercials! Whatever the outcome of this election, I hope that there will be peace and that we can all be kind and loving to each other. I'm ready for this to be over. Anyone else feel me?
Have a wonderful day, and be well! xx
Sweater Vest (sold out but similar) // Button Down // Jeans (I bought a size up) // Boots (old, similar) // Bag (vintage)