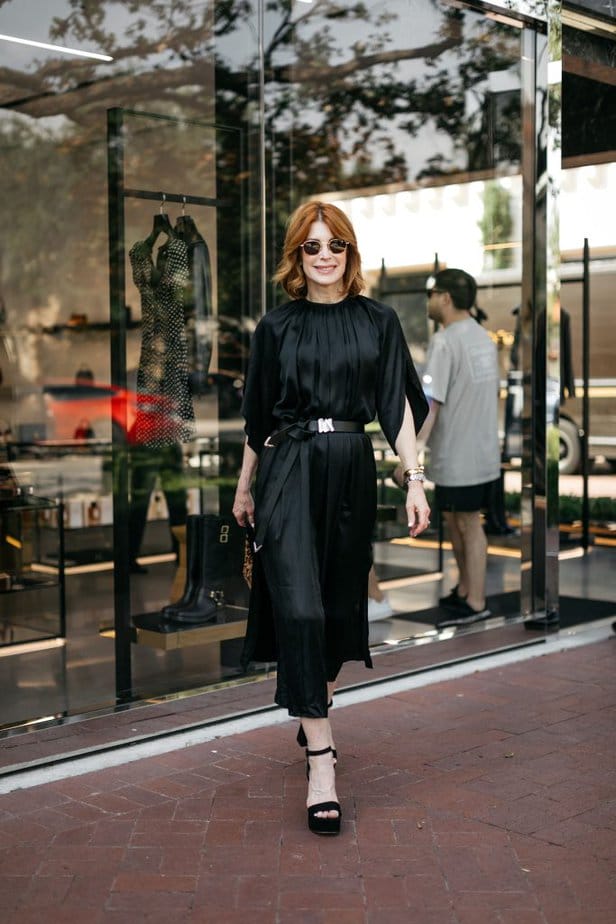 FLOATY GATHERED MIDI DRESS
Buenos Dias y como estáis? We arrived in Madrid yesterday afternoon by train and are staying at a fabulous boutique hotel called the Heritage Madrid. We went to another fun restaurant last night. I feel like all I have done is eat and drink my way through Spain! Today, we are being picked up and going on a tour of The Royal Palace. It's been a great trip so far, but I am ready to come home because of what is happening in the world.
Before I go any further here, I want to give my heartfelt condolences to the people of Israel. My heart aches! I have been utterly disgusted by the photos I've seen of such savage brutality! What's wrong with the world right now, and why can't we all get along? Why do we let these higher-up people and the media pit us against each other, and why are we so afraid to say anything? "Bystanders" is a catch-all term that has often been applied to people who were passive and indifferent to the escalating persecution that culminated in the Holocaust. That was my rant. I'm so sorry this is happening, but God knows, and this isn't surprising to Him.
Now, a little fluff, and I am so sorry to say that this floaty gathered midi dress sold quickly, and there are only smaller sizes available; however, it is an ample piece. It is an easy dress made from a viscose blend with side slits and pockets. I bought this dress to take on this trip with me. I added a belt from Frame that dresses it up a little more. This dress came from COS (stands for Collection of Style), a store I love to frequent when I visit my daughter in LA. It is a Swedish brand, and I love the simple and timeless silhouettes and neutral colors. COS also places importance on sustainability and responsible practices. They are committed to minimizing its environmental impact by using sustainable materials. I did some shopping in LA the last time I was there and bought quite a few things that would be easy to pack (like this from my previous post). I have linked my favorite COS pieces below. Oh, and how cute is this bag???

We are out the door for a day of tours and sightseeing.
Que tengas un gran día! Stay well and Be safe! xx
Photos: Beckley & Co