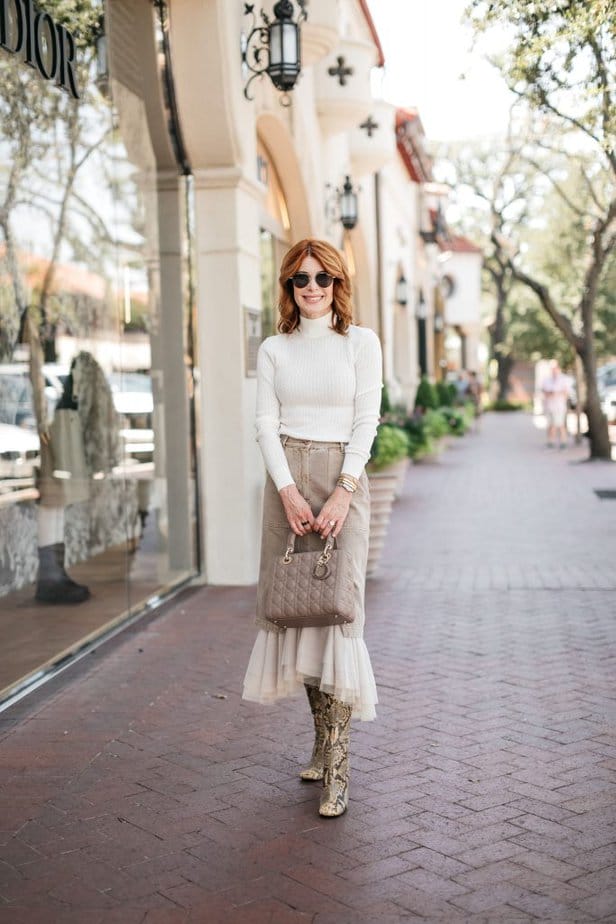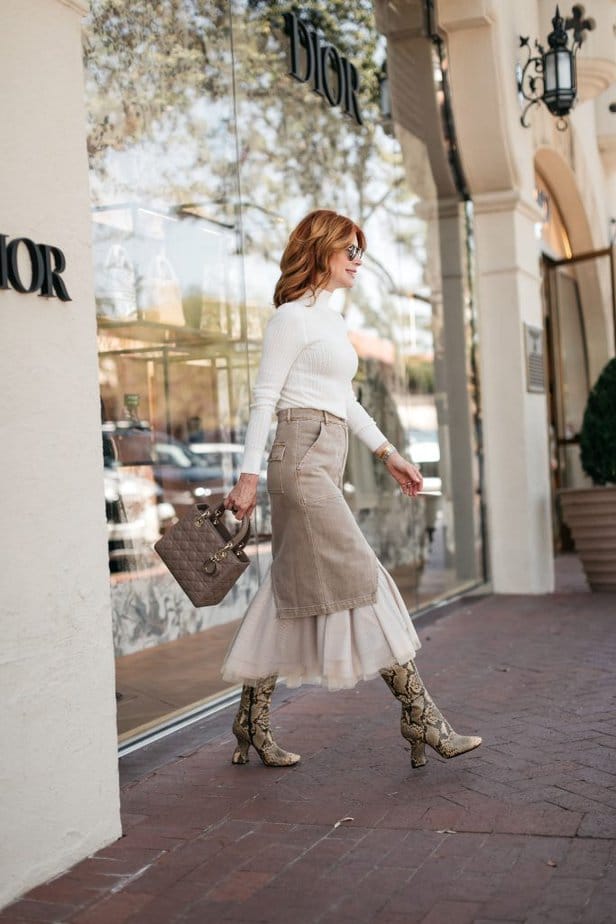 Good Morning, everyone! I hope you all are doing good! I had the busiest week ever last week. I attended the LiketoKnow.it (LTK, formerly Reward Style) conference. Let me tell you if you want to feel really old, that was the place to be! I felt like a dinosaur compared to everyone else there. About ten of us were around the same age, but the rest were very young. It was still fun to be there, but it was exhausting.
Before I talk about today's look, I want to say that I am sorry to everyone affected by Hurricane Ian. My heart has been so sad. My daughter-in-law's family home in Naples was hit hard, and they will have to rebuild. Florida is one of my favorite places, and I pray for everyone there.
How to Style a Tulle Skirt
This skirt is the tulle you need for a great fall look (like how I did that?). I have always been a sucker for tulle (all those years of dance lessons and recitals), but it was not something I would have incorporated into my wardrobe until Carrie Bradshaw made it cool! Still, I probably would not (at my age) wear a full-blown tulle look, but tulle skirts are making a big comeback and you may be wondering how to style a tulle skirt yourself! If you are like most of us here (50 and beyond), how would you wear this trend? 
 A little tulle goes a long way, and skirts are the best way to try it out. If you don't have a tulle skirt, it's a fun piece to have in your closet to dress up or down, and you don't have to spend a lot to get the look. Anthropologie is one of the best places to find tulle pieces. 
My favorite way to style a "poufy" skirt is with a structured top or jacket. I love the skirt I am wearing because it incorporates a bit of tulle to give it something extra. The movement is fantastic when you walk! I paired it with a fitted turtleneck and a snake print boot, but a cropped jacket and kitten heels would also be a great choice. I even think a tee and combat boots work with the juxtaposition of a tulle skirt. Personally, I like subtle versus over-the-top! Another way is with a top like this or this. I hope you enjoy this guide on how to style a tulle skirt, and I would love to see how you make it your own! Are you going to try this trend? 
Breast Cancer Awareness Month
Unless you live under a rock, you know this is Breast Cancer Awareness month. Most of you probably know I am a Triple Negative Breast Cancer survivor. TNBC is a more aggressive form of breast cancer. You can read more about it here. I am nine years out and so grateful that I am still here. Triple Negative is not fueled by hormones and does not discriminate against age. There are women in their 20s who have been diagnosed with it. Please make your mammogram appointments (if you are due) and do self-checks. If you have younger daughters, talk to them about this and make sure they do their self-checks. Early detection is critical! I can tell you from a lot of experience that I do not recommend it! I will be mentioning it off and on during October. 
Vera Bradley is a brand that I have been working with, and 20% of the purchase price of the Happiness Returns Pink and Rose Toile products will go directly to the Vera Bradley Foundation for Breast Cancer. Vera Bradley started their own foundation after a friend and colleague lost her battle with breast cancer. To date, they have raised over 38 million dollars!

I
I am playing catch-up today after last week. I jacked up my back about a month ago and am still seeing my chiropractor in hopes that she can help get me back to feeling good. I am out the door to that appointment and then a day of errands.
I hope you all have a great day! Stay well, and Be safe! xx
Photos: Beckley & Co
Skirt // Turtleneck // Boots (similar) // Bag (similar)