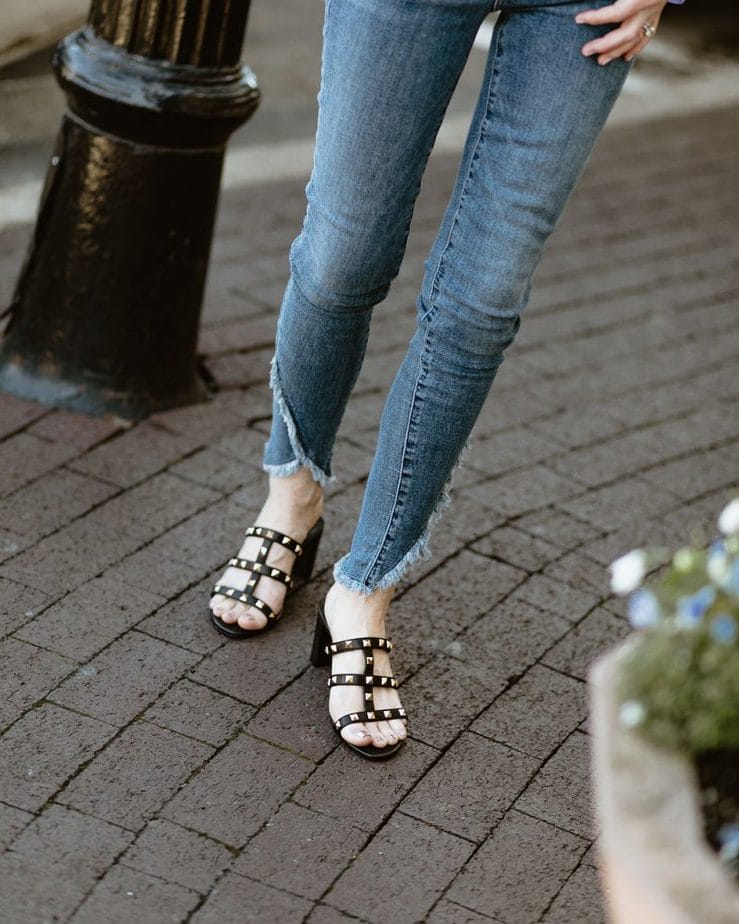 Hi, everyone!
Who out there is a shoe girl?  Who loves shoes that look expensive but aren't and are of great quality and comfortable? If you raised your hand like me, then I have the answer! Today, I am collaborating with Marmi Shoes to show you two pairs of my favorite shoes for spring. Are you all familiar with Marmi? Marmi is a women's shoe store(s) that are passionate about women's fine footwear. They have been around since I was in my 20's and their parent company, Wolff Shoe (family owned) has been in business since 1918! Marmi offers footwear for every occasion in your life and knows the importance of comfortable and fashionable shoes. And, they have the hard to fit covered! The majority of their shoes come in sizes 4-13, with slim, narrow, medium, and wide widths.
I got to pick out two of my favorite pairs for spring and am loving them, both from Vaneli. The first pair looks very similar to a very expensive shoe brand in my closet, so similar that I can't believe they are not from the same designer. This open back sandal features a padded insole, and a flexible rubber sole, on a 2-1/2 inch heel. They are also offered in white, nude, and antique pewter. They are super comfortable and look great with my jeans, but would also be perfect for dresses and skirts. I think I need them in the nude now.
­
­
The second pair I am wearing is so fun!
This shoe is a slip-on mule that has a chain-design with fringe detailing (so pretty and shimmery in the sun). What I think is so cool about them, besides the fact that they will go with everything, is the shape of the heel. It is a 2-1/4 inch heel that has a very retro design. They are also offered in black. If you don't like the heel, there is a similar pair in a flat here. I wore them with my jeans (again, because it was too cold to wear a dress!) but will definitely be wearing these fun shoes with dresses and skirts. I can see them worn on my beach trip this summer with every sundress imaginable.
I'm a shoe girl, and there are several more that I think need to come and live in my closet. I love wedges in the spring and summer, and these caught my eye which are perfect with my flare jeans or dresses. Also, I think these could pass for another very expensive brand. These shoes are so classic and will never go out of style. I could go on and on, but you would get sick of me! Look at the website yourself or if you are lucky enough to have a store in your neck of the woods, visit and try on their shoes! Marmi is giving you all 10% off all regular price spring 2019 styles with code: CATHY via the website here.
I am shooting today with the Chic at Every Age girls for something special we have coming up. Of course, it's freezing, and we are in spring dresses. This is the part of my job that I don't like (and changing in the backseat of my car when it's freezing or blazing hot!). I hope you all have a great day! xx
Thank you, Marmi, for sponsoring this post!
Photo: Danielle Sabol
First Blouse // Second Blouse // Jeans // Jacket (similar) // Black Bag (similar) // Snakeskin Bag (similar)