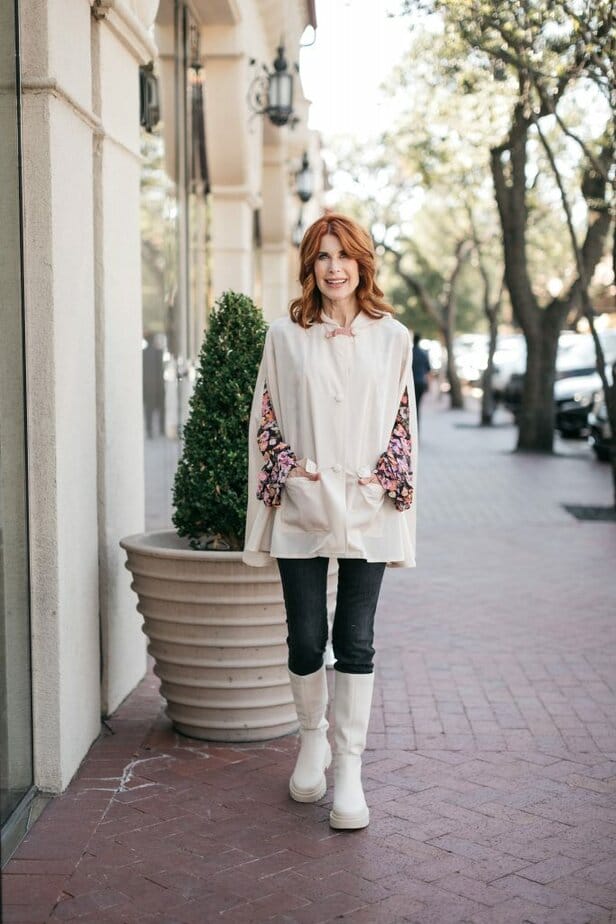 MARTA SCARAMPI X CATHY WILLIAMSON RAIN CAPE
Hi, everyone! I hope you are having a good week so far! I am exhausted! We went (with our kids) to see the Black Keys concert last night. It was so much fun, but I am running on empty this morning! I wanted to write this post in honor of Breast Cancer Awareness Month. As most of you know, I am a Triple Negative Breast Cancer survivor. You can read about what TNBC is here. Honestly, when I was diagnosed, I had no idea there were different types of breast cancer. Triple Negative is a more aggressive form that affects women of all ages, particularly younger women.
I am so excited and honored to tell you about my partnership with Marta Scarampi. Marta Scarampi is a sister-owned company founded by combining fashion designer Marta's creative vision and her sister Lucia's business drive and marketing. They are based in Torino, Italy, and offer, endless combinations of capes, blazers, and mix-and-match sets. Everything you need for daily effortless style, comfort, and a long-lasting wardrobe.
I connected with Lucia back in the summer and told her that I had started a rainwear line under the name She Reigns back in 2011. I had (along with my daughter-law) designed and found a manufactured six styles of "fashion-forward" raincoats. When breast cancer hit me, I had to stop the project and concentrate on my health. Lucia called me a few weeks later and asked how we could work together to spring my project back to life. We came up with reinventing my best-selling coat, the cape. I love how it turned out, and 15% of the proceeds of the Marta Scarampi cape sale will go directly to the Triple Negative Breast Cancer Foundation until December 24th!
The (one-size) Marta Scarampi cape is made to order and comes in five colors. How sweet is the breast cancer ribbon as the top closure? That is my favorite part! The coat can also be folded into its own pouch, carried in handbags, and packed so easily for travel.
I hope you will consider supporting this beautiful partnership by purchasing a Marta Scarampi cape. This would make a great Christmas gift or a gift to a survivor! This is such a passion project because I want every woman to understand that this type of breast cancer is different and DOES NOT discriminate in age. I believe it is environmentally caused.
Please schedule a mammogram and do self-checks and please let those younger women in your life know to do the same. Early detection is always key! I am talking about breast cancer on my good friend Deanna's, Well and Worthy Life podcast. You can listen to it here.
Have a great day! Be well, and stay safe! xx