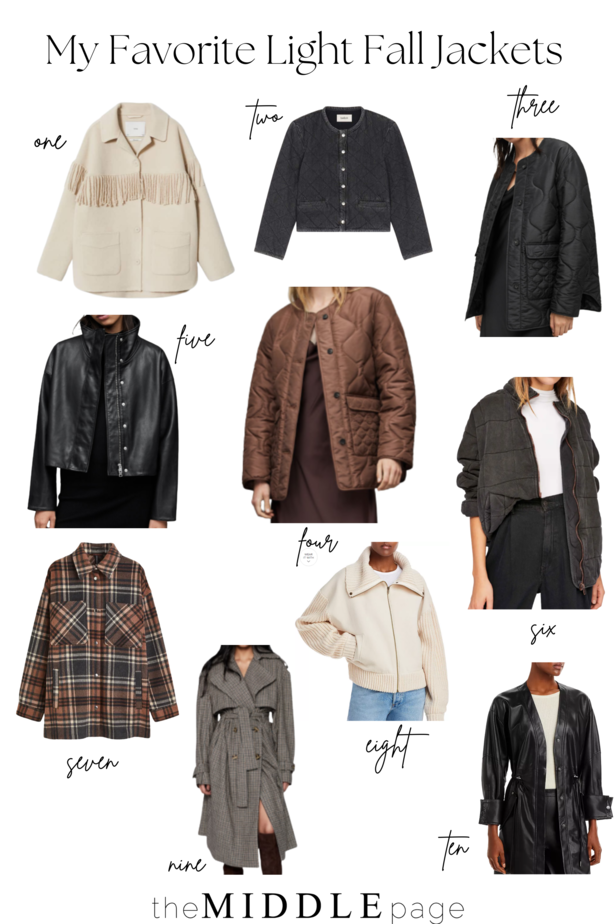 MY FAVORITE LIGHT JACKETS FOR FALL
ONE // TWO // THREE // FOUR // FIVE // SIX // SEVEN // EIGHT // NINE // TEN
Happy Friday, ladies! Another week has flown by, and I'm STILL combing through my closet and evaluating all my fall staples. I like to do a "wardrobe audit" of sorts when the seasons change. This helps me determine what trend pieces I want to keep, any basics that need replacing, and any maintenance my essential items may need ( leather boot treatment, etc.).
MY FAVORITE LIGHT JACKETS FOR FALL
This week I have been elbow-deep in the jacket section (because it's been a little cooler in the morning, and it's got me excited!), and I've decided I'm going to need a few updates! So, I immediately started researching and have come up with a list of my favorite light jackets for fall that I am SO excited to share with all of you. I've included some fabulous bombers and a few trench coats, and of course, I had to include a fall flannel. There are so many gorgeous pieces, and I'm going to have a very tough time choosing just one (but who's keeping track, right?) Which one would you choose?
Is your fall wardrobe in need of a fabulous jacket as well? Take a look through my favorite light jackets for fall, and let me know what you think! I have a jam-packed day today and am hoping to catch up on some much-needed sleep this weekend. September has come in with a bang for me, and looking at my calendar going forward, it's scary! I love having things going on, but there has to be a balance, and the balance is a little off for the next month. I mentioned to a friend yesterday that I thought I would be bored and not doing much at this stage of my life. Boy, was I wrong! Do you all feel like you are spinning out of control at times? I guess it's better than not having anything going on!
Have a fabulous weekend!
Stay well and Be safe! xx
SHOP THE JACKETS