NEIMAN MARCUS SALES ASSOCIATE LOVE
Good Morning, everyone! How are you all doing? For this post, I'm partnering with a store I've shopped at my entire life – Neiman Marcus. I can remember shopping for high school prom dresses, college formals, my wedding dress, day to day looks, gifts, and now things for my grandchildren. That is some kind of history with a store! What makes shopping at Neiman Marcus so special for me is the sales associates that I've known throughout the years. 
I met Phillip over ten years ago and can honestly say that I have never met a more gentle and kind soul. I was drawn to him (we are both Leo's) while shopping in cosmetics, and he became my person. Whenever I visited the store, I made sure to touch base and let him know I was there. We started to get to know one another and would chat about our lives and of course, what are the latest and greatest products, like the new La Mer The Neck & Decollete Concentrate. Ten years later, he is not only someone that can help me all over the store but someone that I truly value as a wonderful and special friend.
There are several other sales associates that I genuinely love in my neighborhood, Neiman Marcus. It makes shopping so much fun to have friendly faces there that I have come to know. I would always advise having your go-to "salesperson" to help you with what you are needing or looking for, but also someone that can help remind you about the benefits of being a part of the InCircle program.
With the holidays being right around the corner, it's a great time to sign up for a Neiman Marcus Card. Did you know that with a Neiman Marcus card, you earn two InCircle points for virtually every dollar? Once you earn 10,000 points, InCircle automatically sends you a $100 Point Card. So, the more you shop, the quicker you'll earn a Point Card to spend on holiday gifts or a cute outfit like the one I have on. 
Speaking of this outfit, I love the colorway of the striped sweater (size XS) from Frame. This sweater is the perfect weight to wear under a leather moto, like the one I have on, or any other jacket. My jeans (size 24) are also by Frame and are my new favorites with a straight leg and frayed hem. The jacket I am wearing is from Iro (it's the color camel and in size 36). I have an obsession with Iro leather moto jackets and have collected a handful of colors now. They are so good year-round!
I am also doing so much of my Christmas shopping at Neiman Marcus. I am ordering this adorable Beauty Salon Play Tent for my granddaughter, a Croquet Set for my grandson, Olive Oil, and Pasta Tin for a few friends, and this cute plaid short Pajama Set for my bestie and that's just a start! I'm hoping to get some Point Cards back so that I can put them toward these beauties!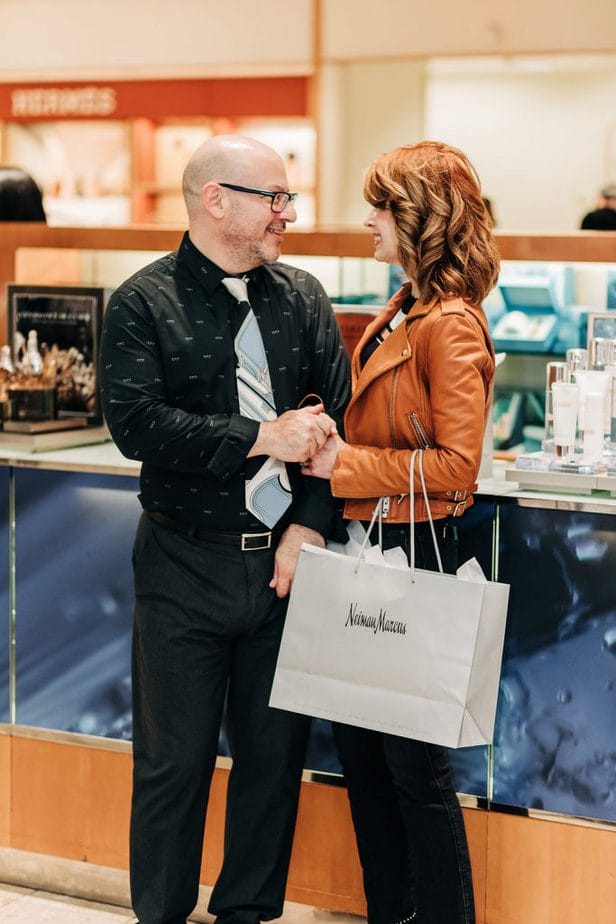 I am such a relational person and love that I have people at my Neiman Marcus (Northpark) store that can lend a hand but also feel like a family member. Phillip is one of those special people that I am so blessed to call a friend. If you live in Dallas or visiting, stop by the La Mer counter and meet him and don't forget to use that Neiman Marcus card during the holidays to get points back on all of your purchases. 
Have a great day, and thank you for reading!
Thank you, Neiman Marcus, for sponsoring this love letter post!
Photos: Danielle Sabol
Sweater // Jeans // Jacket // Boots