PURCHASING AN INVESTMENT COAT
Happy Monday, everyone! I hope you all had a great weekend! I loved mine because it was spent with two out of my three kids. We went to see the Black Pumas on Friday night, and they were fantastic! I think they are supposed to be on Jimmy Fallon tomorrow night. We spent time over at my parents visiting with my mom and dad both days and had some very good family time together. Since it got extremely cold over the weekend and even snowed for a hot second, I thought it would be a good time to talk about purchasing an investment coat.
I have been purchasing coats for years but have never made a considerable investment in a coat because of where I live, and I didn't want to spend the money on one. The older I have gotten, the more the desire for an investment coat. That being said, an investment coat can mean different things for different people depending on your income level and climate. If you live in a super cold place, an investment coat is a need. If you live someplace in the South where it doesn't get too cold, it may not necessarily be a need but a want. Whatever the reason, setting the price point is the first step.
I bought my coat this past summer after thinking about it for about six months. I saw the coat on another blogger, Susie, from So Susie (she has excellent taste!) and fell in love with it (I am blaming this purchase on her!). I knew it was going to be expensive because it is Gucci, and that's why it took me a while to pull the trigger. Quick add in here, unbeknownst to me when writing this, Susie wrote about her coat today too! What are the chances?  Do you know when you can't quit thinking about something? That was me and this coat! I had to decide if I really wanted to invest the money, and obviously, I did. I know I will have this coat forever!
After you have decided how much you want to spend, then the fun begins. What color would you want your coat to be? I buy almost all of my investment pieces in black. Black can be mixed with any color, and I don't get tired of it. It always looks chic. I would also consider grey, navy, or camel for an investment coat. Remember when deciding, are you going to like it in five years if it's red or another color?
What style looks appropriate for you? I like the clean lines of the coat I bought, but a robe style/ wrap coat or trench style might be your look. Sometimes I think you just have to see it then try it on if you aren't sure. I bought mine a size larger than what I usually wear so that I can layer underneath. A coat looks better a little looser, and a tight coat is miserable. Consider where you are going to be wearing your coat. Do you drive most of the time or walk? If you walk, you might think about the length more (a longer coat might get dirty at the bottom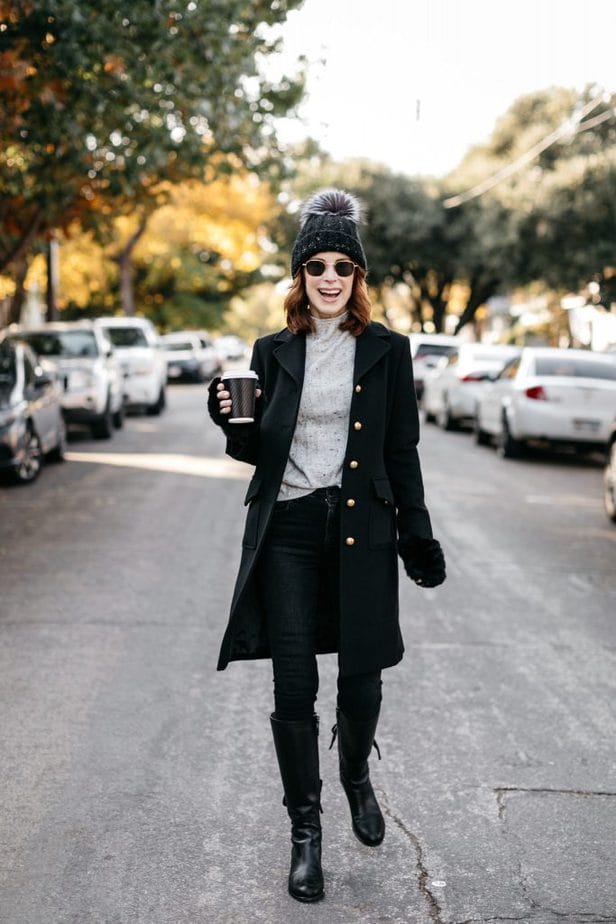 From now until Spring is a great time to start looking for investment coats if you are in the market because many are on sale.
I am linking some of my favorite coats below. Can we just swoon over this one, though? Doesn't it remind you of The Marvelous Mrs. Maisel? I'm out the door this morning to see my Reiki master and then to catch up on a few errands. I hope you all have a great day! xx
Photos: Beckley & Co
Coat // Turtleneck // Jeans // Gloves // Hat // Boots (old, similar)