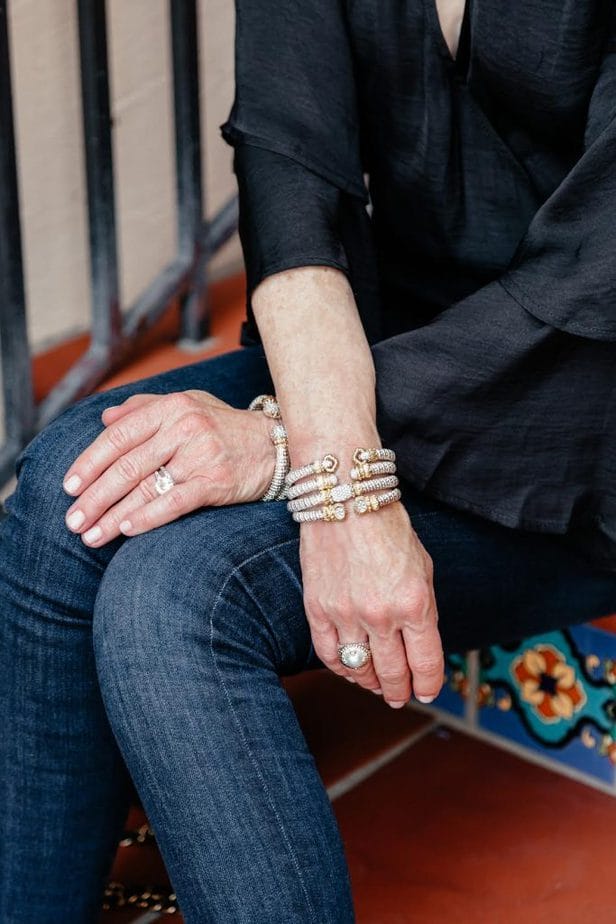 Hi everyone! We are loving San Miguel de Allende and what a special place for our youngest son's wedding! We hadn't ever been before, but from what everyone told us, it is a magical place. There is so much history here, and the art, food, shopping, and rooftops are amazing! We stayed at Hotel Matilda the first night, then moved to a big house yesterday that will house our crew and a few more, plus is the venue for the actual wedding. I will be posting on my Instastories, so if you would like to see, follow along.
Today, though, I am so excited to be partnering with Vahan Jewelry, one of the most exquisite jewelry brands around. Vahan Jewelry has been around for 50 years and founded by Leon "Sacha" Der Calousdian who had family roots in the jewelry business as early as the 1800's. He is the third generation to enter into the business of fashion and jewelry design.
Vahan is best known for their gorgeous textured and stackable bracelets that are so fun to mix and match. I'm sure if you are a magazine reader, you will recognize this brand! The beautiful thing about these bracelets is that they look stunning on their own, but when mixed together, they present a "WOW" factor! I feel that wearing one by itself is fabulous but that bracelet might be lonely and need some friends! Adding a two, three, or even five would make a fantastic party on the wrist! What's nice about these bracelets are that they have hidden clasps and can stretch to fit your wrists. Vahan jewelry comes in combinations of diamonds, 14K gold, sterling silver, and semi-precious stones (all price ranges) so that you can wear any other jewelry you own to accompany them.
All of Vahan's pieces are classic and will stand the test of time.
These pieces make great gifts (for yourself or loved ones) that can be passed down to daughter, daughters-in-law, and granddaughter (maybe more granddaughters). Whenever I buy or ask for a piece of jewelry from my husband (which is not too often), I always ask myself, "will my girls love this?" Vahan is not just bracelets; they have beautiful necklaces, earrings, rings, and pendants.
Ring // Necklace // Bracelet 1 // Bracelet 2 // Bracelet 3 // Bracelet 4
First Bracelet ( closest to hand) // Second Bracelet
With the holiday season fastly approaching, Vahan jewelry would make a beautiful gift for a loved one…or maybe Santa knows you've been a very good girl! The bracelets would be a fun thing to start as a collection. I hope you all have a fantastic day!
Thank you, Vahan Jewelry, for sponsoring this post!
Photos: Vanessa Christina
Top // Jeans // Pumps // Bag (similar and less expensive)