WHO WHAT WEAR COLLECTION WORN TWO WAYS
Hello, ladies! This morning, I'm a tired girl after hosting a successful birthday dinner for my son last night. We had way too much fun (if you know what I mean)! It was the family plus a few good family friends. We had freezing rain during the night, and I found out the hard way this morning. I got up to take the puppy out and busted it badly. I slipped (puppy in hand) and fell on my knee. Lots of blood, and I will have a significant bruise, but I am so thankful I didn't break anything. Be careful!
Today, my BFF, Heather, and I got together (as we love to do!) to feature a look from the Who What Wear collection (worn two ways) and get you all to guess which blazer (not from the collection) is the real (expensive) Balmain blazer which is the dupe. Let's talk about the Who What Wear collection first. I have been such a huge fan of Who What Wear and have read it religiously for many years. I was so excited when the brand came out with its own line for Target. Now, Who What Wear has come out with a beautiful collection of curated pieces (separate from Target) from their small team of fashion editors that can be found on their website. These pieces are investment-worthy and impulse-friendly!
We both chose this wavy ribbed cardigan available in the two colors we are wearing. It's a great piece to wear with the matching skirt or on its own. It's made of lightweight ribbed knit and has excellent stretch recovery. As you can see, I bought the matching skirt. I am so happy with both of these well-made quality pieces. The next purchase might be this cropped button-down and drapey pant. Speaking of, everything on the site is on sale up to 25% off!
Now for the question of which blazer is the expensive (over $2k) one and which is the dupe. Both look so similar, and it was hard to tell the difference (buttons are always a giveaway to me). I am wearing the dupe from Lilysilk and actually like it better than the real deal. It was more comfortable (to me), and honestly, I wouldn't spend that much on a blazer. I love finding a look for less!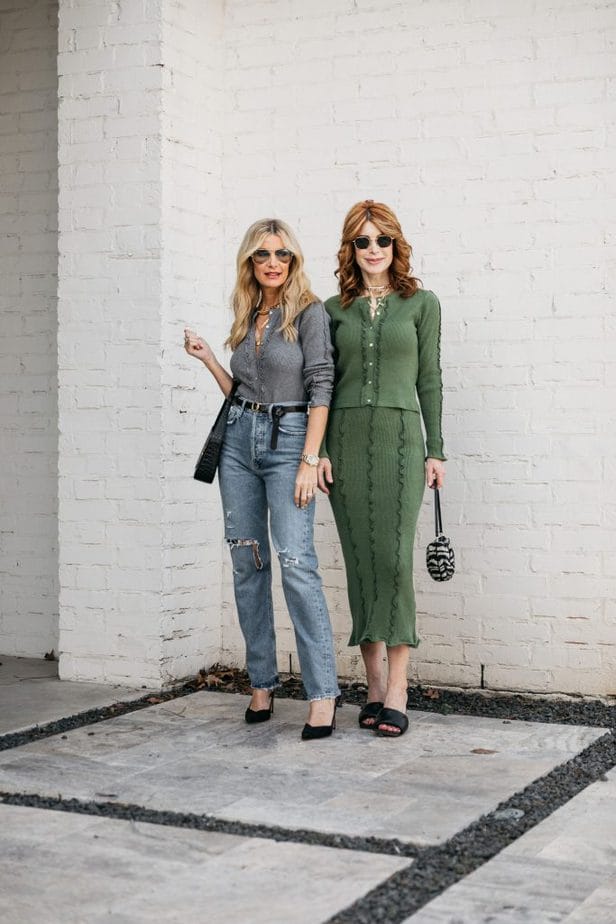 Today was supposed to be color (hair) day, but I think I will have to play that by ear. I don't think it's supposed to warm up much before the afternoon. My son and daughter-in-law spent the night last night, so we are all cozied up around the fire this morning. Honestly, I hope it doesn't warm up so that we can sit here together this morning. I love times like these! If you are in the Dallas area, stay safe today!
Have a great day and be well! xx
Photos: Beckley & Co
Sweater // Skirt // Shoes (similar look) // Blazer (dupe) // Necklace (similar) // Bag