Happy Friday, everyone! I wish I were back in Rosemary Beach where these photos were taken a month ago. It's going to be hotter than Hades here today, and that beach breeze sounds really good! I am so excited to be partnering up with Transitions Lenses to share with you some exciting things they have going on this summer. Let me tell you; it's a lot! When I was asked to partner, I am not going to lie, I thought to myself,  "the old people and unfashionable lenses," great! Here I am at this stage of life! Well, I am here to tell you that these Transitions Lenses are not the same  Transitions you may remember your dad wearing- they have come a long way!
First of all, you can add Transitions Lenses to just about any frame you love.
Second, the old way of the lenses staying dark when going inside from outside is no longer. The minute you head inside, the lenses go back to clear (there is no gradual fading). Third, they automatically adapt to the changing light, so that you can see the best in everything you look at. It seems Transitions lenses have taken a page from Apple and everyday technologies- they've gotten smarter with every update!
I got these Gucci frames with Transitions Lenses for outdoor use, but what is so great, is that when I go inside, say to the grocery store or a restaurant, I can see out of a clear lens and read labels or menus because my reading prescription is in them too. I love that I don't have to fumble around for another pair of glasses!
Another benefit of Transitions Lenses that really caught my attention is the protection they provide.
As a redhead (well, sort of…I pay for it!), I know it's essential to protect my skin from the sun. It turns out that exposure to UV light can actually sunburn the eye's surface too (even in the winter months), just as it does to your skin. Continual damage from harmful UVA and UVB rays may contribute to severe eye conditions, as well as diseases of the eye and damage to the areas around the eye. Fortunately, Transitions Lenses block 100% of harmful UV rays.
I also learned that Transitions Lenses are designed to reduce exposure to harmful blue light indoors and out. Whether the light is coming from the sun or from artificial sources like LED lights and digital devices (like my computer, which I stare at all day!). Transitions Lenses help me get the light in my life under control.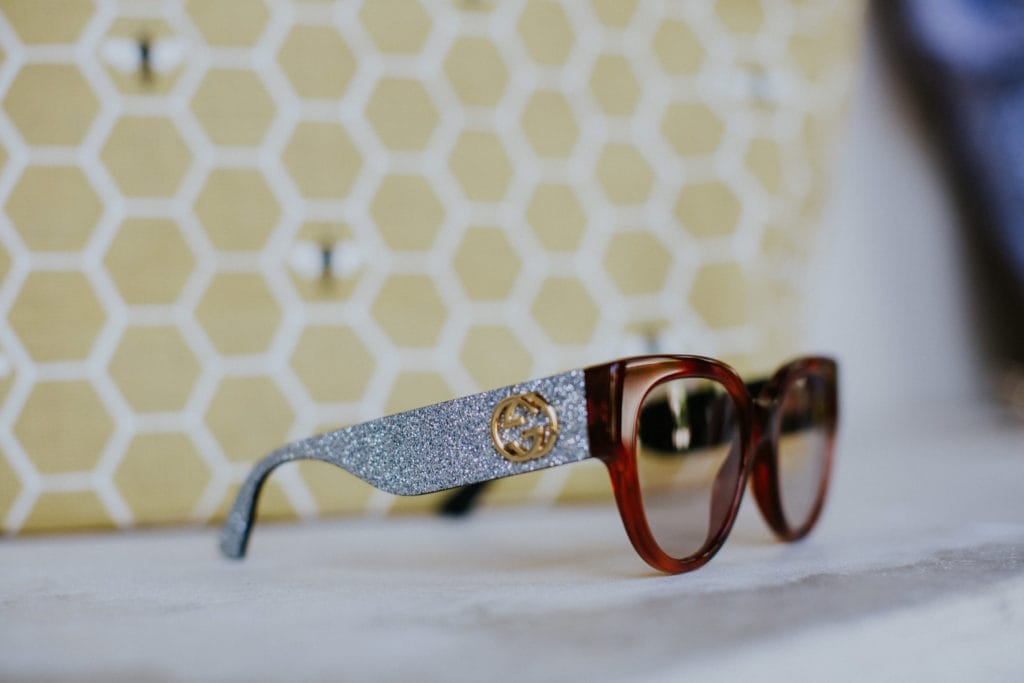 What do you all have planned for the weekend? We are keeping the grandchildren, and I am guessing we will be in the pool most of the time because these little ones are fishes! At least I know my eyes will be well equipped and adequately protected from the blazing sun! I hope you all have a great weekend!
Bathing Suit // Cover-up // Frames // FlipFlops
Photos: Brittney Culpepper
Thank you to Transitions Lenses, for sponsoring this post!