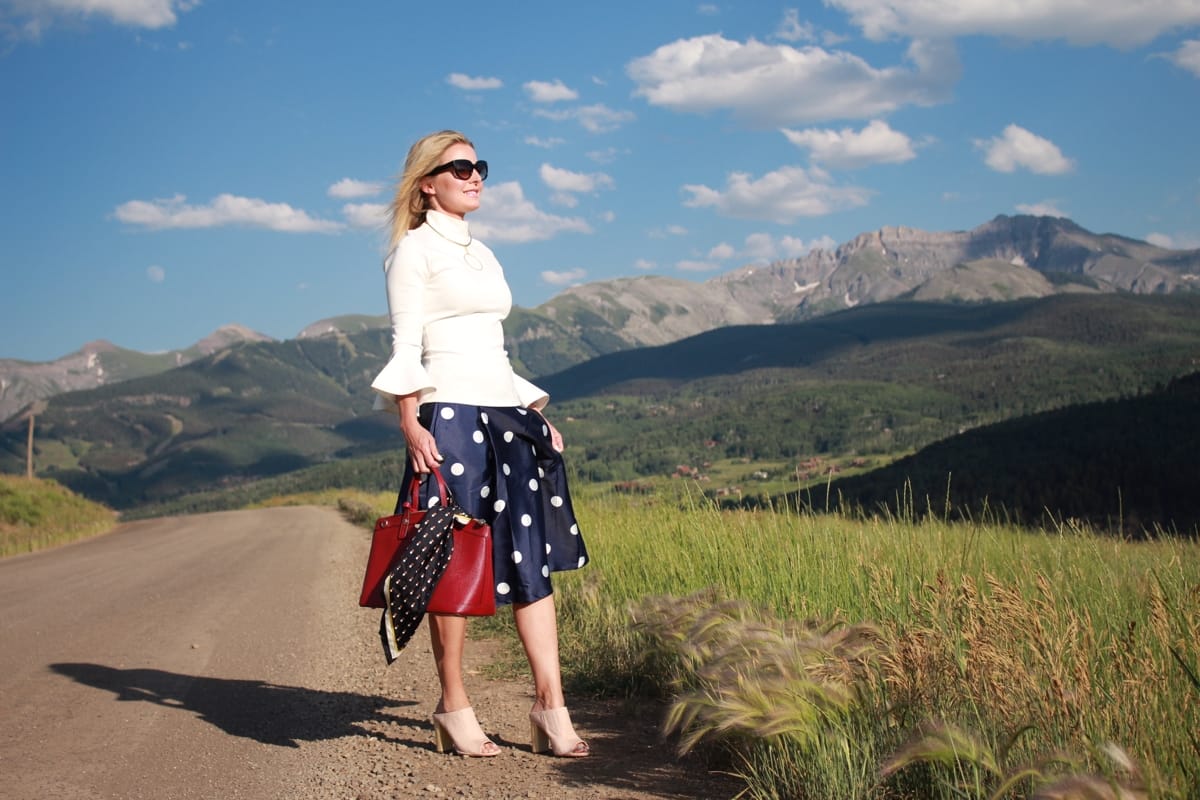 It's been a while since I was going to start "Woman Crush" Wednesday, but I am trying to get back on track, and today is the day! I will try to do this at least once or twice a month to introduce you to Over 40 bloggers (may include a few younger girls) who I think have great fashion sense or style. So today, I am so excited to introduce you to a sweet friend of mine from San Antonio. This is Erin Busbee (42), and her blog is called BUSBEE STYLE. I got to know Erin last year, when we went to NYFW with a group and then again at a conference we attended together. Erin is the mom to two young children and is crushing it with her blog and BUSBEESTYLE TV (Youtube Channel). I do not, for the life of me, know how she does it all! I can barely get three posts a week and Instagrams up, and she is posting, doing videos, and taking care of small children! And…get this, she does her own photography with a tripod and videos herself! She is a badass girl boss!!!
I love Erin's classic with an edge style. I think most women can identify with it. She can be very feminine and girly but adds a touch of toughness with a moto jacket or a fedora. She is a tiny thing too! Maybe 5'3″. I asked Erin a few questions for y'all to get to know her better…
Why did you start your blog? 

I started

BusbeeStyle.com

originally as a way to advertise my wardrobe styling services. In the beginning, I only posted "blogs" when there was something I really wanted to share. 

I started getting serious about blogging a couple of years ago, once I got into "Reward Style." "Reward Style" enables me to share my years of styling experience, and also make money while doing it. Now, instead of reaching one woman at a time through a styling session in San Antonio, Texas, I reach tens of thousands of women all over the world. My mission has always been to make style easy for "real" women. The blog makes it really possible to achieve my goals on a larger scale.
What are five items that every woman needs in her closet? " Let me start by saying, every basic or must-have in your closet should be modern and fit and flatter your body. You might have pieces that fit these categories, but if they aren't flattering you should think about upgrading.
Are you a shoe or bag girl? I LOVE both, but I would say I would rather have amazing shoes. I admire and love high-end designer bags, but I can't buy one because I feel such guilt about the expense. Maybe it's my Catholic upbringing?
As you have gotten older, is there anything that you feel you shouldn't wear anymore? Yes definitely. As I've gotten older, my skirts and dresses have gotten longer. IF I do opt to wear something short for date night, for example, I offset that by wearing something very conservative on top.
How do you feel about buying trends versus classic pieces? 

I feel that as a blogger it's important to stay on top of trends. And, I DO think it is so fun to shop for trends, but in my heart of hearts, I'm more of a 'classic' girl. I love simplicity, clean lines, wonderful fabrics, and functionality in my garments.

You have very young children, how do you manage your blog and YouTube series while being a great mother?

I think the jury is out as to whether I'm a great mother. Balance is critical. I set a work schedule and try to stick with it. My day begins after school drop-offs around 8:30 am. I wrap up by 5 pm. I might post something to Instagram later in the evening, but I really try to minimize the exposure in the evening. I also say, "No" a LOT. It's not a popular answer, and it took me a while to get to this place, but saying, "No" helps me preserve my sanity and accomplish all of my most important goals. For example, I am invited to attend evening events all the time. Unless something takes place during the day, I'm probably going to say no.

What are your skincare favorites? I used to be devoted to Obagi, but lately, I've been using Colleen Rothschild skincare. I am in LOVE with her facial oil, extreme recovery cream, and cleansing balm.
What's your favorite Friday night like? 

I am a homebody through and through. My perfect Friday evening is staying home and watching a movie with my family. A huge vat of popcorn is a must! Maybe some Hot Tamales too…

What is your favorite shopping website? Right now I would say Revolve, Shopbop, Nordstrom, and Amazon. If I'm looking for something, I can almost always find it on one of those four sites.
What is your definition of style?

 

I think style is an extension of your personality. Through your style, you can reinvent yourself every single day.  And, you can control it! How many things in life can we say that about? Style is an amazing opportunity to express who you are every single day without saying a single word.
Thank you so much, Erin, for taking the time to share your answers! I hope you all will check out BUSBEE STYLE, and get to know Erin. She is a doll and I adore her! Have a great day everyone!!!