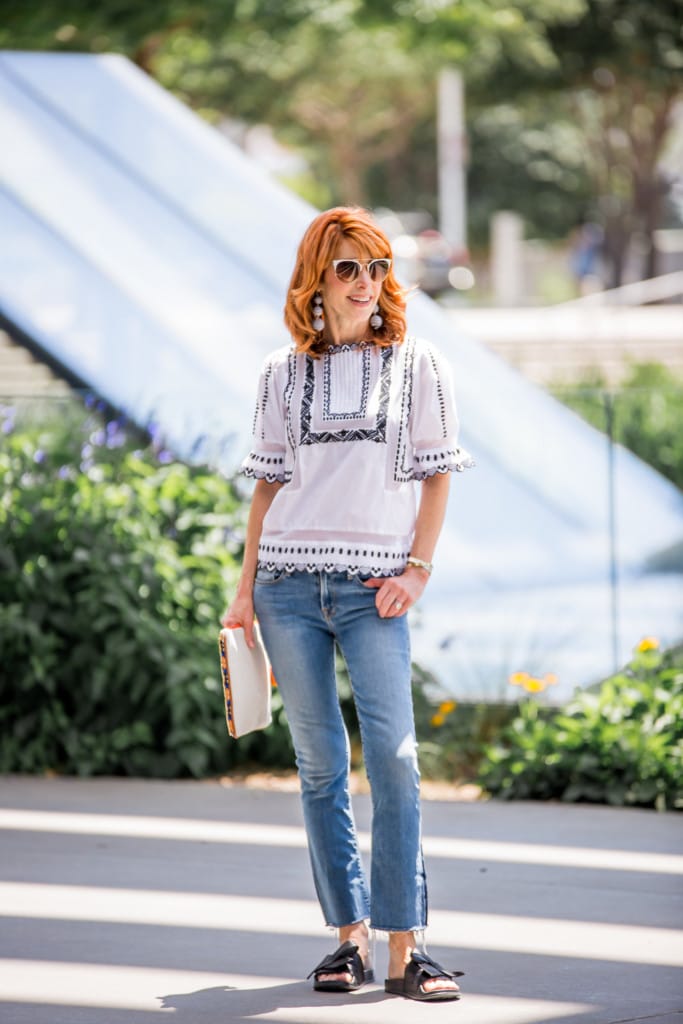 Hi, Everyone! Hope you guys had a great weekend and that everyone's Daddy, husband, or any Dad you were celebrating had a fantastic day! We had a big barbecue at my oldest son's home with everyone there (except our daughter who lives in Austin). We got to celebrate three generations of fathers! Today I am showing this cute peasant top (and HERE) by Topshop. Also, I am part of a group of bloggers giving you a chance to win a $1,000 Nordstrom Gift Card just in time for the Nordstrom Anniversary sale coming up!

I was fighting these peasant tops when they first came out (because I had worn them in a previous decade), but they are everywhere for summer, and if I wanted some new tops, I was going to have to stop the fight. I like this one because it's easy to wear. Sometimes (actually most days) I need to look in my closet and just grab and go. Peasant tops allow just that. They have enough going on with them that you don't need too many accessories.
The jeans I am wearing have become one of my favorite pairs. They are so comfortable, and I love the patched detail on the side and frayed hem. Lucky for you if you like them, they are way on sale HERE for $99! Don't you hate when you buy something and then it goes way on sale? I'm feeling that way, but it's great if you want them! The slides are a pair I picked up at Zara. Slides are my favorite shoes at the moment. I sound like I am a lazy "you know what" when it comes to dressing myself. I feel a little lazy, because I'm always in a hurry, but these are so stylish that they don't make you look like you are lazy!
We are heading to Newport, Rhode Island tomorrow. We have never been, so I am excited to go. We are going to have a few days of R & R, then head to a wedding weekend for some friend's daughter. Uggghhhh, I have a packing anxiety disorder. I love going, but despise the packing! Hope you all have a wonderful Monday! xx
Photos: Mary Summers Hafner
Topshop Peasant Top // Frame Denim // Bauble Bar Earrings // Zara Satin Slides // Sunglasses // Beaded Clutch
Now,…it's time for a fabulous giveaway!
I've teamed up with an amazing group of bloggers
to give YOU a chance to win:
a $1,000 Nordstrom Gift Card, just in time for the Anniversary Sale!
Simply enter below by completing the rafflecopter.
You'll receive one entry per completion.
This giveaway is open internationally and runs until 7/3.
The winner will be announced here. Good Luck!
SaveSaveSaveSave