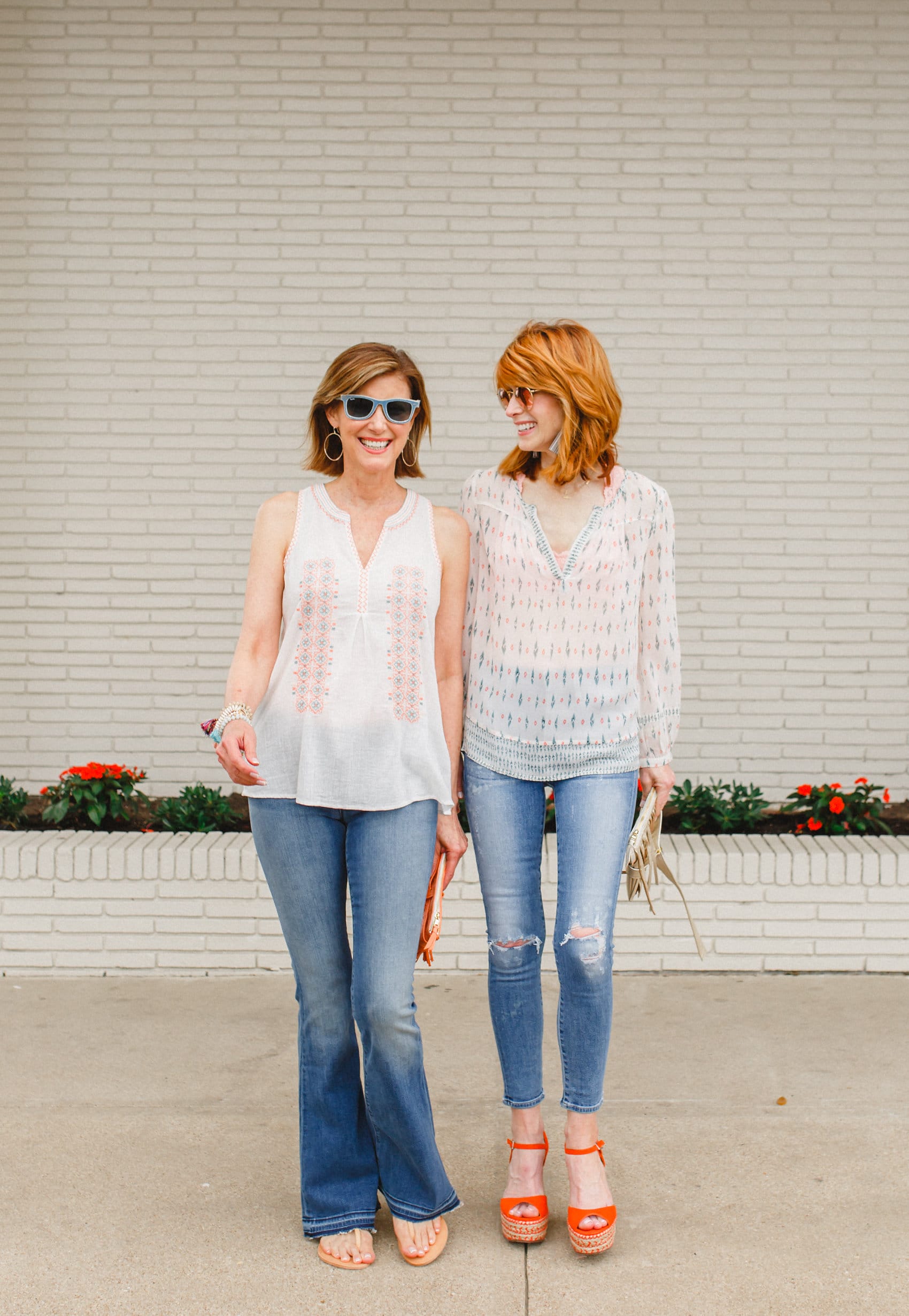 Happy Friday! Hope you have had a great week! We are talking adorable Boho looks from Saint Bernard today. If you read last weeks post (here), my fun and beautiful friend, Debby, of Fashionomics and I were wearing similar dresses. We couldn't pick just one outfit or trend that we liked while shopping at Saint Bernard, so we decided to pick two. These Boho inspired outfits are my favorite! Does a trend ever come out that you say, that is really me in a nutshell? Boho has always been a favorite of mine. I think I could wear this outfit every single day and night! And…I love the wedge I am wearing. It's the first time I have ever been taller than Debby!!!

Now, do you think just because you are a certain age you can't wear it? I think every age can wear a little bit of any trend (maybe not cropped tops!). The two tops by Joie, that Debby and I are wearing are perfect examples. She is wearing hers with the flare jean, which is a little more boho, and I am wearing mine with a skinny jean (just a touch!). This caftan is gorgeous and would look so "Boho" over skinny white pants. I think this white blouse is just the right amount of Boho for someone who is a little hesitant to wear the trend. Adding a shoe or accessory can make an outfit feel "more" Boho too! This cute sandal paired with a flare jean can make them feel very on trend, as well as adding a fun tassel necklace. See…you can wear it! Be sure to check out Saint Bernard on line store HERE. There are quite a few things on sale too!
I am back in Dallas after several days in Rosemary Beach, Florida. We were with some great friends relaxing on the beach and laughing a lot! I honestly saw the prettiest sunset I ever ever seen on Tuesday evening. As one of my friends said, "God was showing out"! It was amazing, and made the trip! I am helping my parents with a huge yard sale today and tomorrow. Not the most fun thing to do, but it will be great to rid their home of unwanted clutter. Hope you have more fun plans for the weekend!
Thank you to Saint Bernard!
Photos: Mary Summers Hafner (if you want to see some gorgeous travel photos, look at her blog!)
Joie Silk Blouse (on sale)// Citizens of Humanity Cropped Jean // Schutz Wedge Sandal // Beau & Ro Fringe Clutch and Crossbody // Nicole Leigh Lexi Fringe Earrings