DREAMY VELVET PANTS 
Good Morning, ladies! I hope you all had a wonderful Thanksgiving day and weekend! We had such a great one with lots of food and family. My daughter-in-law's sister and her family were with us, so we had six children under nine for dinner. It was so fun to have all of that energy! It was a great weekend! Did you all do a lot of Black Friday shopping? I did some and am continuing to do so. I didn't post on Cyber Monday because it's all the same sales. Be sure to return to my previous posts to see my gift ideas! I am adding Gifts for the Guys at the bottom of this post and will add a few more in the next couple of weeks.
Can we talk about these dreamy velvet pants for a minute? These pants are gorgeous, flowy, and different from anything else I have in my closet. They have a high waist that makes them so flattering. Every woman who walked by commented on these pants when we were shooting them. They are so beautiful when you move and walk and are the perfect party pant. They are still available in all sizes here but sold out everywhere else. I think there are so many different tops you could wear with them. I want to find a chunkier cream-color turtleneck to wear with them (would be gorgeous, right?). I paired them with a fab floral top (gold threads in it) from Evereve. This makes a great date-night look. I have linked more velvet pants below.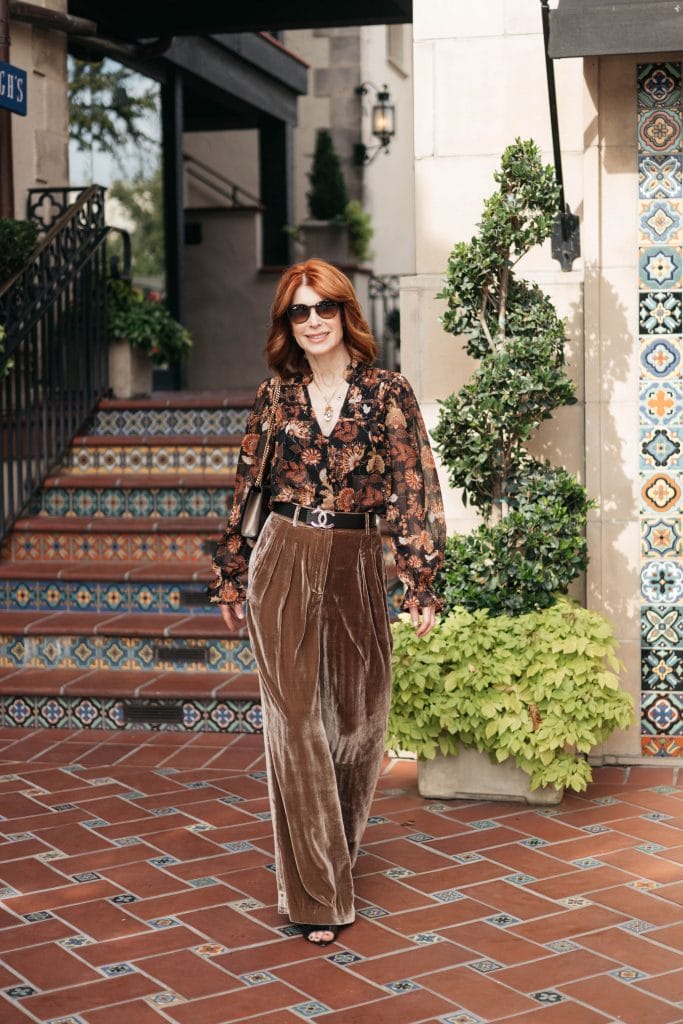 Okay, two things. I am so disgusted at the Balenciaga ads and how they handled the whole scandal. If you don't know what I'm talking about, read here. Anyone that promotes pedophilia, child trafficking, or sexualizing children is sick and evil, PERIOD! I own a Balenciaga bag and can't decide whether to burn it or sell it and give the money to a charity for child abuse. I want it out of my house, stat! Can you imagine what God is thinking right now?
The second thing is not a big deal like the first (in the big scheme), but it is really affecting me! I have had eczema off and on my entire life, but boy, do I have it now, and I am miserable. I have it on the back of my neck into my hairline, on the front of my neck, on my chest and mastectomy scar, on the side of my boob, in my armpits, in the fold of my arms, and on my face. I have prescription medication that is not working anymore, and I cannot find the right recipe to help with the itching. Do any of you suffer from it? I would love to hear about any remedies that you know of. I'm dying (not really, but you know what I mean!).
It's a shoot day again, and then I am heading to see my little granddaughter, who has her first fever. She is going to the doctor, so I will know more when I get there. I hope you all have a great day!
Stay well and Be Safe! xx
Top // Velvet Pants  // Shoes (same but in suede) // Bag  // Belt (similar)
Photos: Heather Johnson

GIFT IDEAS FOR THE GUYS