Good Morning, everyone! I am so excited to be partnering with Kendra Scott today, to introduce you to her new launch…The Charms Collection! Kendra Scott created the collection to celebrate what you love and to help you in telling that story, all through charms. She got the inspiration for the collection from her grandmother who collected her own charms from her travels. The charm collection is part of the Color Bar, and features many charms in gold, silver, rose gold, and vintage gold and silver. There are four bases to choose from, four necklaces, four bracelets, and two pairs of earrings. Once you pick your base piece, the fun begins!
I will tell you that it is hard to choose. Kendra designed the collection in six groups. "Tell Your Story" are symbols that represent YOU. The "Me" collection charms are letters from A-Z. The birthstone months are from the "Let's Celebrate," "The Power of Stones" are healing stones, zodiac signs are the "Looking To The Stars," and "You Do Good" represent philanthropic charms. Speaking of charitable, Kendra Scott donates over $4.5 million annually to local and national causes. I had the privilege of hearing her talk at the Reward Style Conference last year, and she was terrific! I was so impressed with her and her attitude toward her business and life. I could have listened to her all day long!
Okay, back to the charms and what I chose. As I said above, it was hard to choose to start my bracelet off. I picked this bangle as my base in gold, then the fun began! The first charm I chose was the unicorn (means to make your own magic) because it reminds me of my granddaughter as she is right now. The second one was the small lion because I am a Leo and it means never to tame who you are. I got a bright eye (for positivity) and an evil eye (to ward off negative energy/). My next charms will be the breast cancer butterfly wing because that's part of my story, the key (it means to unlock the door to possibility), and the eagle talon charm (be fierce, be strong, be brave). I love that each charm has a meaning. I wanted to put together a bracelet, but I can also add all of the charms to chains like these to create a charm necklace because each charm comes with a custom removable bail to make it super easy. All of my pieces were delivered in this beautiful jewelry box that is pretty enough to showcase in my bedroom!
We all know that Kendra Scott has beautiful and affordable jewelry that are classic yet fun pieces, but did you know that she also offers fine jewelry that looks like her costume pieces? I am obsessed with this earring! Her fine jewelry can be found here.
Did you all have a charm bracelet when you were young or do you have one now? I know a woman who took all of her gold charms and covered a gorgeous gold chain necklace in them. It was the heaviest thing, but it was absolutely stunning! I love that you can tell such fun stories through charm bracelets.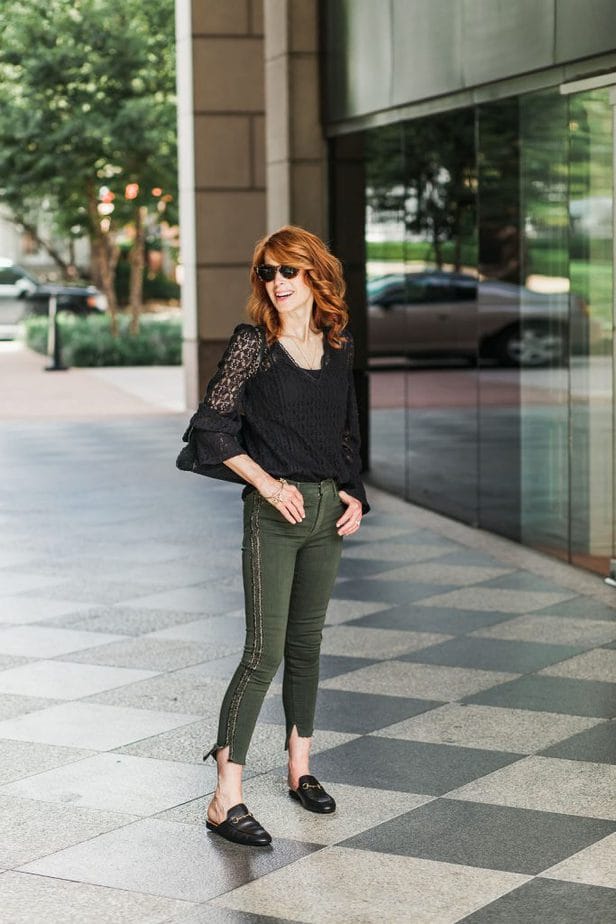 I am still hanging in Austin until tomorrow morning. I am having some quality time with my daughter while she is off from work for a few days. I hope you have a great day and thank you so much for reading! xx
Thank you, Kendra Scott, for sponsoring this post!
Photos: Danielle Sabol
Top // Jeans // Shoes // Bag (similar) // Bracelet // Charms: bright eye, small lion , unicorn, and evil eye