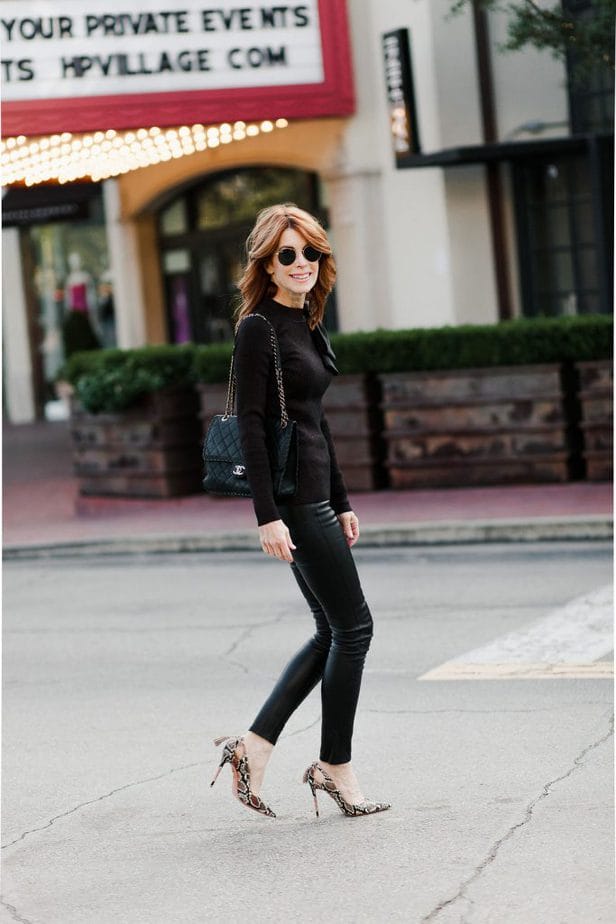 Hello, everyone! Hope you all are off to a great start today! I am in Austin visiting my daughter for a few days and helping her get her new place situated. Can you believe she just got her clothes back from the remediation cleaners (from the mold) this week? She has not had her clothes or shoes (except for underwear) for about seven weeks. I cannot even tell you how much this remediation has cost, it's disgusting! Anyway, today I wanted to talk about why I think leather (pleather if you don't wear leather) pants are a great investment.
Why leather pants are a great investment
I have had the leather pants I am wearing for a year, but I have another pair (more of a legging) that I have been wearing for over eight or nine years. Every single time I have to get slightly dressed up for dinner or a party, I swear to you, I reach for either of those pants. They have both paid for themselves for the number of times I have worn them. Leather pants or a legging, look super chic paired with a silk shirt, cami and a blazer or beaded jacket of some kind. I wear mine with a turtleneck or oversized sweater too. We live in a world where you can wear pants or jeans almost everywhere now. That's why I love these so much. I promise that I will wear my leather pants to every Christmas party and event I go to in the next few weeks. They travel with me everywhere too!
I get that a leather pant is an investment, but you will have them forever, and, they get comfier each time you wear them. When buying leather pants, get the smallest size that you are comfortable in. Leather does stretch, and you don't want them to be baggy. If leather is not your thing, there are so many great leather looking pants available, and you can't really tell the difference (except that they don't smell like leather!).
A festive bow sweater
I love this Ted Baker bow sweater for the holidays. The bow on the shoulder makes it look so festive! Paired with the leather pants and a pump, this outfit can take me so many places! I am a huge fan of Ted Baker and think they do the cutest tops and sweaters (remember this one on major sale now!). Do you have a go-to look for holiday events or a night out that you can't get away from? You are looking at mine! I am linking a few other sweaters or tops that I love with a leather pant.

LEATHER PANTS (real and faux)

SWEATERS

It's pouring rain in Austin this morning. I promise that the last four times I've been here, it's been raining and cold. Today, we are unpacking the last of the boxes and organizing. She is still waiting to find out whether or not the beautiful antique highboy that was my mothers-in-law can be salvaged, so she doesn't have a chest of drawers to house her sweaters, pj's, tees, etc. I think we may head to the Container Store to get plastic bins to at least get them off the floor until we know what the next step is. Y'all, this has been a nightmare!
I hope you all have a fantastic weekend! xx
Photos: Danielle Sabol
Leather Pants (old but similar here and leather look version) //  Bow Sweater // Pumps (old but similar here) // Bag (similar)