Good Morning, everyone!
Can you believe that Father's Day is around the corner? My head is spinning, but I am so glad that I got to pick out gifts early this year with Neiman Marcus! Neiman Marcus has been a part of my family since I can remember. I remember going to Neiman's in the Northpark Mall in Dallas as a little girl and having lunch with my grandmother at the Mermaid Bar. To this day, I eat there almost weekly because it reminds me of her and now I am taking my grandchildren. Also I have always been able to find what I am looking for at Neiman Marcus.
When Neiman's asked me to collaborate with them for Father's day, I was so excited!
My husband enjoys Neiman's ( let me say that he is not a shopper) but my son LOVES it! It is his favorite place to shop, and that's why I wanted to include him in this post, plus he is a father to these two adorable grandchildren of mine.
I set out for a day of shopping for these two special dads, and it was super easy to find the perfect gifts for them. My son, Alston is a fan of Jack Black products, so this travel kit was perfect for him because he and the family will be traveling a lot this summer. I love having travel size products, so I hope he will enjoy these! The other gift I found him was this beautiful Peter Millar shirt. I always buy my boys shirts that are blue, purple, and green. They are blonde and blue-eyed so those colors look great on them. It's so cute and sweet watching these children watch him when he is opening gifts!
Next up are the gifts I found for my husband, Buster (his granddad name is Bubba!). Buster was in need of a new belt (on sale) and wallet (but I decided he would like this money clip and card case better) this year and I threw in the tie (this is similar) because it has golfers on it and that is his thing. Shinola has beautiful leather goods. So if you are looking for a wallet, belt, or bag check them out! Buster was delighted with his gifts!
A few more Father's Day gift ideas from Neiman Marcus for you:
I think a handsome robe, colorful socks, a fragrance, or fun wine glasses, make excellent choices for Father's Day. Neiman Marcus has everything I need for Father's Day gifts or for that matter any gift and everyone loves to get a Neiman Marcus box!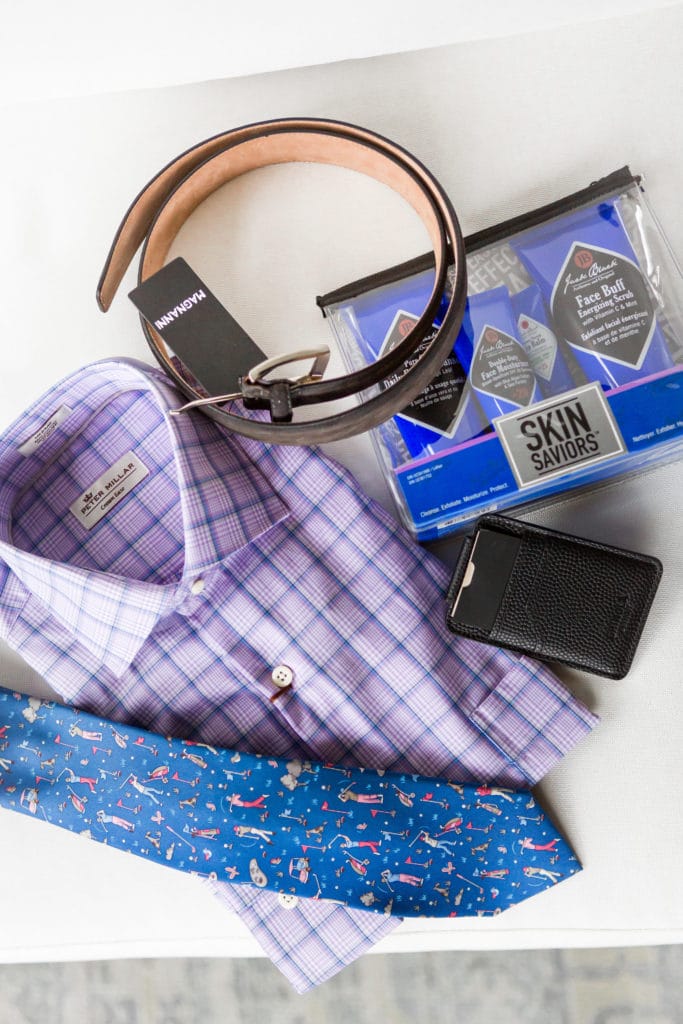 I hope you all have a great day! xx
Thank you to Neiman Marcus for sponsoring this post!
Mary Summers Hafner
My outfit- Veronica Beard Blazer // Velvet Tee // Veronica Beard Denim // Gucci Slides 
Busters' shirt (similar)
Evie's dress (similar)
SaveSaveSaveSave
SaveSave
SaveSave
SaveSave
SaveSave