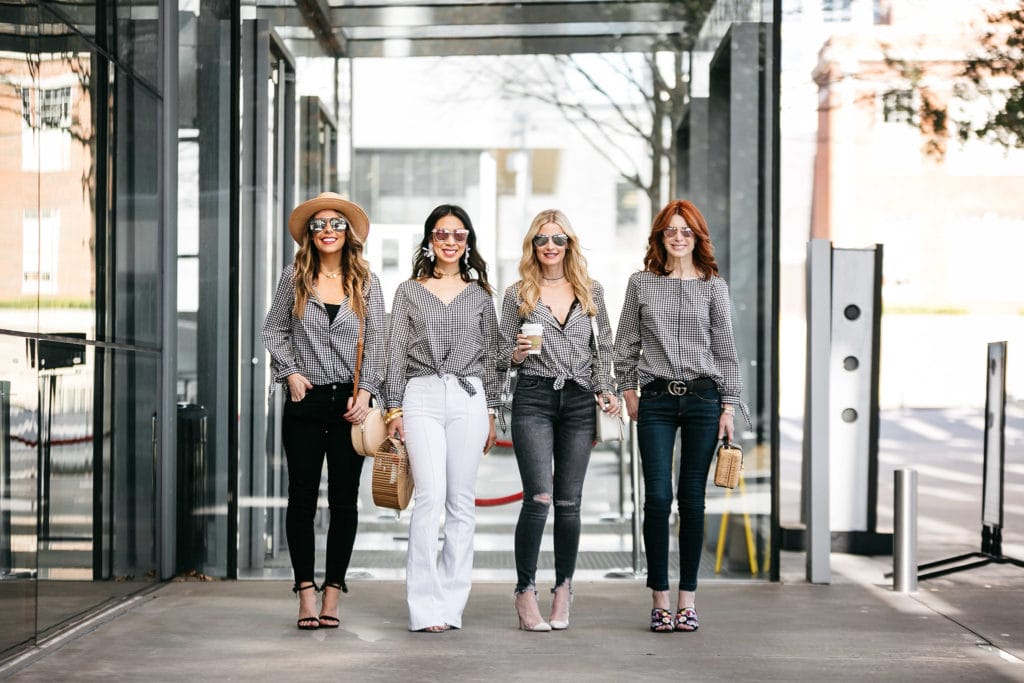 Happy Friday, everyone! I hope you have had a great week. I got back from LA last night on the bumpiest plane I've been on in a long time! I am not the greatest "flyer," but that flight was a nightmare for me!!! The weather in Los Angeles was not great while we were there, and was pouring rain two out of the three days. I was there with two of my blogger BFF's and believe me; we made the best out of the bad weather. We had so much fun shopping, eating, and getting in a few meetings. The highlight was getting to spend about an hour or so at Rachel Zoe's office. We had the "grand tour", got to play dress-up in the studio and even got to meet and visit with her husband, Roger. Rachel was not in the office, but we did get invited to an event she was hosting that night and got a chance to meet and visit with her there! It was a great trip, but I am utterly exhausted from not sleeping (have to be in my own bed to sleep well).
Today, the Chic at Any Age girls are showing one of my favorite trends for spring or anytime. Gingham is a huge trend, and it just makes me really happy! We all love this versatile black and white gingham top. Did you know that when gingham was introduced in the 17th century, it was a stripe? Fun fact for you! This gingham top can be worn several different ways, which is why I like this particular one. The top also comes in a blue and white stripe if you aren't a gingham girl.
So, here's how the girls wore the gingham top
Natalie- The Fashion Hour– Styled hers with a black tank underneath and black denim. Love how Natalie looks in a hat!
Sam- Style of Sam– Paired hers opened at the neck and tied at the waist with white denim.
Heather- So Heather– Wore hers with a cami underneath, tied at the waist as well, and ripped denim.
Me- I am buttoned up compared to the others! I do like the way the neckline looks this way. I wore my top with regular denim and the floral slides from Ann Taylor that I am obsessed with.

It's supposed to be warm and sunny this weekend. YAY!!! I am so ready for it! I want to go outside and lay on a lounge chair and sleep all day tomorrow. Let's see if I can accomplish that! I have also just ordered Glotrition Collagen Peptide Drink Mix. I have heard that this stuff really works to increase skin firmness and reduce wrinkle depth in 30 days. Have you all tried it? I will do anything that says reduce wrinkles and increase firmness! Hope your weekend is great! xx
Photos: Beckley & Co
Gingham Top // Jeans // Gucci Belt //  Floral Mules // Wicker Bag // Sunglasses

SaveSaveSaveSaveSaveSave
SaveSave