RACHEL ZOE WINTER BOX OF STYLE 2019 // CHIC AT EVERY AGE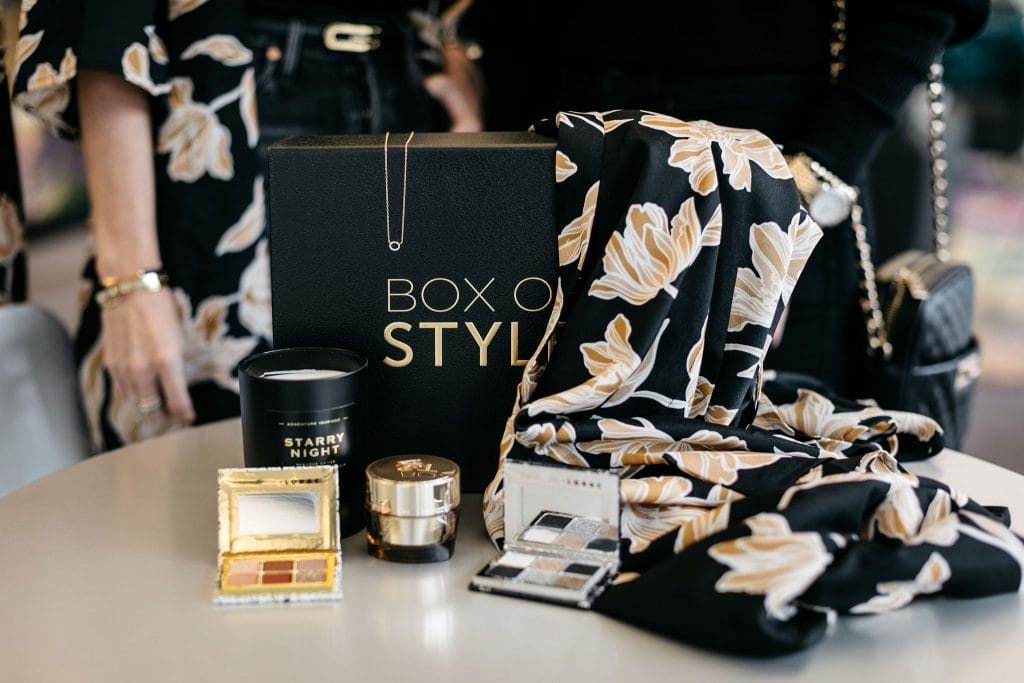 Happy Friday! We made it through another week and one week closer to the holidays. Today, the Chic at Every Age group is so excited to be partnering up again with Rachel Zoe's Box of Style for Winter 2019. Every box I have gotten has been great but I have to say that this is my absolute favorite one! Not only is it a box that I enjoy but, this box will make the best gift. I cannot wait to tell you about what's inside.
These Five Products Are In The Box of Style
The FIRST item in the box is the beautiful robe by MAISON Du SOIR. This robe fits almost every size imaginable from 0-20. It's made from Crepe de Chine and retails for $150. Worn at home over pajamas or out over jeans and a turtleneck (a la kimono style), this is a great topper to have.
The SECOND item is ETHICS SUPPLY CO. Starry Night Candle (retailing at $38). This candle is a lovely smelling ten-ounce candle infused with essential oils and hand-poured in the United States with 55+ hours of burn time. I think the packaging is so pretty!
Item number THREE is ESTÉE LAUDER REVITALIZING SUPREME + GLOBAL ANTI AGING CREME. This creme (containing Moringa Extract) retails for $55 and is a powerhouse for boosting skin's natural collagen and antioxidants.   It helps smooth and firm the skin while hydrating it. It is also packed with hyaluronic acid for intense hydration, making it a great product to use during the colder months. I, for one, need this right now!
Number FOUR in the Box of Style is the HOLLYWOOD GLAMOUR MINI PALETTE  from RACHEL ZOE x LORAC. This mini palette is the perfect travel companion when you want to do your makeup or touch up on the go. There are two color palettes to choose from. I picked the warmer shades, but if you like grays, blues, and blacks, the cool tones are beautiful. I just took this to New York with me and kept it in my bag for touch-ups!
I saved the BEST for last in the Box of Style. How gorgeous is the "real" DIAMOND PENDANT FROM AF BY ANDREA FOHRMAN? This pendant is a $200 value that is gold plated on sterling silver. It comes on a 16″ chain with a 2″ extender so that you can wear it a bit shorter too. I love this dainty necklace because I can layer it with pieces that I already own.
Be Sure To Use The Code Below
Ladies, this box has a value of over $450, but Rachel Zoe is selling it for $99! You will get all of these products in the box that you can keep for yourself or give as a gift. I would also split up the box and give these pieces individually as gifts. Rachel knows that this is a great deal, but she has allowed us to provide you with a code that will get you $25 off the price. If you use Code: CHIC25 you will get $25 off the cost of the box! How fabulous is that?
Natalie // Samantha // Heather
What do you all have planned for the weekend? My oldest son is here because he is having shoulder surgery and will be staying with us. He has done this surgery on the other side, and unfortunately, it's time to do it again. Even though it's surgery, it will be nice to have him home. Tomorrow is SMU homecoming, and we are headed to the game. I love homecoming because we get to see so many people on the boulevard before the game.
I hope you all have a great weekend! Don't forget to use CHIC25 on this box to get $25 off!
Thank you, Rachel Zoe and Box of Style, for sponsoring this post!
Photos: Beckley & Co
Sweater ( size xs) // Jeans (size 24)  // Boots (similar on sale) // Belt (size s) // Bag (similar)