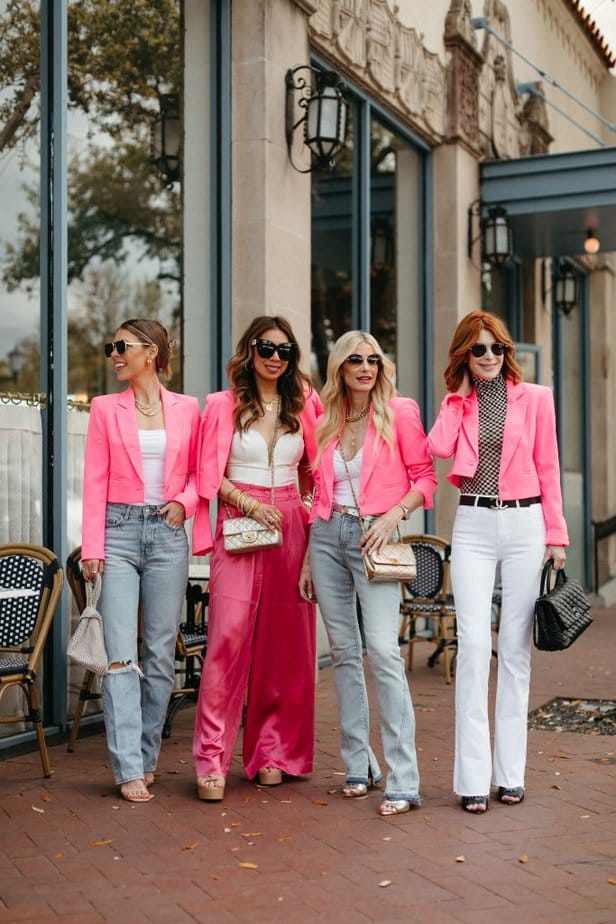 CHIC AT EVERY AGE FEATURING THE CROPPED BLAZER
Natalie // Samantha // Heather
Happy Good Friday, gang! I hope you all have had a great week (Happy Passover) and are preparing for a fun Easter weekend! I am returning to Dallas tomorrow after a fun week in LA with my daughter and family. Thankfully, the rain was out of here, but the temps were chilly for most of the week. I got my hair cut again by my favorite LA stylist, and when I tell you she cut it, she CUT it! It is super short, and I am not sure about it yet, but she is trying to help get my hair back on track because it was super damaged. The good news is that my hair grows pretty quickly. Do you ever get a haircut and think, WTH did I just do? That's me right now!
I'm back with my Chic At Every Age friends, and today, we are featuring the cropped blazer in a fun hot pink. Cropped blazers and jackets are trending; I'm sure you have noticed them online and in stores. A cropped blazer looks a lot different from what we have been used to seeing (longer and oversized), so I wanted to give you a few ideas for how to style one because they are surprisingly versatile.
We are featuring the cropped blazer from Express (40 % off everything right now). I chose to wear mine with white denim and a black and white mesh turtleneck (perfect for spring weather, plus it hides the wrinkles on my neck!). I would wear this blazer with a T-shirt, jeans, and sneakers or over a dress or skirt with heels. If you need a workwear look, I would pair the blazer with trousers, a blouse, and heels. Remember that wearing a higher-waisted pant or a skirt is key when wearing a cropped jacket.
When wearing a cropped blazer, choosing the right fit is a must. It should fit snugly but not too tight. You should be able to move your arms comfortably (I will not buy a blazer or jacket that restricts my arms from moving entirely forward). You should also consider your body type. A cropped blazer will help elongate your body if you have a shorter torso. A cropped blazer can help balance your proportions if you have a longer torso. When trying a cropped blazer or jacket, the main thing is to have fun with it and not be afraid to experiment!

I am spending most of the day playing with my 20-month-old granddaughter. She is at a really fun age right now. It's so fun to teach her words and colors and have her repeat them back. She understands almost three languages right now, which is pretty amazing since she is deaf in one ear. My favorite words to hear her say are bubblegum and lellow (yellow). Being a grandmom is the best!
I hope you all have a great day and a very special Easter weekend.
Be well and Stay safe! xx
Photos: Beckley & Co
CROPPED BLAZER // SHEER TURTLENECK // JEANS (similar) // BELT (similar) // BAG (similar) // SHOES (similar)