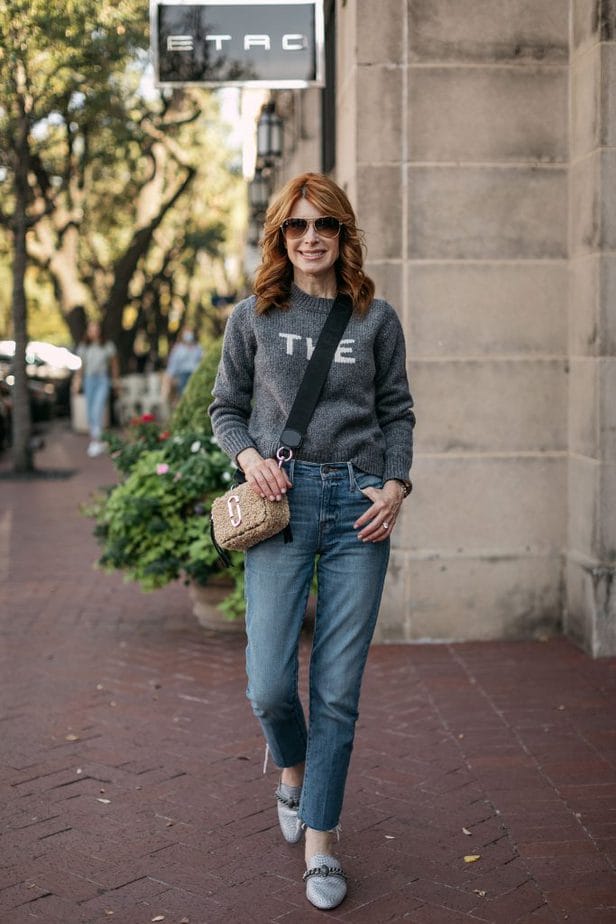 MARC JACOBS ACCESSORIES FOR HOLIDAY GIFT-GIVING
Happy Friday, gang! How are all of you? I did not feel great starting on Tuesday, and by Wednesday didn't feel good at all. I was sure that I had a sinus infection but decided I needed to determine if I had Covid. Also, I got the test, and it came back negative (yay!), but I have a sinus infection. I got a big ol' steroid shot on my hip and some antibiotics. Sinus infections are zero fun because you don't feel sick enough to get in the bed, but you don't feel great doing what you need to do. Hopefully, I will feel better tomorrow because I am walking in The Race For The Cure.
Today, I am partnering with Nordstrom to show you all of THE cute items from Marc Jacobs. I have loved pieces from Marc Jacobs for so many years and am so glad that they are easily found at Nordstrom. What I love from Marc Jacobs the most are the accessories. The sweater I am wearing is one of the apparel items I found to be so fun. I love talking to people, and this sweater is a conversation starter! I've had a few people ask me what THE is.
I have so many answers! It could be THE anything you want it to be! How cute is this shearling crossbody bag? Shearling is so big for this fall and winter, and I wanted a fun shearling bag. I couldn't decide between the crossbody or this one in the fun purple color. I went with the crossbody because it's so cute and so fun for holiday hands-free shopping!
More About the Accessories
Let me tell you about the Marc Jacobs accessories that I love and think would make great holiday gifts (start your holiday shopping engines!). My mom will be getting this chic leather crossbody phone bag because she can never find her phone. I've threatened to tie it around her neck, but this is a better option (don't you think?). Come to think of it, I can never find my phone either and should maybe get an extra for me! I also believe that this zip leather wallet would make an excellent gift for your mom, daughter, or daughter-in-law.
This Hobo leather handbag is a beauty and would be so great for yourself! And, let's not forget the Marc Jacobs has great sunglasses! How fabulous are these glamourous cat eyes? I think two more pieces are super fun (for us): this tennis dress that is so cute in black and white, but I like the pink for Breast Cancer Awareness month and this adorable down puffer jacket. I can't believe we are already so close to the holidays (YIKES!). Also, I have included a few more of my favorites below.

For the first time this week, I have a pretty chill day and night. My husband is playing in a golf tournament and has a dinner tonight, and this girl needs a night off. We have had something almost every night this week. I plan on getting into my pajamas early tonight because I have to be ready to walk at 7:00 in the morning.
I hope you all have a great day and weekend! Stay safe and be well! xx
Photos: Beckley & Co
Thank you to Nordstrom for sponsoring this post!