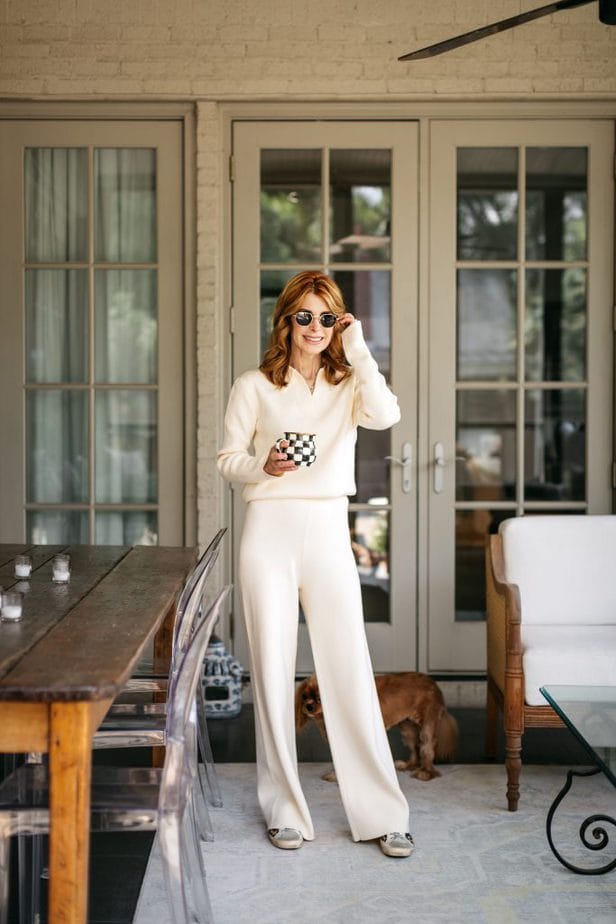 Hello, ladies! I hope you all had a great weekend! So, the weather was so beautiful here in Dallas, and I spent a good bit on my porch, but it was pretty boring around here (because of the Covid patient :(). He is feeling so much better and so lucky that he had a pretty mild case. Also, if you get Covid, get the monoclonal antibodies if you can because it truly helps. Really, I am still standing strong and hoping for the best! I've been taking vitamins C, D+K2, Zinc, Quercetin, Selenium, Tumeric, and Turkey Tail Mushroom for many months now and hope it does the trick!
MATCHING KNIT SET
So, I feel horrible about this post because I ordered this chic matching knit set two weeks ago with all sizes available. I shot it and got the photos back on Thursday. Yep, you guessed it, the pants are completely sold out except for small, and it looks like one medium. There are still tops available. I hate it when that happens! Also, if you haven't noticed, knits and matching knit sets are one of Fall's "must-haves."
I'm not sure they would be if Covid hadn't appeared, but comfortable dressing is now part of life, and I'm here for it! However, I'm not saying wearing a shabby old sweatsuit out to lunch, or the grocery store is the best choice (you do you, though) but a knit set similar to what I have on is. So, a polished head-to-toe look can be so chic, even if it's in loungewear. So, how easy is it to grab 2-3 matching pieces and go!
The set I am wearing is from English Factory, and boo to them for not making enough for all of us to have! I found ten matching sets below that I think look as good as mine. Also, don't be afraid to wear a heel or bootie with a matching knit look. I personally like to wear mine with sneakers or a slide, but heels can elevate a look like this.

Laying Low at Home
It's a good thing I am laying low at home. Also, I got filler last week for the first time in over two years. I have a dark purple bruise the size of a quarter on my chin! Really, I have the thinnest skin and ALWAYS bruise, but this one is a doozy! Moreover, I have mentioned it before, but this color corrector kit (get this brush) plus this powder works magic to hide bruises and other imperfections. So, I use the peach corrector for the dark bruising and the lilac for yellowing. Start by patting the concealer in and building. So, I gently pat the powder on top of the concealer to hide and set. Also, you have to look really hard to tell after I am through covering!
It's another exciting day around here! I guess I could organize something else or start Christmas shopping. So, I hope your day is a lot more exciting!
Stay safe and be well! xx
Top // Bottom  and Here // Sneakers // Mug // Sunglasses
Beckley & Co