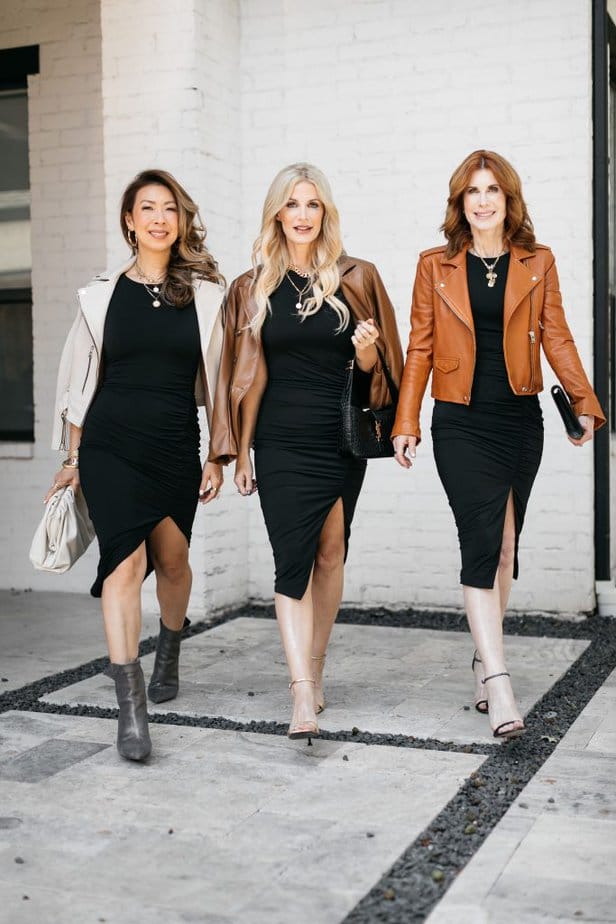 SAMANTHA- STYLE OF SAM //  HEATHER- SO HEATHER
Happy Wednesday, everyone! I hope you have all had a lovely week so far. If I'm being honest, I had a crazy week, followed by an even busier (but wonderful!) weekend, and believe me, I am happily enjoying the few moments of quiet while I write this! I spent most of last week at the LTK conference, and seeing all the trend pieces got me thinking about no-fail, classic styles that can be worn at any age. The first look that came to mind was a chic blazer, strappy heels, and the perfect little black dress!
THE PERFECT LITTLE BLACK DRESS WITH CHIC AT EVERY AGE
So, I got together with my Chic at Every Age girls to find the perfect little black dress and put our own spin on it to give you three fabulous looks for fall! We are missing sweet Natalie today because her kids were sick when we shot this. This LBD has the perfect amount of ruching to hide any problem areas, and the side slit is the ideal height to be tastefully sexy. It comes in five "core colors" AND seven ( that's right, SEVEN!) seasonal colors, so no matter your aesthetic, there is bound to be a color that speaks to you.
This dress fits the bill for a daytime look and can be dressed up for a cocktail party or an intimate date night by adding some statement heels. It is versatile and has many possibilities that it truly works for any age!
I'm wearing my perfect little black dress with a cropped leather jacket, strappy sandals, and this understated YSL bag that will take you anywhere in style.
I also wanted to mention that we look extra glamorous because Brite Beauty did our hair and makeup. Brite Beauty is an on-location hair and makeup company specializing in bridal but will get you glammed up and ready to go for any occasion. I couldn't have been more pleased with my hair and makeup, plus the girls were so lovely! I will be using them again because they are very talented, and I loved talking to them! We also worked together on a Breast Cancer Awareness post that you can find here. Brite Beauty will donate $5 to the @thepinkfund for every woman who shares the post on Instagram or any post tagging someone you know affected by breast cancer for the entire month of October! Don't forget to use the #powerofpink.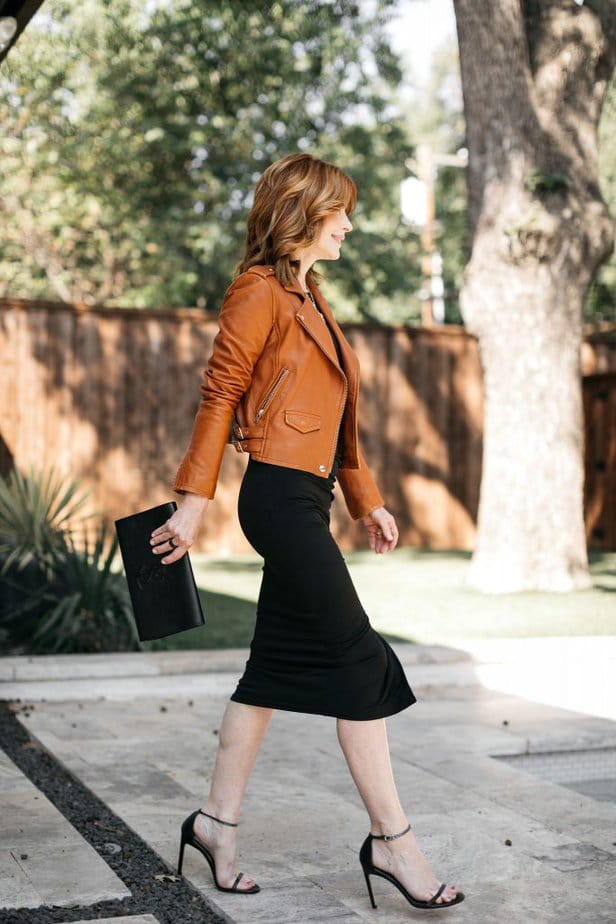 Speaking of breast cancer, I spent most of the day yesterday at UTSW in Dallas with a dear friend who was just diagnosed with breast cancer. Thankfully, she is stage 1 but will still need some treatment. Ladies, please book your mammogram appointments and do self-checks. Like mine, hers showed up in a routine mammogram. Early detection is critical!
We are headed to Los Angeles this morning to keep our granddaughter for a few days. I'm so excited to see that little munchkin! I hope you all have a fantastic rest of your week!
Stay well, and be safe! xx
Photos: Beckley & Co
Dress // Jacket (similar) // Sandals // Bag