Hi Everyone! How was your weekend? I got lots of sleep and got to clean out my bathroom cabinets, so that was a plus! I wanted to talk about this Veronica Beard black blazer today. You may remember a post that I featured the jacket (HERE) a while back. What I love about this blazer (and most all of their jackets), is that you can change out the dickey or wear it without one. I can make it look more casual like with the green quilted one I am wearing (sold out, but in black here), or can make it dressier with this one or this new one in lace (I am ordering).They are super easy to change out too!  Now I have four that I can switch out between jackets.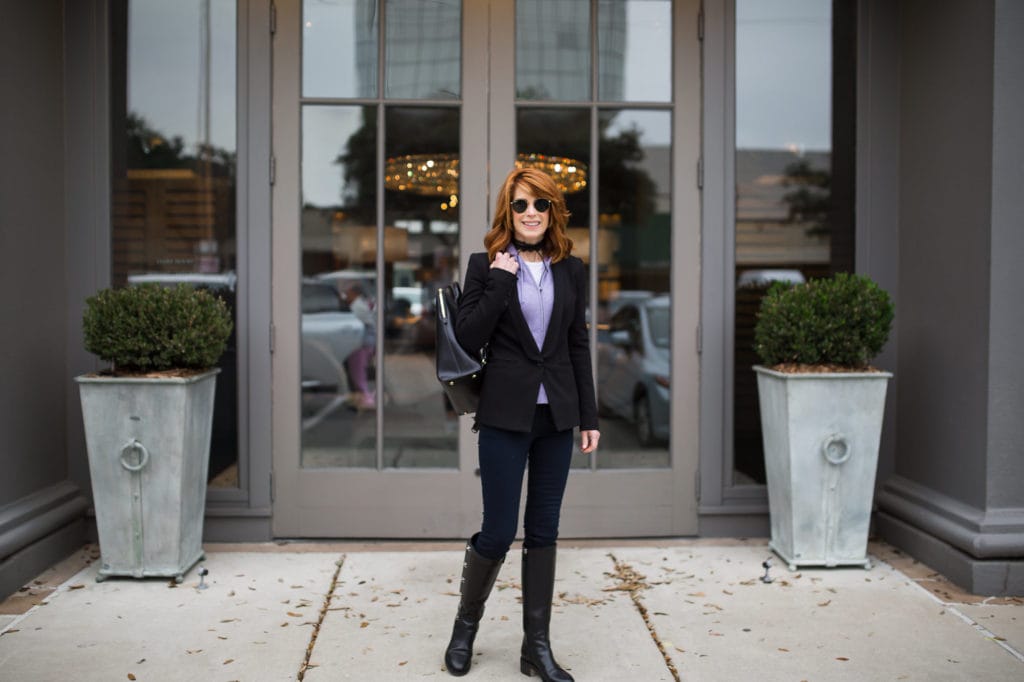 The jacket I am wearing above is one that I have had in my closet for a few years. I got it at Madewell, and I think it's the same one here. It's comfortable and I'm really glad I still have it. Why I wanted to show you this, is that I added a zip up hoodie underneath to make it look like the Veronica Beard. You can get the same look by wearing a zip front sweater or sweatshirt under a jacket.
I bought this leather backpack before Christmas at a trunk show for the designer, Sarah White. My laptop fits perfectly in this bag for travel, and is so easy to carry. It has a sueded lining, four pockets, two pen loops, removable card case, and has protective metal feet. It can also be carried as a satchel too. The leather doesn't scratch either and comes in several colors. I am obsessed with it! Sarah White has a beautiful collection of other handbags as well.
My husband and I are starting a Bible Study on Marriage today. I guess you are never too old to study how to enrich your marriage! My favorite friend and teacher is leading it, so I am looking forward to it. I have some wedding plans to deal with this week and a few girls nights out that should be fun! Hope you all have a great week! Thank you so much for reading this post! xx
Photos: Mary Summers Hafner
Veronica Beard Blazer // Dickey (similar on this page) // Frame Denim // Gap Tee // Chanel Boots (similar) // Sarah White Backpack // Bauble Bar Choker
Madewell Blazer  // Zip Front Cardigan (old, similar)