Hello, everyone! I hope you all had a great Mother's Day weekend. As you know, if you read Friday's post, I was in Columbus, Ohio, visiting my grandchildren (and their parents!). We had so much fun being together, even though it was freezing cold! The high on Sunday was 47, and it rained all day (I was truly missing the warm Texas weather). We traveled home yesterday and almost got into a major altercation.
My son took us to the airport, and as he pulled up to park, a man (probably mid-sixties) in a white suburban pulled up beside him and stared him down. As my son got out of his car, the man did too and started yelling at him. We had no idea what was going on. I had my dog in my arms, and as I made my way around the car, the man was threatening my son. My son is a big strong guy, but so was the man.
The next thing I knew, he was telling my son he would fight him, and that's when mama bear jumped in. I got in between them and told him if he was going to hit anyone, it was me. He was so ugly! The guy said, get out of the way b*tch and take your b*tch dog with you (that's when I had to pull my son back). Then, he finally walked around to his car to let his (what seemed like) his daughter, husband, and two grandchildren out of the car! I was so stunned after it all happened. Do you think people are angrier these days??? Whatever that was, I know that man was a miserable person. I'm still thinking about it today.
WHITE DRESS TO SIGNAL SUMMER
So, on to nicer things like a white dress to signal summer! Nothing says summer more to me than a white dress, especially when the temperatures get warmer. The dress I am wearing is from a sweet and gorgeous friend of mine, Kimberly Schlegel Whitman. If you aren't familiar with her, she is a lifestyle and entertaining expert. She has published eight books on entertaining and is a frequent guest on the Today show and other TV shows. She is also the co-founder of Halo Home, a line of monogrammed table linens. Now, she has a beautiful collection at Dillard's with Antonio Melani.
Kimberly was so sweet to send me this white dress that I will be wearing all summer long. The dress is a cotton sateen fabric with a stretch raffia belt which can be switched out to this scarf belt. This dress can be worn dressed up or down to so many places. It's not white, but I love this dress too. Check out all of Kimberly's pieces that are beautiful and so well priced.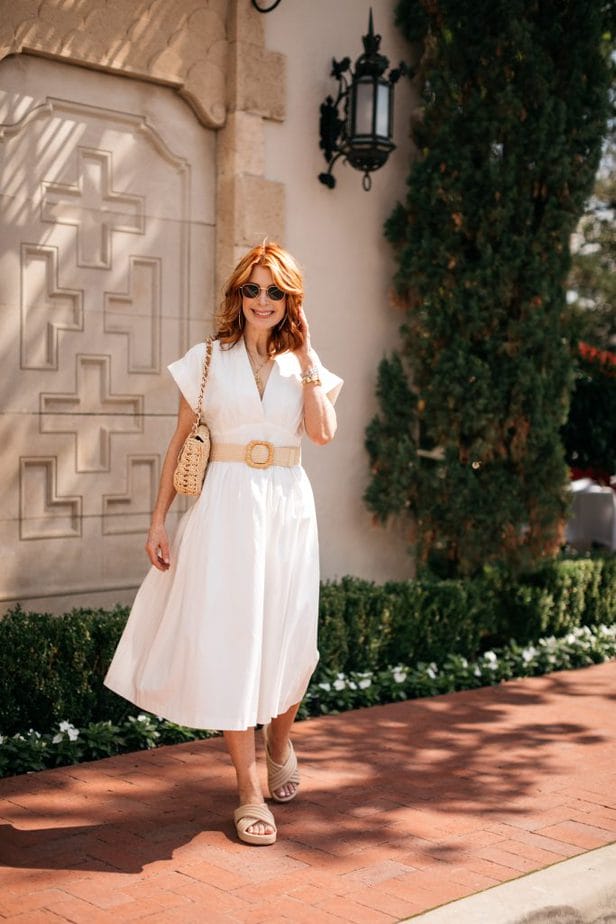 I have the busiest day today catching up from being gone.
I'm going to need a lot of caffeine today! We had THE loudest thunderstorms last night, and my dog is traumatized (she was before last night from a previous storm). She got caught outside when the loudest boom hit, and I don't know if she is ever going to be the same. She slept under the covers at my feet and panted all night. Lots of coffee!!! Of course, I picked out other white dresses too!
Have a great day today! xx
Photos: Beckley & Co
Dress // Sandals // Bag (similar)