The Christmas decorations are out and if you're anything like us, finding the perfect gifts for everyone in your life can be stressful. Truth be told–during the season of giving, this stress can sometimes keep us from feeling tidings of good cheer towards the recipient. Has anyone else wanted to just throw a post it note that says "IOU" in a grocery bag under the tree and call it a day? If just reading this is giving you an elevated heart rate, don't panic! We are here to help. Over the next few weeks, we'll be compiling gift guides for you to provide you with ideas for everyone on your list.
Three Christmas Cheers,
Cathy & Alex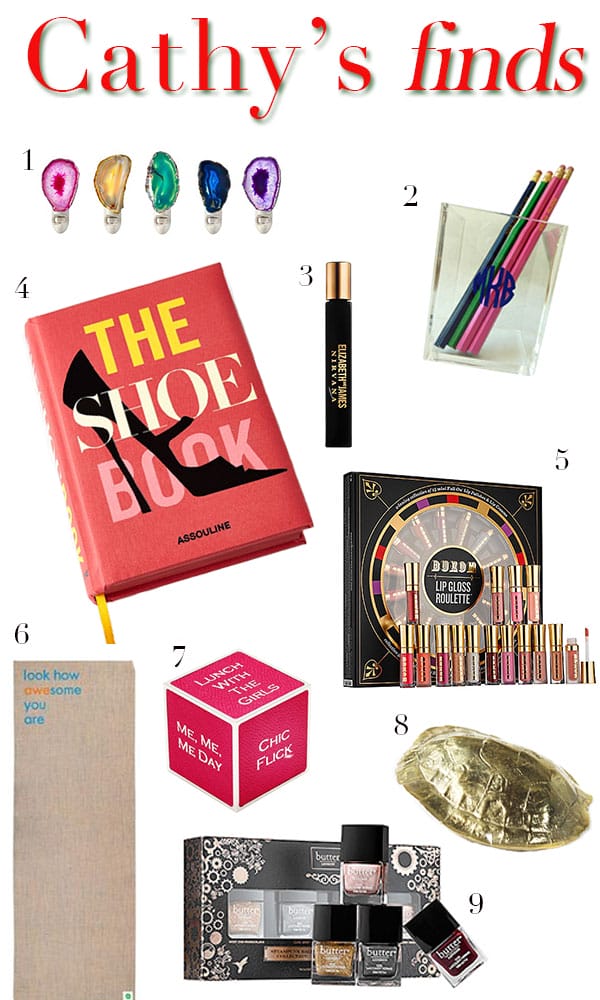 1) Luz Night Light  2) Monogrammed Acrylic Pencil Cup  3) Elizabeth and James Nirvana Black Rollerball Perfume  4) The Shoe Book  5) Buxom Lip Gloss Roulette  6) "Look How Awesome" You Are Yoga Mat  7) Girly Decision Cube  8) Small Brass Turtle Shell  ) 9) Butter London Gilded Gears Polish Set  
1) Coal Rose Pom Beanie   2) Flocked Gallon Racerback   3) Ecote Beaded Zip Pouch  4) Fortune Cookie Box   5) Kate: The Kate Moss Book   6)  MAC Lipstick Ruby Woo   7) Benefit Cosmetics They're Real! Push Up Liner   8) Tangle Teezer   9) Love Story Jewelry Metallic Temporary Tattoos   10) Geben Sie Slippers   11) Plum Bow Cat Vanity Mirror   12) Bubbles Champagne Flute Glasses
Also, check out ONE KING'S LANE for other great gifts!