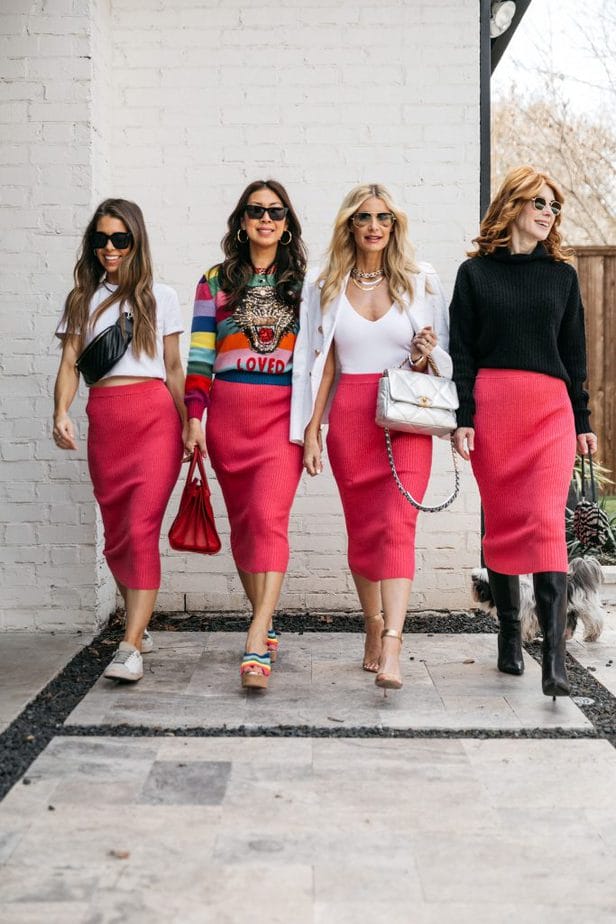 NATALIE- THE FASHION HOUR //  SAMANTHA- STYLE OF SAM //  HEATHER- SO HEATHER
Happy Friday! You all are the sweetest people! I appreciate your kind words through comments and emails about a challenging situation within our family right now. I will share it at some point, but the thoughts and prayers are so appreciated! Yesterday was Triple Negative Breast Cancer Day (the type of breast cancer I had), which kicks off an entire month of education, awareness, and fundraising, and 100% of donations from individuals during the month of March go to TNBC specific research. If you are so inclined to donate, here is the link to do so. Many thanks for considering my request. This is also a reminder to check yourself and get a mammogram. Early detection saves lives!
CHIC AT EVERY AGE // FEATURING A BRIGHT PINK SKIRT
Okay, on to Chic at Every Age and a bright pink skirt (Barbie approved!) to welcome in Spring. If you peruse any fashion sites, you know that brights are a huge trend going forward. I'm not necessarily a bright pink girl, but I don't mind it below my waist. I am more a bright green, blue, or orange girl, but I digress! After a cold winter, aren't we all ready to welcome in bright colors? Bright pink is big!
We found this adorable sparkle ribbed sweater skirt to wear now while it still is chilly. I chose to wear mine with a black turtleneck and boots (because it was cold the day we shot this), but I love how the other girls styled the skirt for warmer days. I think Samantha knocked this look out of the park! So, I dread telling you all that the sizes are dwindling in this skirt. It's probably because the price is SO reasonable! But, fear not because I have more to choose from below!
Bright colors are one thing I can get behind in Spring trends. I don't know about you, but I think some trends are a little challenging to wear right now. I'm not into the giant cut-outs or naked dresses, and I'm afraid that a mini skirt is out of the question for me as well. Huge sleeves and voluminous dresses are also a no-go for me because they swallow me up. Would I love to wear a cut-out dress or mini skirt?
Of course, but It's all about the skin, meaning, how does it look (saggy or crepey)? I will always tell you to wear what you feel comfortable in. If you put something on and question it, trust your gut! All that to say that if you can't or won't follow a trend, no big deal. Classics are always better anyway, and you can spiff a look up with an accessory or two. Think classic with a twist!

We woke up in freezing Columbus, Ohio, this morning.
We flew in yesterday for a quick visit with our grandchildren. Grandchildren are the best! We have a get-together tonight with some family and friends here and will head back tomorrow. We are working on getting our garage cleaned out to move in some of our furniture while we demolish part of our family room. Fun times!
I hope you have a great day and a restful weekend! Stay well and safe! xx
Photos: Beckley & Co
Turtleneck (old, similar) // Skirt (similar) // Bag // Boots (old, similar)

 SOME FRIDAY FAVORITES IN A COLOR I LOVE!
RUFFLED TOP // STRIPED PAJAMAS // GREEN BAG //  PAIR OF PILLOWS // EARRINGS // ARTWORK // SHOE // JACKET