Happy Friday, gang! This week has flown by for me, and that's probably because I missed two days of doing anything. Monday was the driving home from Austin and sick dog day, and the other was Wednesday. I was home with a stomach bug. Those are always so much fun! Anyway, I am back on track and glad it is the weekend! Today, I am so happy (as always) to be partnering with Nordstrom to show some great-looking designer pieces. Since the weather is still up and down this time of year, a white shirt is always a good idea, and a white shirt with some personality is even better!
A WHITE SHIRT IS ALWAYS A GOOD IDEA WITH NORDSTROM
Nordstrom has great designer pieces in-store and online, so much so that it is sometimes difficult to find pieces that are available in all sizes (women are snapping them up!). Nordstrom is killing it in the designer section, and if you see something you love, my best advice is always to purchase and try it. Adding a great designer piece to the mix, especially one that will never go out of style, is always a good investment.
I found this darling white shirt that is full of personality. I have been intrigued with the brand Khaite, and when I discovered the shirt was from them, I snapped it up and love it. The shirt has a slight high/low hem with pretty ruffles on the placket and cuffs. It's 100% cotton with some body to it. White shirts are always so classic and chic and always my choice when I can't figure out what to wear. I have chosen my favorite white shirts from Nordstrom below in all price points.
White Shirt and Skinny Jeans
I paired the shirt with (jeans, duh!) a pair of skinny jeans that I literally bought at Nordstorm two weeks ago, and for the life of me can't find them online. Though, I think they must be sold out. Anyway, I know everyone has been wearing higher waist and straighter leg jeans that I love and have been for the last year too; however, I have seen many skinnies and low-waist in lots of stores. I will say that a lower waist pair of jeans is always so much more comfortable on my stomach. I seem always to be bloated, and a lower waist feels better to me; plus, I don't care that Gen Z thinks I'm lame for wearing them! Switching up jean styles is fun, and to each his own! I will go back to a straighter style when the temperatures hit ninety!
White Shirt Is Always A Good with a Printed Belt
It was recently brought to my attention that my Gucci belts should rest, so I wanted to try something different. Animal prints are never a no, and I have been wearing this one (similar) a lot! I have my eye on this reversible belt and love this one for the summer. I have started wearing my Gucci thong sandals again. I bought them in gold and black about two years ago, and they are always my go-to in the spring and summer. They have held up beautifully and go with almost anything I put them with. I'm carrying a bag of mine that I have had a while, but Nordstrom has great designer bags! How adorable is this one? I'm also obsessed with this bag.
Designer pieces can sometimes be out of the budget (or a lot of the time), but adding one piece to the mix can elevate a simple look. I am a handbag girl, and when I buy one, I always think that I will be able to pass it down to my granddaughter. I want to be that grandmother! If this is not the right time to buy a designer piece, you can always put this in your purse and see; you have a designer piece!

.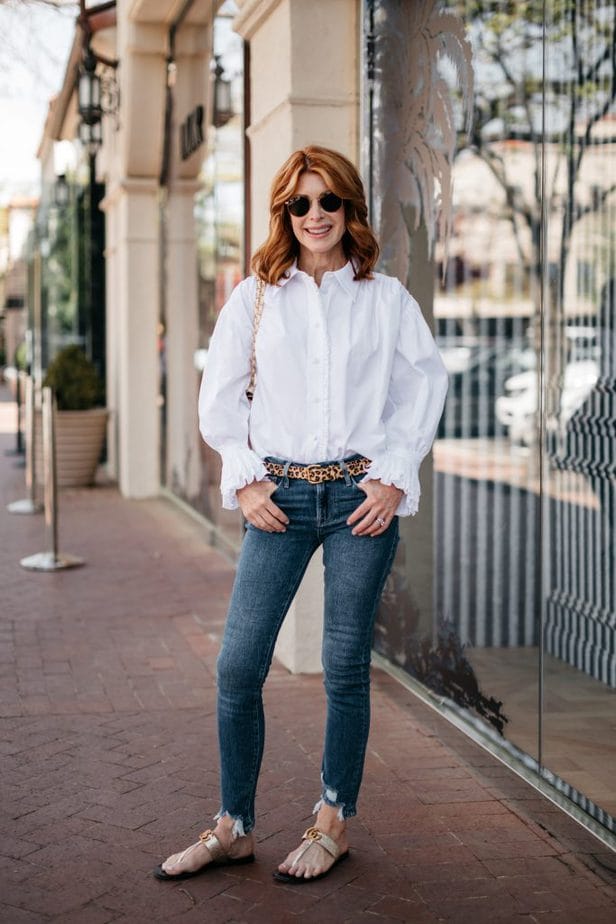 Have a great weekend, and stay safe and well!
It is raining cats and dogs this morning, and I think it will be for the entire day. I am having a cocktail party for my mom's birthday next weekend and need to start getting my house in shape. We are having a "re-do" of her 80th. Last year on her birthday, my dad was super sick, and we were in the middle of lock-down. Needless to say, her milestone birthday was a bust, and we are pretending it never happened. I sort of feel like all of us should get a re-do on birthdays this year! Mine never counted last year, so I get an extra year; what about you?
Photos: Beckley & Co
Thank you to Nordstrom for sponsoring this post!
Shirt // Jeans (similar) // Belt // Sandals // Bag (similar) // Sunglasses