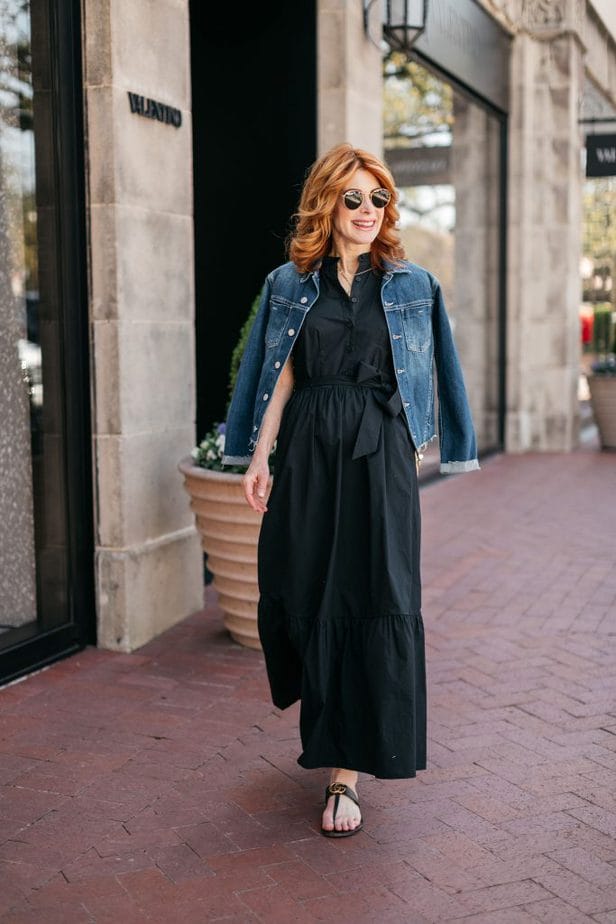 Well, hello there! I hope your week is off to a great start! Also, I had such a busy day yesterday, and needless to say, mine has started frantically, but well! I didn't do one thing over the weekend (except look for that rug I told you about on Friday to no avail!). My husband was in New Mexico on a guy's turkey hunting trip, so I was in bed early on Friday and Saturday, which was so fine by me! They started laying the sub-floor in our new room yesterday, and I have never heard anything so loud. My husband had to come to get one of the dogs afraid of loud noises and take her to his office. I'm glad I had a lot to do out of the house; however, they are back at it again today!
AFFORDABLE BLACK DRESS FOR SPRING AND SUMMER
I know I show more luxury brands on this blog and sometimes things that might not be affordable to everyone. I always try to link similar and less expensive items at the bottom of each post. Today I am wearing an affordable black dress for Spring and Summer that is so stinking cute and comes in right under $40! I would say that this dress is as pretty as any $200-300 dress I've seen at any of the high-end retailers lately. This dress is 100% cotton with a self-tie and side pockets.
I like that it has a slight flutter sleeve instead of the bigger ones I've seen (sometimes I feel like the bigger flutter and ruffles sleeves look younger). The dress also comes in olive green and red. I threw a denim jacket over it (however, this one is more expensive…sorry, but this one is a great option) and my Gucci sandals that, if you have followed me for a while, know that they are probably four or five years old and I have worn them a lot! Cost per wear, ladies! I hope this dress proves that you don't have to spend a lot of money to get a stylish look.

How cute is my friend below? I don't know him, but he came out of a store while we were shooting. I commented on his pink sneakers, and he said that they were in support of breast cancer. So, I told him I was a survivor, and he said they were for me!
I am off to shoot with the Chic at Every Age girls and mail Easter baskets to my grandkids.
I wish we were all going to be together but hopefully next year! Oh my gosh, have you all seen Suspicion on Apple TV? I am obsessed with it! It's a suspenseful "who done it" Uma Thurman is in it, and most of it (so far) takes place in England! I read where Queen of The South is back too! I loved that series and can't wait to watch the last season!
So, I hope you all have a great day! Stay safe and Be Well!
Photos: Beckley & Co
Dress // Denim Jacket (similar) // Sandals // Bag (similar)

A FEW MORE AFFORDABLE DRESSES