CARDIGAN AND GRAPHIC TEE PLUS MY FAVORITE CARDIGANS UNDER $100
Oooops, I did it again! I completely messed up on my posting schedule this last week! I know you all probably don't care, but I feel like I have to explain because you all are my friends. So, I kept the grandbaby a lot this past week. My daughter is still looking for a nanny, so I am trying to help as much as possible. I cannot tell you how sweet and precious that little girl is. She is a LOVE! After she was born, she failed her hearing test twice ( I can't believe they can already tell ). Anyway, they have been seeing a lot of doctors and have found out that she has significant hearing loss in one ear. I am hopeful that she will never have a problem with it and  I already feel like she is going to be an amazing and smart girl!
Because it's the weekend and getting cooler, I wanted to show my favorite weekend look. I love a cardigan and graphic tee, jeans, and sneakers for running around on the weekend. You all know that I am obsessed with Re/Done graphic tees because their graphics are so fun! I had to have this tee, even though it's half true for me. I have a knack for always choosing the most expensive choice (which doesn't work out most of the time!)! I'm not much of a fan of liking illegal things; I have never been (unless you count sneaking alcohol in high school)!
Styling My Outfit
Anyway, the shirt is fun and looks great under my cardigan and any blazer or jacket. I'm trying out a new pair of sneakers (well, they've been in my closet for a bit, but I always choose my Golden Goose). These are by Alexander McQueen. They are stiffer sneakers, but the more I wear them, the more I like them. I like that they are all white with a bit of rose gold (come in other colors too) on the back and have a slight platform.
The cardigan I'm wearing is from Alice and Olivia and is pretty much sold out in all sizes. I did, however, find a very similar one with a price point that is so good! I shot this look a few weeks ago, but what have I worn this weekend? A cardigan, graphic tee, and jeans! I did get a little more dressed up to go to dinner last night! I have linked some of my favorite cardigans below and another group of cardigans under $100.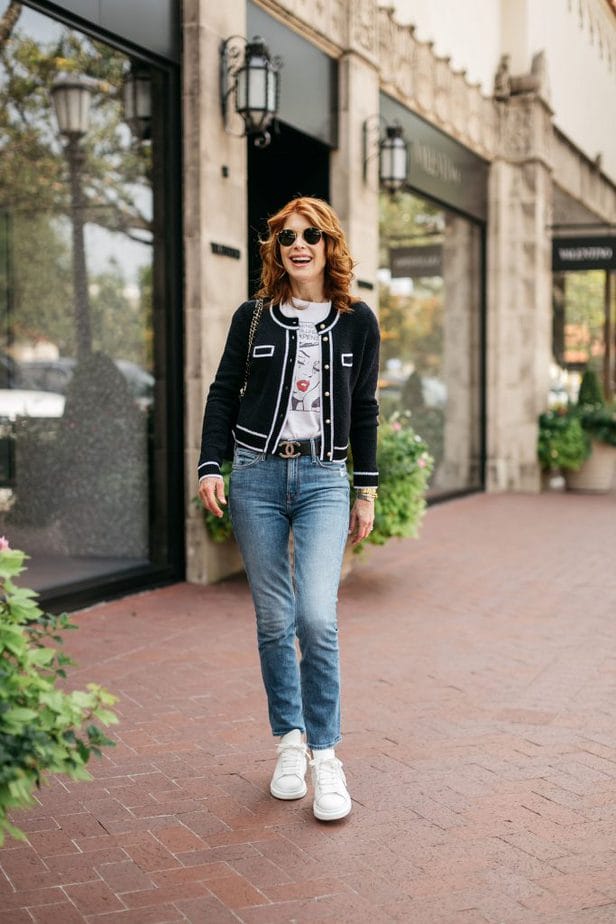 Since it's the day of rest, I've been dying to get reflexology for weeks now and today is the day. The bottoms of my feet have been hurting, and I finally have a day to do it. I hope that you have a wonderful and restful day!
Stay well and safe!
Photos: Beckley & Co
Cardiagan (similar) // Tee // Sneakers // Jeans //  Belt // Bag (similar)
FAVORITE CARDIGANS

FAVORITE CARDIGANS UNDER $100