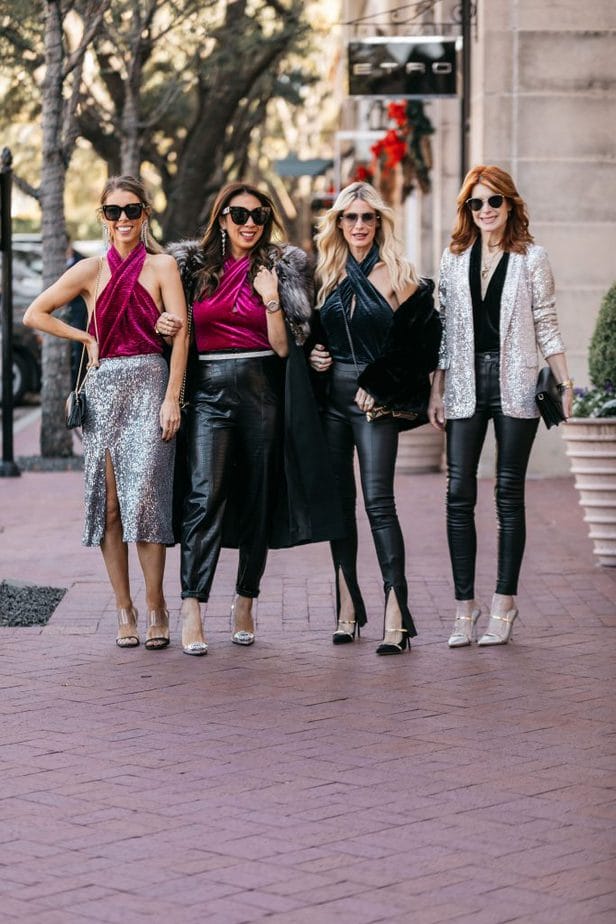 CHIC AT EVERY AGE FEATURING STUNNING TOPS FOR THE HOLIDAYS
NATALIE- THE FASHION HOUR //  SAMANTHA- STYLE OF SAM//  HEATHER- SO HEATHER
Good Morning ladies, and Happy Weekend! I'm a day late getting this up because I had my surgery. All went well, except they catheterized me, and it was ouchie for about twelve hours. Honestly, that and my throat from the tube during surgery hurt more than the incisions the first day. Yesterday, the incisions became a little sorer. I am hanging out in bed (my doc's orders) for most of the weekend. Also, I am ovarian-less! So, I am glad this is behind me, and I don't have to worry about that anymore. Onward to more fun things like stunning tops on Chic at Every Age.
Versatile Top
We chose this top for its versatility and its great price (however, it is now sold-out except in large and x-large..so sorry!). Never fear, I have others to show you so that you are holiday ready! A great "show top" with a pair of jeans, black or winter white pants, and a velvet or sequin blazer is one of my favorite holiday looks. We probably all have a few of those pieces in our closets already. Everything I am wearing is a couple of years old except the top. I still love my shoes from Malone Soulliers, but  I went to a pop-up store a few days ago with fabulous shoes, especially heels. Do you all know Sarah Flint shoes? Sarah Flint was there in the flesh, and her shoes and styles are amazing! They are made in some of the same factories as very high-end brands, plus they have excellent arch support and 6mm of extra footbed padding. I bought this pair. Don't they look similar to these? Sarah Flint's store is in Northpark Center for six months and is one of the prettiest stores I've ever seen!
I have found my favorite holiday tops for you below.

Top (similar) // Blazer (similar) // Leather Pants (similar and similar) // Shoes // Bag

OKA
This is a bit off-topic, but do you all know about OKA? OKA is a beautiful home store with everything from furniture to accessories. OKA originated in the UK but just opened its second storefront in the US and in Dallas. I am obsessed with the store and products. The store is located on McKinney off of Knox. You all have to go see it and check out the pillow wall. It is so good! I wanted to refresh my foyer and got a few things that spruced it up. I wanted to show you all the before and after.
Bench // Pillow // Pillow // Pillow
Blue Vase and Flowers are from OKA too. Can you believe the flowers are faux? Every person that has been in my house since Thanksgiving thinks these flowers are real!
Have a great weekend, everyone! Stay safe and well! xx
Photos: Beckley & Co