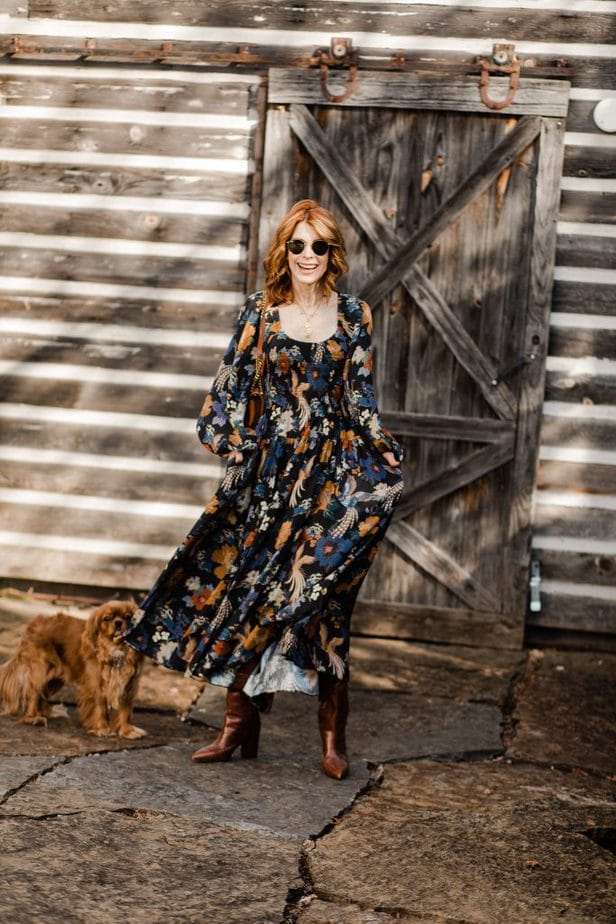 Good Morning, everyone! I hope you all had a great weekend! Did you all watch the Superbowl? We had the family over to watch, and to be honest, I usually could care less about the game. However, this year, I was really pulling for Kansas City, but we know how it ended. I watch the Superbowl for the commercials and the half-time. I was very underwhelmed with the commercials (except the Toyota one about the adoption). Remember when Superbowl commercials used to be more fun? I thought everything seemed dark. The half-time show was a bit weird for me. Apparently, the dancers in masks (which looked like jockstraps!) were supposed to be showing the craziness of Hollywood celebrities and people manipulating themselves for superficial reasons to feel validated. Hmmm???
FLORAL DRESSES TO WEAR NOW AND LATER
Do you know what's not dark? Floral dresses to wear now and later! I think every year around Valentine's Day, I get a little restless for spring and summer. So I want longer days and brighter colors. I found this dress and loved the floral pattern, smocked waist, neckline, and peasant sleeves. When I put this dress on, the neckline gave me "Bridgerton" vibes.  If I didn't have implants (that don't move and feel like rocks), I would have pushed up my boobs with a demi bra to get that (Bridgerton) look!
Anyway, I have recently discovered the brand La Ligne who made this floral dress that I can wear now with boots and later with a sandal. La Ligne has so many beautiful pieces like this floral dress and this one. Remember, you can wear a floral even on the greyest of days with a jacket and boots. Florals lift my mood! Dark florals can be lightened up in the spring and summer with a sandal or light shoe. I plan on wearing this dress with a luggage color sandal or this beaded one in a few months!
I have picked out some of my favorite floral dresses below.
And I pick the ones that I would personally wear. So they are all midi or a maxi length. I don't know about you all, but I really don't wear anything above my knee anymore unless I have on tights. It's not that I think it's inappropriate; I'm not too fond of the way my skin looks. You might look fabulous in a shorter dress, and if you do, I say, go for it! There are no rules here!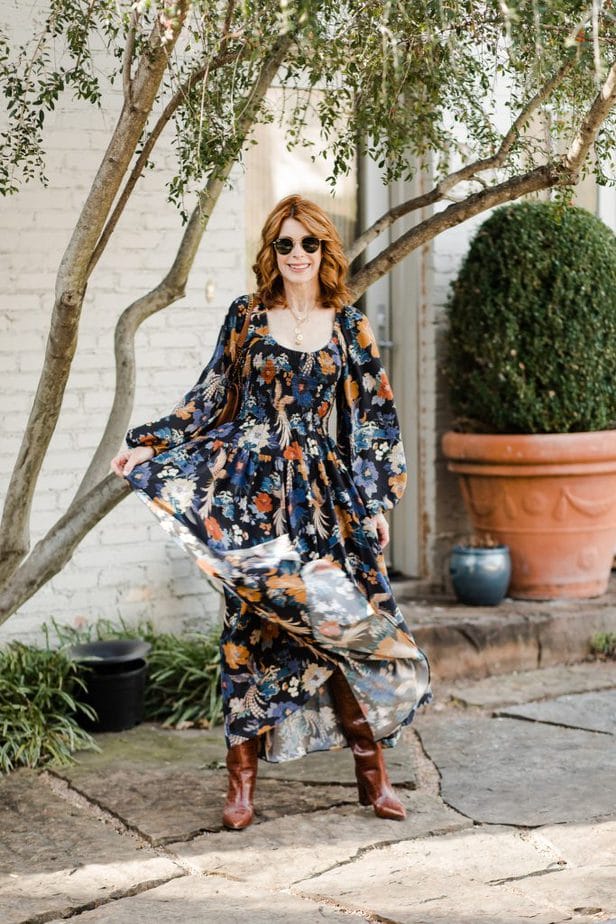 I have yet to finish (or even start) shopping for Valentine's Day. Yikes! I have a busy day and need to get on that as well. I am giving Buster (the husband) a pedicure (for Valentine's Day) here at the house today from Cherry. If you live in Dallas, Cherry is a nail service that comes to you. He needs a pedicure, and it's a great gift for a man who doesn't want to go to a nail salon. We have had Cherry appointments here at the house all during Covid. I hear we are about to get blasted with a week of freezing temps. Stay warm!
Have a great day! xx
Photos: Danielle Sabol
Dress // Boots and here on sale if you can find your size (similar) // Bag (similar) // Necklace (similar)