MUMSHANDMADE SWEATER
Mumshandmade Sweater
Hi, everyone! How was your weekend? We had a great one. We stayed in on Friday night, and it was a good thing because we blew it out on Saturday night! Our daughter was in town, and so was her cute boyfriend. We went out to dinner with them and thought that was the end of the night around ten o'clock but not so. They talked us into meeting my youngest son and his wife at a club that I belong to (I guess so that I could get them in) because all of their friends were there. I never stay out later than about eleven. So one o'clock was extremely late, and I will be paying for that for a couple of days!
Did you watch the Oscars, and were you surprised at the winners? I went to a fun girl's night at the Hotel Crescent Court with Soma Intimates and ten other influencers in Dallas to watch them. It was such a fun night! We all had on our Cool Night's Pajamas that we all love so much and sipped champagne while watching all of the speeches. At the end of the night, we all got to go to our own rooms in the hotel and spend the night.
MUMSHANDMADE SWEATER
Today, I wanted to show you all a sweater that I got last year and forgot about it (do you all ever do that?). I ordered this late in the winter and got it when it was too late to wear it (ordered a more winter color). I wanted you all to know about this brand, Mumshandmade Sweaters. These chunky knit sweaters are 100% made by hand. Mumshandmade is a small family business out of Greece. The family came up with the idea while watching their mothers knitting beanies and cardigans in the wintertime.
The pieces are made by the hands of Greek moms that love to knit. And by ordering one, you help these women sustain themselves and their families. Because they are handmade, they take a little longer than a premade sweater. These knits can be worn all year long (depending on where you live and what color you order). They are all one size and over-sized.
I can't believe that I forgot about this sweater and had it packed up, but so glad that I found it. I want to order the same bubble sleeve cardigan in camel and white. Mumshandmade Sweaters come in cardigans, pullover sweaters, scarves, and beanies. I just love my sweater!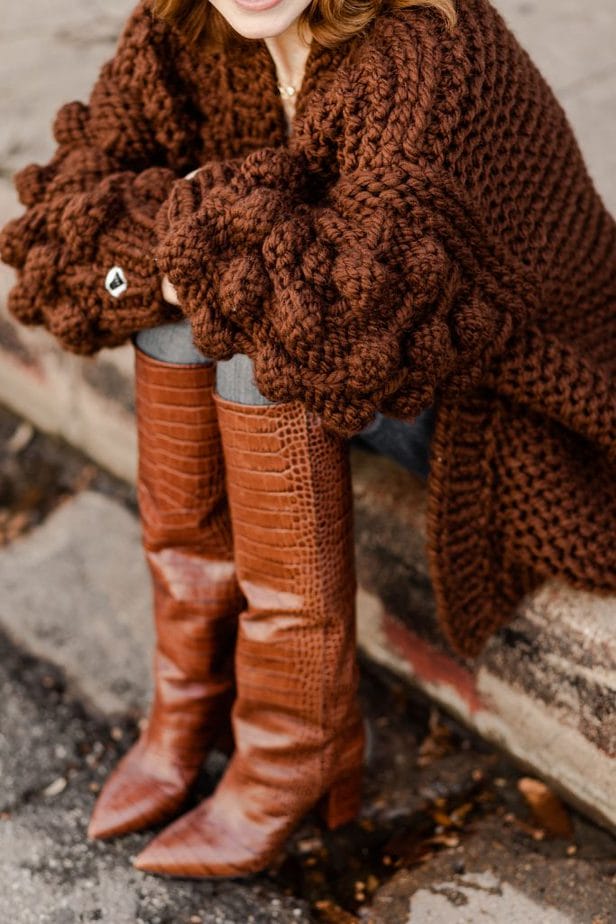 I'm headed to breakfast in the hotel with the Soma and all the girls who stayed here last night. One of the best parts of this job is when I get to be with and meet other women who do what I do. My oldest son is in town tonight, so I have another night out. So much for being a bored empty-nester!
Have a fantastic day! xx
Photos: Danielle Sabol
Cardigan // Tank (less expensive) // Jeans // Boots // Belt // Bag (less expensive here and here)