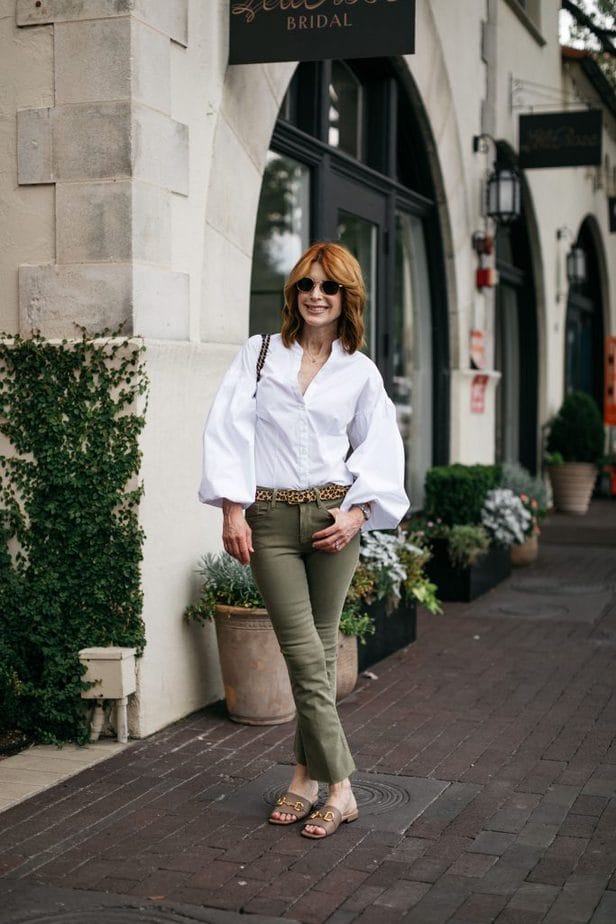 Puffed Sleeves and Green Jeans
Hi, everyone! I have missed getting on here and writing my words out to you all. It has been a crazy two weeks. I had no idea the things that have to be done when someone passes away! We are learning as we go, but it's been one thing after the other, and I haven't been able to sit down at my computer. My mom left town this morning to Port Aransas with my brother and his family to visit her brother. This will be her first trip without my dad EVER! I am so glad she is getting away and going to the beach. The beach always feels soothing for the soul for me, so I hope it will feel that way for her.
So, Texas is ramping up cases of COVID-19 at accelerated rates, and I have decided to lay low again. I have to be more careful with my mom living here now. How are you all feeling about the pandemic? Are you getting out, or are you staying in? This is just the craziest time! I feel like all I have been showing are jeans on this blog, but it's honestly what I am wearing I wish I were going out to wear a few things I have purchased for the summer, but I am not. I did buy the army green denim that I am wearing because it's different from any of my other pairs of jeans. If I'm going to be in jeans all of the time, I guess it's fun to change it up. I think I will love these in the fall even more.
I bought it before the quarantine in black and white because I loved it so much. And I love how it nips in at the waist to give it some shape. I have already worn both colors a few times, and now they are on sale! If there were one thing I would add to my closet, it would be this blouse (particularly in white) because you can wear it with everything! Veronica Beard has so much on sale including this jacket! The sandals (in color Mud) were a splurge (probably during a down moment last month), but they are also a pair that can be worn into the fall (for me). I am not wearing heels at all (during this wacky time), and if we do venture out for dinner, I can wear them anywhere we go.

,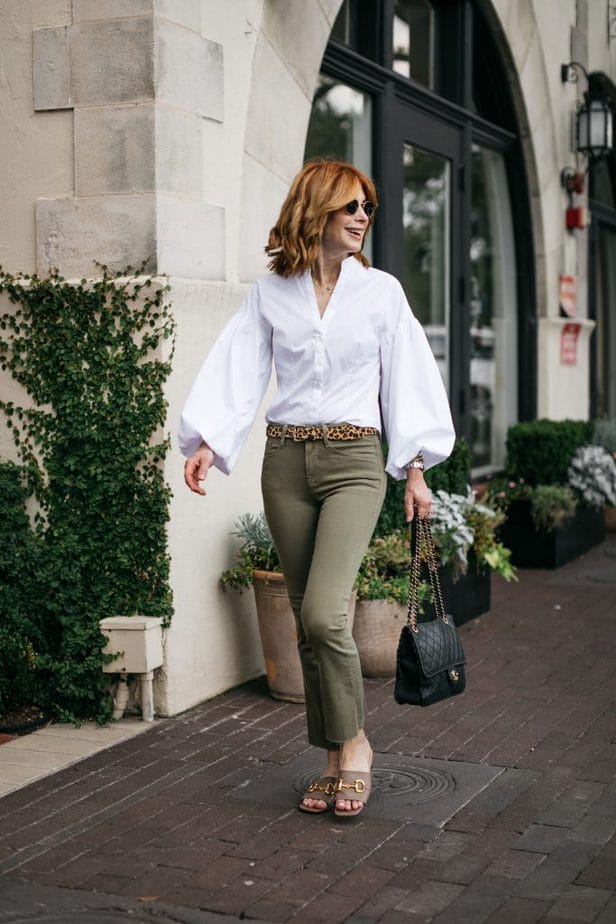 We have a dramatic storm here this morning, and the air is so thick you could cut it with a knife. I am supposed to take some photographs, but we will see if that happens. I need to run errands and pick up some things. But I am thinking about ordering everything online. I had a mask on all day yesterday and don't want to do it again today. Do you all have a "mask law"? One went into effect here until August 4th. I find them so uncomfortable, but maybe I haven't found the right one. Could it be that I am choosing cute over comfort? Definitely!
I hope you all have a great day! Stay well and safe!
Shirt (on sale) // Jeans // Shoes // Belt // Bag (similar)

A few more sales you might be interested in
ALICE & OLIVIA– Sale items up to 75% off
ALO YOGA– Sale items up to 40% off
ANTHROPOLOGIE– Extra 25% off sale clothing, accessories, and shoes
BANANA REPUBLIC– Up to 60% off everything
BANDIER– Up to 70% off sale items
BAUBLEBAR– 100's of sale styles starting at $10
CB2– Up to 40% off outdoor furniture
COLLEEN ROTHSCHILD BEAUTY– $50 off $150 with Code: HOT50
FARFETCH– Shop sale up to 50% off
FRONTGATE– Up to 30% off Sitewide
GAP– Up to 60% off everything
NORDSTROM– UP to 60% off clearance + extra 25% off
OLD NAVY– 50% off on almost everything
OLIVELA– 20% off your first order with Code: SUMMER20
PAIGE– 25% off select women's styles with Code: 25OFFNOW
SAKS FIFTH AVENUE– Up to 75% off select styles
SAM EDELMAN– New markdowns up to 60% off
SEA NEW YORK– 60% off select styles
STUART WEITZMAN– 50% off summer sale
ULTA– Buy more save more on select items
WEST ELM– End of season sale up to 75% off