SUMMER DRESSES
Hello, everyone! I hope you all had a great Memorial Day weekend and a wonderful week! I am posting this week late because I was out of town and honestly did not have one second to work. My mom and I went to LA to see my daughter and her family and had such a good time. We had dinners out three of the four nights and lunches out every day. My little granddaughters have changed in the six weeks since I have seen them. The almost two-year-old is so much fun and putting words together now (she said "I love it" when she saw a little purse she wanted). The four-month-old smiles and coos all day long! I already miss them!
Before discussing these summer dresses, I must tell you about our incredible star sighting. We had dinner Monday night at The Terrace in the Maybourne Hotel. We sat out on the terrace, and my son-in-law pointed out that a few of the cast from Ted Lasso were behind him. Well, it ended up that ten of the cast members (including Jason Sudeikis) showed up. I had the perfect view of their table! I don't know their real names, but if you watch the show, it was Nate Shelley (wonder kid), Jamie Tartt, Higgins, Issac (the captain), Collin Huges, Trent (journalist), and Rebecca. You all, I was having a fan-girl moment!!! My son-in-law sent champagne to their table, and the British guys all came to thank us. They could not have been more lovely and kind! Trent, Nate, and Jamie were so friendly! I fricking touched Jamie Tartt! Anyway, for me, it was a fabulous star sighting!
THREE CUTE SUMMER DRESSES
Okay, now down to business. The weather in LA was not quite summer dress weather because of the "June gloom," but it is in the south, and summer dresses are what I love to wear when the temps start to creep up. I found three super cute summer dresses to wear everywhere this summer. Farm Rio always has the cutest designs and prints, which have become one of my favorite brands to weari in the summer. I love this yellow motif ruffle-hem dress. I dressed it up with gold accessories (open bag not looking so cool!). I will also wear this dress with a flat sandal.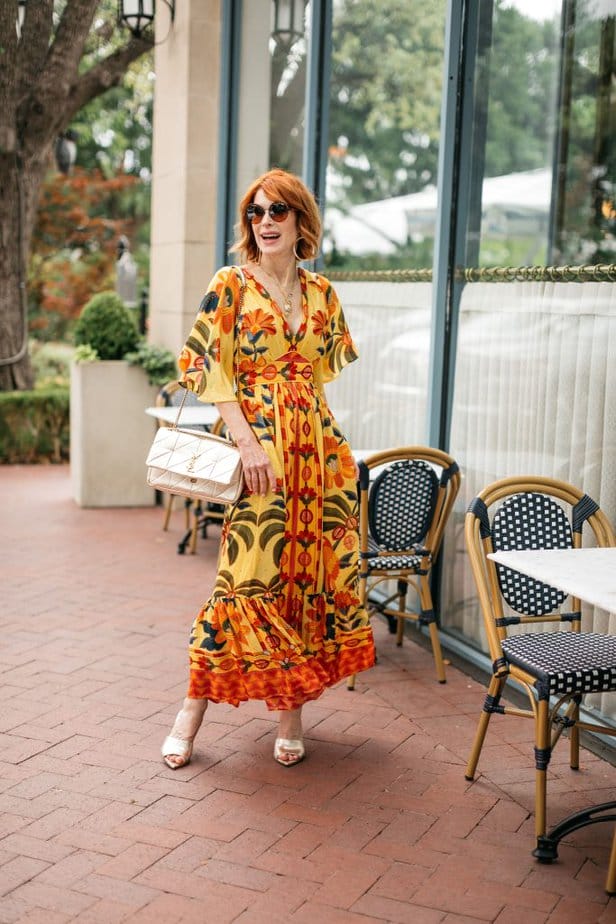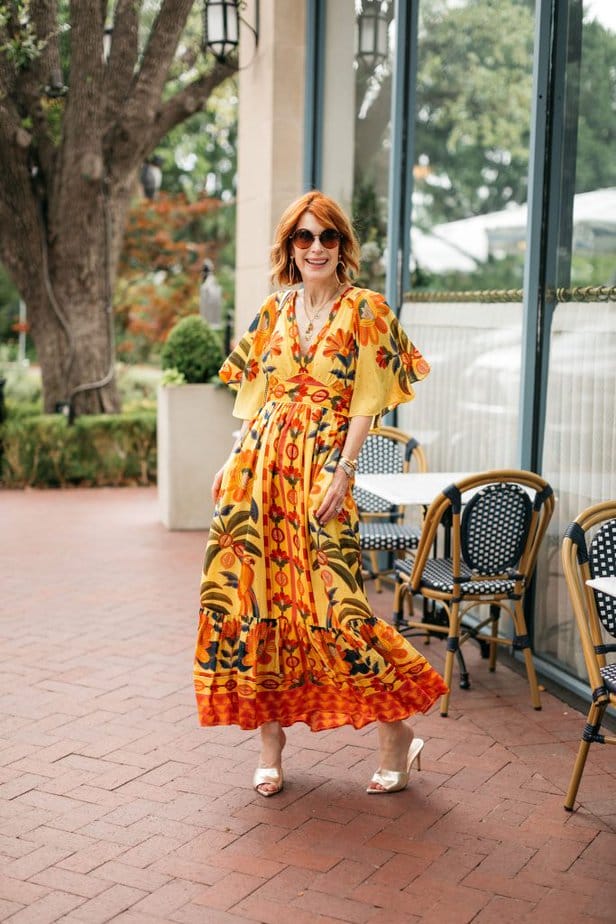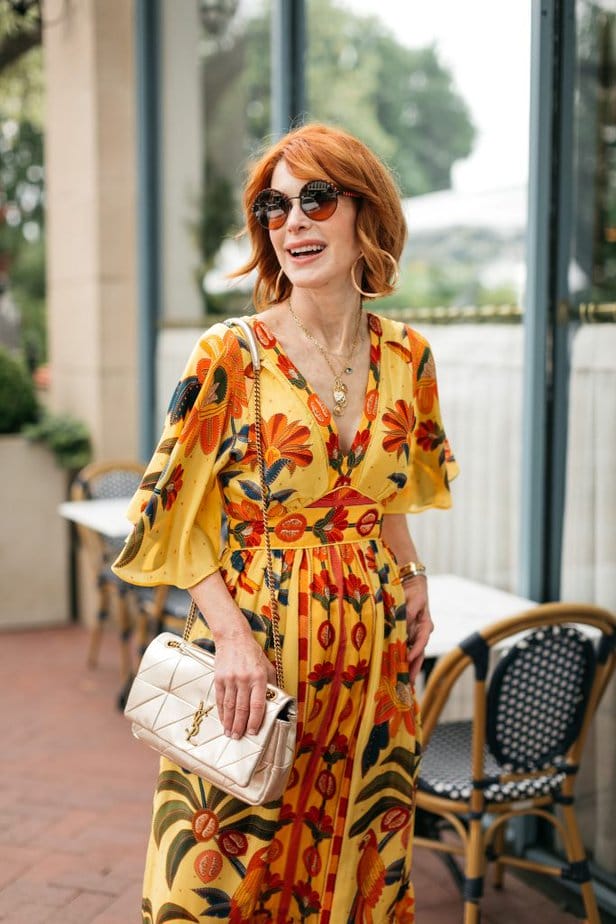 DRESS // EARRINGS // SHOES (similar) // BAG (similar) // SUNGLASSES (similar)
METALLICS MAKE THE PERFECT ACCESSORIES
This next dress is adorable with the ruffle front from Mille. I have bought several things from this brand. Their pieces are so feminine! This dress has already sold out in this print but check out all of the prints in this style HERE. Everything on their website is adorable! I paired a mixed metallic sandal with this dress from Donald Pliner.
Well, ladies, from now on, my days of wearing gold jewelry on my neck are over for a while. I had a patch test done and found out that I am allergic to gold!  No wonder I kept breaking out on my neck! I discovered that I am also allergic to almost everything I put on my face and scalp. I have been using the app, SkinSafe for the last week. My doctor uploaded everything I am allergic to in the app, and I can check all products to see if they are compatible with me. I spent a day at Credo Beauty in LA and even finding products there was not the easiest. Needless to say, I am so bummed out about it! Have you ever done the patch test to find out what you can and can't use? It's so interesting, but depressing for me!!!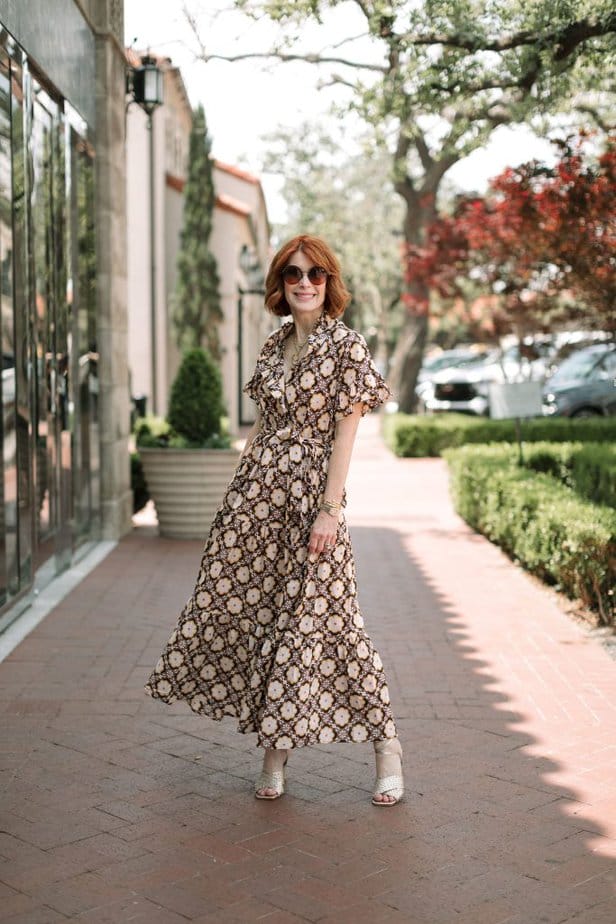 DRESS // BAG (similar) // SHOES // BRACELET

One more cute summer dress from Karen Millen. If you aren't familiar with that name, they are a London brand. I have been a fan of their dresses and leather for a long time, and most of them are affordable. Almost all of the dresses I am showing are under $300, with the majority under $250! Oh, and the sandals ($70) are from Karen Millen too!
Well, that is it for today! I'm off to drop the kids at a summer camp they are doing for a few hours, and then it's full-on grandmother mode! I'm going to need a vacation from my vacation and babysitting! I hope you all have a wonderful weekend!
Stay Well and Be Safe! xx
Photos: Beckley & Co
MORE SUMMER DRESSES