Tie-Dye Skirts To Tie-Dye For
Hi, everyone! How are you? What is going on with you? It may be exactly what is going on over here at the Williamson household, not much! I had a conversation with my photographer yesterday about the world right now. I had mentioned that I don't have that much to talk about. We aren't going out, not traveling, and I am not seeing many friends. Doing all of those things are what create conversations and creativity, and unfortunately, that is not happening.
I am watching the news more to keep up, (so uplifting haha!) and trying to talk to family and friends as much as possible, but it's just different. We weren't created to be isolated. Anyway, it's kind of why I am only posting twice a week now. If you have followed me for a while, you know I like to feature fashion, but I do share some of my life, and that is a bit boring at the moment. And what are you all buying?
I have picked tie-dye skirts as my focus for today. It's been everywhere this spring and summer. I like it in small amounts or in a pale color. But it is fun and very summery! I got this skirt last year at Zara and am ashamed to say that I never wore it until now, but I am so glad I have it for this year. I think this skirt looks the best with a white tee or a chambray denim shirt. Obviously, I chose the white tee and knotted the bottom. I added the denim jacket so you could see what that would look like. But at 108 degrees (heat index), it didn't stay on long.
I have been wearing my Gucci sandals every time I leave the house (and want to look somewhat presentable).
I have them in black as well, and they have been my summer shoe (for the last two years). If I don't wear those, I have been living in my Tkees. For the last four or five summers, I have purchased an array of summer sandals and have worn the Tkees with everything. I realized this year that I don't need a lot of sandals because the ones mentioned are all I wear (even without a pandemic!).
Now about my fun bracelets!
Allie & Bess sent me these bracelets, and I am obsessed with them. This brand was started by two Dallas moms and friends who got tired of working in the medical world. They always wore bracelets and decided that they would embark on designing their own. So they taught themselves how to make bracelets from using a mix of beads sourced from all over the world. They add in Indian gold discs to up the chic factor, and each bracelet features five black vinyl beads to represent the girl's five children. Don't you love a good startup story and a small business? Good Job, Allie & Bess! If you love these bracelets and want to order (they make great gifts, and it is July and Christmas is almost five months away!), you can get 10% off with Code: CATHY10.
One more fun piece of jewelry that I have not taken off since I got it, is my necklace with my grandmother name (Kitty) in diamonds. I love it so much! It was a gift from Susan Saffron Jewelry boutique in Dallas. I have written about them before, but I have to repeat it, they are the nicest women I've ever encountered in a store and have gorgeous jewelry at every price point. The name necklaces are so fun and make such a special gift. They offer them in silver, 14k gold, or rose gold. The other necklace I am wearing is a necklace that they made for me with the diamond from my first engagement ring. It had been sitting in the safety deposit box for years, and I decided to make it into a necklace. They can make anything! Everything is 20% off.

Similar Tie-Dye Skirts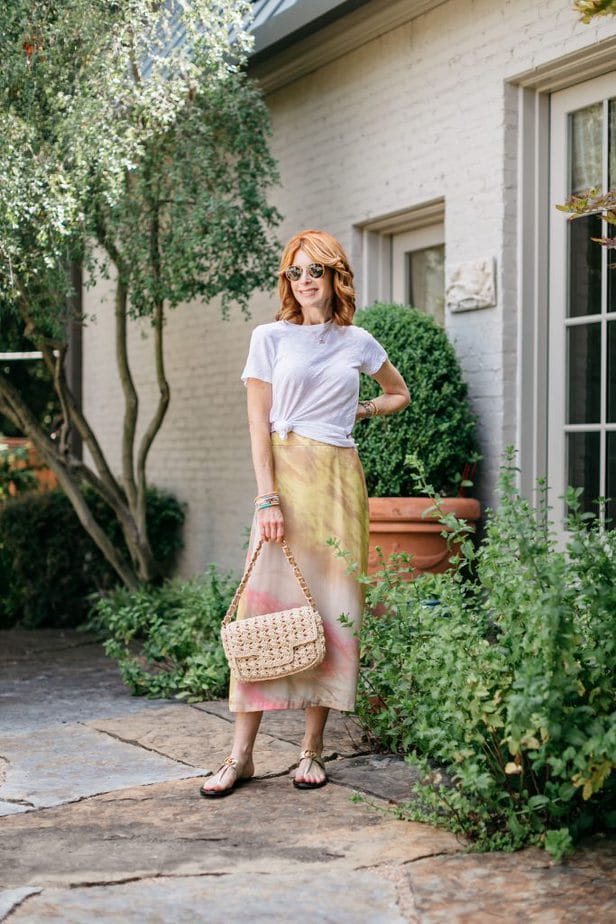 I have two Zoom calls today, and for the rest of the day, I hope to organize my laundry room. Who would have thought that that would be something to talk about! I went to the Container Store yesterday and bought some containers to help my cabinets. Woohoo! I hope your day is more exciting! Thank you for reading the post and sticking around with me!
Photos: Beckley & Co
Tee // Skirt (similar) // Jacket // Bag (similar) // Sandals (less expensive) // Bracelets // Necklaces
Here are some of my favorite to tie-dye for!